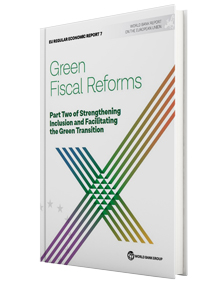 Green Fiscal Reforms: Part Two of Strengthening Inclusion and Facilitating the Green Transition
In the post-pandemic world, EU member states will need to embrace two simultaneous challenges - recovering from the COVID-19 pandemic and embracing the ambitions of the European Green Deal. The latter maps out broad policies aimed at achieving carbon neutrality by 2050 and reducing emissions by 55 percent by 2030. This will require prompt and decisive actions by both the public and private sectors.
The World Bank's "Green Fiscal Reforms" report looks at how three critical instruments, namely carbon taxes, fossil fuel subsidies and green public investment, are central to supporting the green transition. The report reviews experience from the EU and elsewhere, and applies lessons learnt to the specific challenges facing the four countries — Bulgaria, Croatia, Poland and Romania.