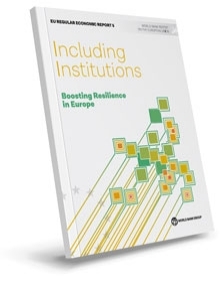 Including Institutions: Boosting Resilience in Europe
The 2008 crisis marked the beginning of a lost decade for many countries — and many people — in the EU. The crises of 2008 and 2012 halted, and in some countries undid, a decade of growth and economic convergence across the EU. The crises tested Europe's resilience: its capacity to respond to, and rebound from, shocks. Some countries proved remarkably resilient, with growth back on track after a few quarters and populations largely shielded from the downturns. Others, however, recorded growth and employment recessions that lingered long after the crises first began.
In too many countries, citizens' trust in their institutions was affected, because of the way these crises permeated the lives of many people, in particular the bottom deciles of the income distribution.
The World Bank's Including Institutions report argues that the economic shocks revealed large differences in the resilience of individual economies, associated with differences in the quality of country-level institutions that shaped the absorption and response to these shocks. The report is in two parts. Part One uses an inclusive growth framework that assesses the trends in economic growth, the sharing of that growth, and its resilience. Part Two looks closer at a key aspect of resilience: what are the key institutions that affect an economy's resilience or capacity to respond to shocks.