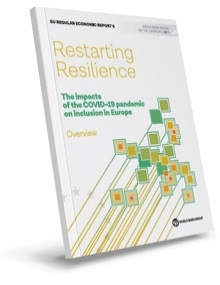 Restarting Resilience: The Impacts of the COVID-19 Pandemic on Inclusion in Europe
The rapid policy response to the COVID-19 pandemic has given economies the breathing space needed to maintain employment, to keep viable firms afloat and has stemmed the immediate impacts on unemployment. However, household income drops are still anticipated as not all wages are not fully covered by short-time work or furlough programs. In addition, coverage gaps are more likely to affect lower-wage segments rendering them disproportionately exposed to the impacts of the crisis.
The World Bank's Restarting Resilience report finds that the share of the population 'at risk of poverty' could rise by 3-4 percent from 14.7 percent in 2019 to between 17.7-18.7 percent in 2020. It highlights how countries now have an opportunity to enhance social protection systems during the reopening phase to ensure the EU is better prepared to respond to future waves and crises. This can be achieved by strengthening system flexibility to rapidly adapt in the face of a crisis and through addressing gaps coverage, including targeted support for those in non-standard or informal work structures.
The report also raises the importance of societal trust and cooperation among businesses, government and trade-unions to navigate the crisis and instill solutions that support vulnerable household income recovery.