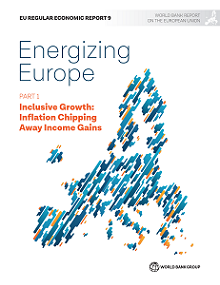 Energizing Europe—Part 1 of Inclusive Growth: Inflation Chipping Away Income Gains
Following a strong recovery after the onset of the COVID-19 pandemic, growth in the EU is expected to sharply decelerate in 2023 as high inflation and increasingly tight monetary policy dampen economic activity.
Despite considerable resilience, the EU economy is in a weakened spot following the string of overlapping crises since 2020, which have eroded macroeconomic buffers and left the economy vulnerable to additional negative shocks.
Although the labor market remains strong, with unemployment rates near record-lows in the EU, the recovery in employment remains uneven, leaving some populations behind.
High inflation has eroded real incomes, with the sharp rise in food prices hitting the poorest households the hardest — chipping away earlier gains in inclusion.
The report finds that coordinated policy efforts are needed to mitigate the risk of recession, rebuild fiscal buffers, and support vulnerable households. Fiscal policy support, going forward, will need to be timely, targeted, time bound, and transparent to eventually support gradual fiscal consolidation.