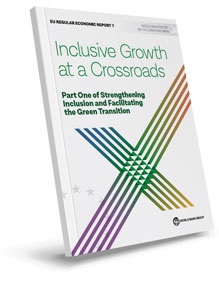 Inclusive Growth at a Crossroads: Part One of Strengthening Inclusion and Facilitating the Green Transition
Since the COVID-19 outbreak, governments across the EU have stepped in with unprecedented policy responses to limit the impact on firms and households. However, the containment measures, essential to protecting the public, and significant mobility restrictions alongside lower incomes and increased uncertainty have taken their toll.
The World Bank's "Inclusive Growth at a Crossroads" report looks at how careful and efficient implementation of recovery programs by EU member states will be paramount to support growth and inclusion as well as the green and digital transitions.
The first section of the report focuses on developments at the macro level including the impact on growth, fiscal and external sectors. The second section assesses the impact of lower growth on poverty and inclusiveness.