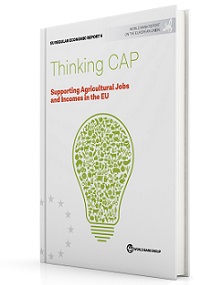 Thinking CAP: Supporting Agricultural Jobs and Incomes in the EU
With an annual budget of roughly €60 billion to support agri-business, the EU's Common Agricultural Policy (CAP) is one of the largest programs in support of a common economic policy in the EU. From the tulip farms of the Netherlands to the wheat fields of Romania, the CAP has cast its net far and wide.
The CAP has its work cut out: in about half of EU member states agriculture continues to be associated with poverty. And, according to an EU-wide poverty line specifically constructed for this report, over half of the population in the newer EU member states still live in absolute poverty. While many of these countries are heavily reliant on financial support for citizens through the CAP, cash handouts and project backing are only part of the solution in the poverty puzzle.
For these countries to guarantee a better quality of life for their rural communities, the basic conditions for farming must be in place. This means building roads to bring products to market and secure property rights so owners can make long-term investments in their land; it means adequate advisory services to ensure modern, efficient farming techniques are used; and it means access to health and education so that children from rural areas have the wherewithal that will lead them to better lives wherever they wish to live and work.
When these conditions are in place, the CAP has shown to be a powerful program to accompany the type of structural transformation which not just moves people out of agriculture, but reduces poverty in the process and creates an agriculture which is a source of good jobs in the next phase of the transformation process.