Program Design
The Global Tax Program provides an umbrella framework for tax support and builds upon an ongoing program focused on strengthening tax institutions and mobilizing revenues at the international and domestic levels. GTP activities are prepared and designed to enhance complementarities based on consultations with partner countries and with development partners.
The Program supports activities through four windows:
Window 1: Global Tax Activities and Global Public Goods. The work on Global Public Goods includes the development of diagnostic tools, engagements and the provision of support for improving domestic resource mobilization (DRM) in developing countries. This includes the Tax Policy Assessment Framework (TPAF) and the DIAMOND framework for identifying drivers and solutions of performance weaknesses in revenue administrations.
Window 2: Country Level Activities. This window supports countries in the improvement of revenue collection through multi-year revenue strategies that are guided by country-focused diagnostic work. This work is based on TPAF, Tax Administration Diagnostic Assessment Tool (TADAT) or DIAMOND. Through regional consultations and ongoing programs, the World Bank has identified a wealth of activities which can be included under Window 2.
Window 3: Actionable Research and Data, Knowledge and Learning. This Window brings together various strands of research, data analytics, and experimental methods to promote shared learning and push the research frontiers. This window includes research reports with the dual objectives of: (i) pushing the research frontier in an area of DRM that leverages GTP's comparative advantages; and (ii) creating actionable research that will ultimately improve operational results and inform the design of future World Bank projects. Knowledge management, sharing and training have also been identified as priorities under Window 3.
Window 4: Program Implementation and Supervision. This window supports the management of the multi-donor and single donor trust funds through the GTP Secretariat and funds business development activities. The GTP Program is one of the two Umbrella 2.0 pilots for trust fund reforms recently undertaken by the World Bank Group. One of the main objectives of this trust fund reform is to improve the efficiency and effectiveness of trust funds at the WBG. A more centralized approach is expected to help better match the priorities of countries and donors with WBG comparative advantages and simultaneously improve the management of trust funds (from both donors' and the World Bank's perspective).
Projects
Country level engagements are already yielding important results. During the reporting period, project teams have proposed a total of 52 reform recommendations for a total of 122 recommendations since the program's inception. From this total, 45 reform recommendations have been endorsed by client governments. In FY20 alone, 25 reforms recommendations have been adopted in 16 countries and 37 capacity-building events were conducted, six of them with a regional approach.
Several key results have been achieved with support from the GTP, which include the following:
East Asia & Pacific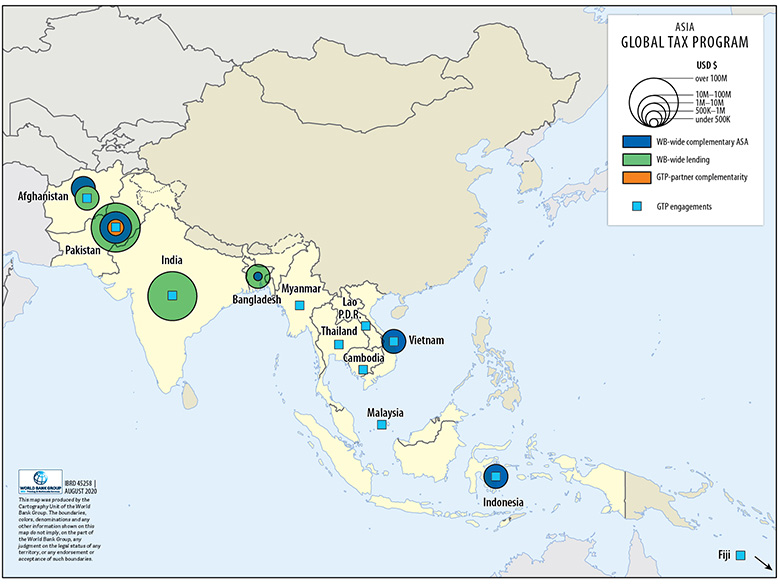 Europe & Central Asia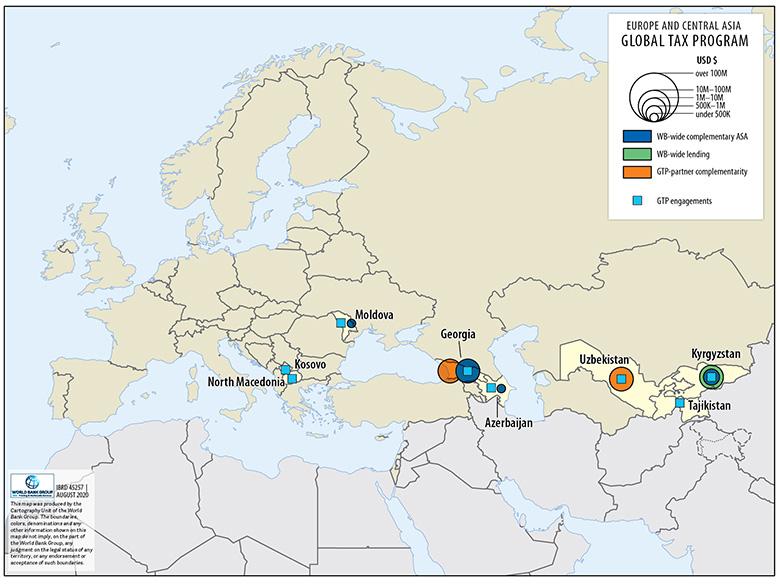 Highlights
In December 2018, Uzbekistan implemented a transitional value-added tax policy regime for small and medium-sized enterprises.
Azerbaijan included WBG recommendations on treaty policy in the country's multilateral instrument positions.
Latin America & the Caribbean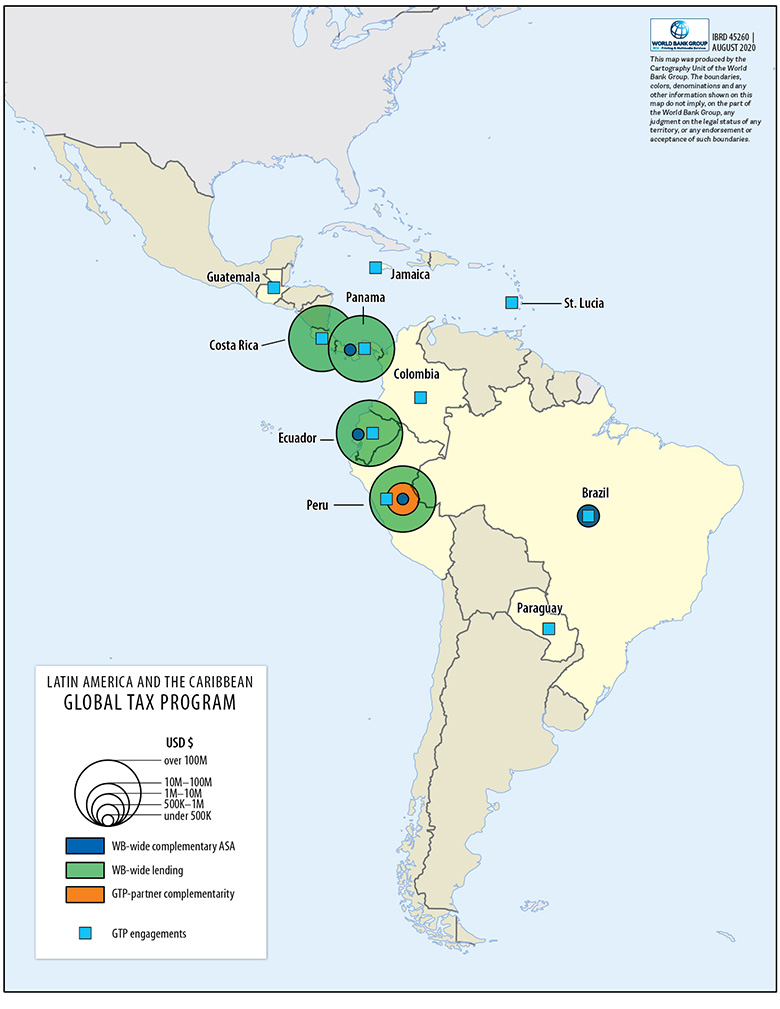 Highlights
A new treaty policy was reflected in the new Double Tax Agreement model in Jamaica and Peru.
Panama has been exchanging financial information on a reciprocal basis since September 2018.
Since May 2018, Peru has passed six decrees on international tax related issues.
Sub-Saharan Africa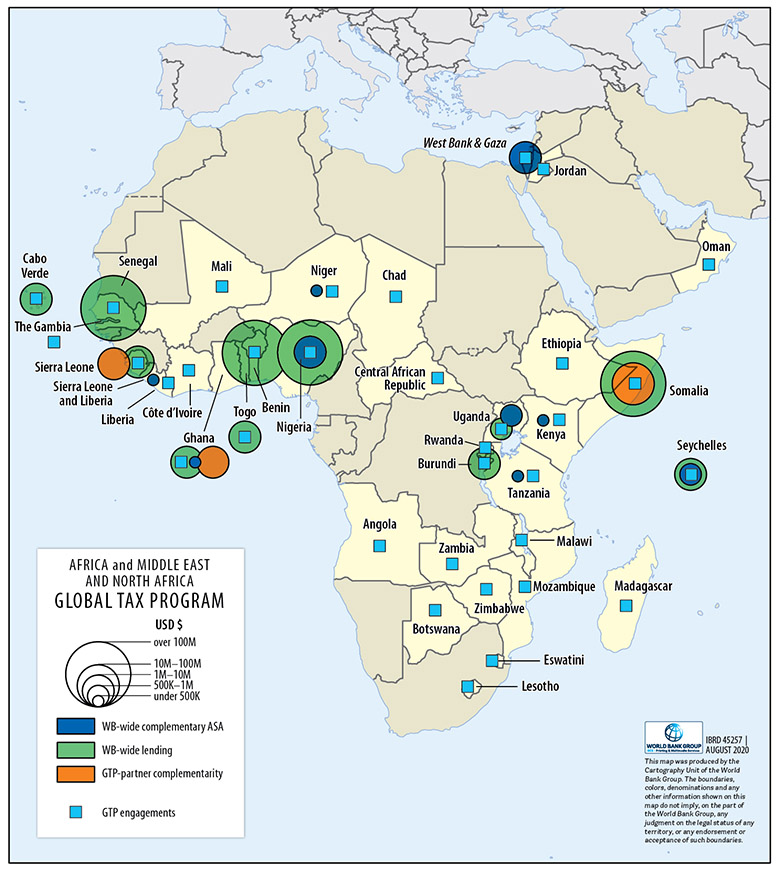 Highlights
In May 2019, Zimbabwe implemented regulations on transfer pricing documentation including penalties.
For more information on the GTP's work, read our annual report.