The ASL is a regional effort for conservation and sustainable development in the Amazon, aiming to connect people and institutions to connect conserved and managed landscapes. The ASL integrates both national projects with interventions in participant Amazon countries and a regional coordination project.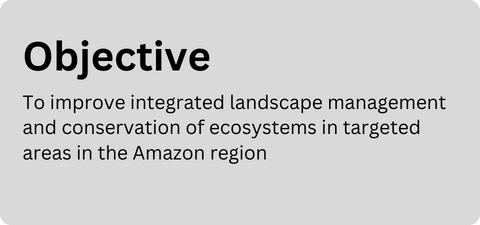 The ASL national projects are led by environmental authorities in each participant Amazon country and are being executed collaboratively by national and international public and private agencies, supported by civil society and community organizations. The World Bank Group is the ASL's lead agency. The World Wild Fund for Nature (WWF), and United Nations Development Programme (UNDP), the Development Bank of Latin America (CAF), the Food and Agriculture Organization of the United Nations (FAO), the United Nations Industrial Development Organization (UNIDO), and International Fund for Agricultural Development (IFAD) are the Global Environment Facility (GEF) agencies that provide support for the preparation and implementation of national projects. A regional coordination project, implemented by the World Bank, provides technical assistance and knowledge management opportunities to the participant countries and program partners.
The ASL program currently has two phases. The first phase (ASL1), approved by the GEF Council in October 2015, includes five national projects executed in Brazil, Colombia, and Peru. The second phase (ASL2), approved in June 2019, comprises four new countries, Bolivia, Ecuador, Guyana, and Suriname with one national project each, one new project in Peru, and the scale-up of two of the ongoing national projects in Brazil and Colombia. A third phase of the program (ASL3) is currently under preparation and direct on the ground interventions are expected to cover an area of approximately 47 million hectares of forests (including primary forests) across several Amazon countries, with planned outcomes supporting all 23 action-oriented global targets of the Kunming-Montreal Global Biodiversity Framework.
ASL APPROACH
The ASL promotes a collaborative programmatic approach where a common goal and long-term vision have been collectively established. Each national project is designed according to its own needs and priorities but contributes to the common goal. Through this integration and enabled by knowledge exchange and dialogue, the approach facilitates that national projects achieve larger impacts than if they were implemented in isolation. By working together under one program, and with support from the regional coordination project, national project teams learn from one another, attract partners to work nationally and regionally, become part of a network of agencies and people that coordinates and collaborates to achieve common objectives, share ideas, and best practices, and align efforts to safeguard the integrity and connectivity of the Amazon landscapes. The program has been designed along four pillars.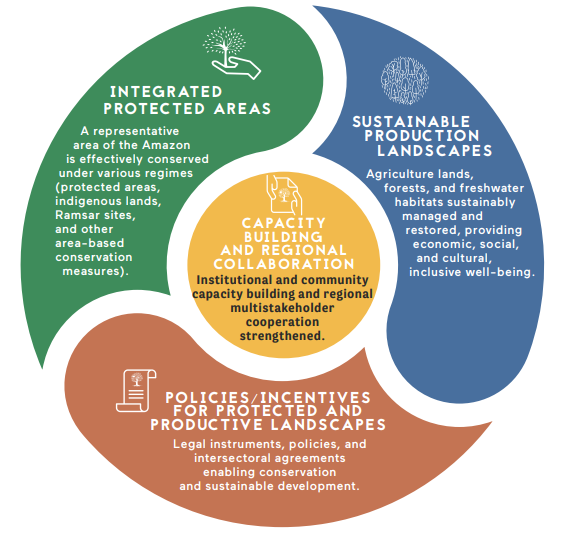 These pillars are developed by the national projects and the Regional Coordination Project through different activities and components.