Ladies and Gentlemen,
Albania's health outcomes are relatively strong by regional standards (such as: life expectancy at birth which reached 77 years by 2011 (80 for women and 74 for men), favorably comparing with other countries in the region); though key performance indicators are mixed (for ex: according to the 2008 Demographic and Health Survey (DHS), infant and neo-natal mortality were 18 and 11 per 1,000 live births, respectively, both of which are slightly higher than comparable statistics for other countries in South-Eastern Europe). A critical issue is that financial protection of households against high out-of-pocket payments (OOP) is relatively weak, and quality of care remains a significant concern.
In 2013, Albanian public spending on health amounted to 2.6 percent of GDP, the lowest among countries in the region. Out of pocket expenditures accounted for as much as 55 percent of total expenditures on health (the highest among countries in the region) of which 45% was spent on pharmaceuticals. Hence the role of pharmaceuticals is critical.
The goals of pharmaceutical reform are the same as those of health sector reform: equity and access, quality, and efficiency. However, because of differences in financing and provision of services, certain problems such as inequity may be more severe within the pharmaceutical sector.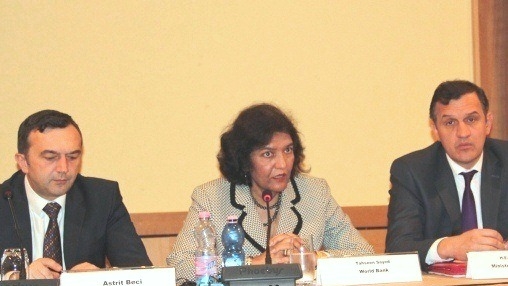 The Albanian Ministry of Health is embarking on health sector reforms. The World Bank is working closely to prepare a program of support under an upcoming Health Reform Project, which is seeking to (i) improve efficiency and quality of hospital services delivery; (ii) augmenting Health Management Information System (HMIS); and (iii) improve the Health Financing System, including design and piloting of innovative pharmaceutical policies (i.e: restructuring the existing reimbursed drug list, generic promotion and prescription, and piloting expanded coverage of outpatient drug benefit package).
In parallel, the Ministry on its own initiative is undertaking an ambitious reform of the pharmaceutical sector aiming to rationalize expenditure, improve reimbursement decision-making and increase access to medicines (some reform measures have already been implemented: wholesale and retail markups were decreased and VAT is no longer charged on medicines as of April 2014).
The World Bank provided technical assistance for reviewing the Pharmaceutical Policy, bringing in the experience of other countries. Today's technical workshop has been organized to discuss the findings with you.
While the benefits of spending on medicines are increasingly being understood, the key test is translating that understanding into policy action. Unmanaged spending runs the risk of contributing to fiscal problems for future generations, while too little spending runs the risk of Albania's population being less healthy and less productive as it ages. Spending on medicines provides social and economic benefits that need to be recognized in any discussion about future policy and spending decisions.
A key public policy challenge is how to ensure that the well-being of Albanians and the Albanian economy is enhanced to the maximum extent possible from the technological advances being made with medicines while maintaining an appropriate level of fiscal control. New medicines offer both valuable new treatments as well as improvements on existing treatments that allow for more appropriate care in response to the needs of individual patients. This can reduce both the incidence of associated downstream treatment issues and the overall cost of care.
Let me share three key issues in pharmaceuticals highlighted in the Review Paper:
First, Price comparisons to other Western Balkan countries (Serbia, Macedonia, Croatia) reveal that Albania, particularly if its economic context is taken into consideration, has significant potential to reduce prices of medicines.
Second, Supply-side constraints still remain a major obstacle to achieving substantial reductions on medicine prices, which undermines the access of large groups of populations on expensive medicines. Evidence shows that hospitals face continuous lack of medicines and procuring medicines for hospitals still remains a challenge.
Third, Potential regulatory measures of both supply and demand side can be implemented in a short – medium time. The objective would be to reduce high rates of co-payments, generate savings and ensure value-for-money for public health expenditures on medicines, increase access for lifesaving medicines, control the growth of expenditures on medicines, guarantee rational prescribing on medicines.
What could be some measures to move towards addressing these issues? A top priority is the development of a comprehensive framework, capturing key technical aspects of pricing and reimbursement policy including regulation for prescribing and dispensing. This would avoid wasting of scarce resources and allow the government to control the growth of pharmaceutical expenditures.
The Paper provides recommendations on both supply and demand side and these will be presented today for discussion. If these are taken on board, their successful implementation would require i) a sound legal basis, ii) political will, iii) enforcement capacity, iv) management skills and v) systems to collect data for measuring both the baseline and impact of a given measure.
The World Bank remains available to provide continued technical support as Albania moves to reform this important part of the health sector.
Thank you.