It's seven o'clock in the morning in Conakry, the capital of Guinea. Dr. Haba Eveline arrives at the COVID-19 Treatment Center. As soon as she enters, she washes her hands before starting her daily shift. A mother of five, she leads the Risk Management Unit which is now open 24/7.
She is one of the frontline health workers helping her country fight the COVID-19 (coronavirus) pandemic. "As a doctor, I am a fighter and I am proud to bring my experience to the response against this pandemic," she said.
Long before the first cases of the virus surfaced in Guinea, the country, with support from the World Bank and the international community, had devised a response strategy. It was therefore equipped with knowledge gained from combating the Ebola epidemic in 2014-2016.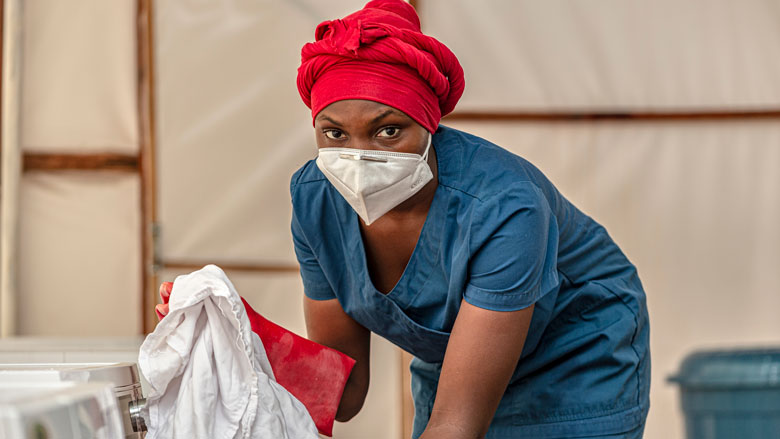 A health worker in Guinea © Papa Youshoupha Seck/World Bank
For other countries however, COVID-19 brought disruptions in health systems and uncertainty about what would be next.
Describing the precautionary measures recommended by health workers, Qamara, a resident in a village west of Jalalabad city, Afghanistan said: "They advised us to use masks and gloves and wash our hands frequently with soap and water."
Governments struggled to contain the spread of the virus and looked for emergency solutions. The World Bank Group responded immediately.