As countries around the world work to contain the spread and impact of the coronavirus (COVID-19), the World Bank Group is taking broad, fast action to help developing countries build stronger, more resilient health systems that are better prepared to respond to future outbreaks and can deliver quality frontline care and universal health coverage, leaving no one behind.
This includes the Bank's partnership with the Global Financing Facility for Women, Children and Adolescents (GFF) to ensure continued access to ante-natal and post-natal care, safe childbirths, child vaccinations and other lifesaving health services and stave off the secondary health impacts of the pandemic that are threatening to reverse years of progress in maternal and child mortality in low- and lower-middle-income countries.
In March 2020, the World Bank Group announced the COVID-19 Fast Track Facility to support countries' response to the pandemic. The overall response addresses both emergency containment and mitigation needs for COVID-19, including strengthening countries' health systems to treat severe cases and save lives. It focuses on their immediate health needs, limiting the spread of the pandemic, boosting disease surveillance, and supporting research to facilitate the development of vaccines and treatments. This combined approach is also needed to help contain future pandemics, including resurgence of COVID-19.
As of May 2020, the Bank Group is assisting 100 countries, home to 70 percent of the world's population, with their COVID-19 response. Two-thirds of these projects are health operations. This is part of the institution's pledge to make available $160 billion in grants and financial support to countries over 15 months. This also includes $50 billion of IDA resources on grant and highly concessional terms.
The health operations focus on strengthening countries' health systems in five broad policy areas: stopping transmission; managing budgets by cutting non-priority spending; protecting households by making COVID-19 care universally available; service delivery, prioritizing reproductive health and infectious disease control; and recovery and stabilization, with a focus on staying vigilant and increasing preparedness.
This page highlights some of the health operations financed under the COVID-19 Fast Track Facility.
AFRICA
Ethiopia: The Bank approved $82.6 million from IDA for procuring medical supplies and equipment, building diagnostic capacity and training, improving the health screening of people entering into the country, and establishing new quarantine, isolation and treatment centers. The project will also support communications and community outreach, including pandemic call centers to encourage behavioral change, such as social distancing, handwashing and sanitation.
The Gambia is receiving $10 million for the emergency response. This will enhance COVID-19 case detection, tracing, and reporting, as well as provide equipment to treatment centers to improve disease surveillance and diagnostic capacity. The program will also focus on community engagement to increase awareness and compliance with prevention and social distancing measures. It provides the financing needed to strengthen coordination with partners and implement the government's National COVID-19 Preparedness and Response Plan.
Mali is receiving $25.8 million for screening, detection and treatment of COVID-19 patients. The project will also improve laboratory capacity and surveillance, fund in-kind and cash transfers to affected households and patients, build capacity and protection of staff, and provide timely access to health care and fee waivers for affected patients. In this fragile country with a weak health system and limited emergency response capacity, the project will reinforce the early response already provided by the World Bank through the Regional Disease Surveillance Systems Enhancement programs (REDISSE).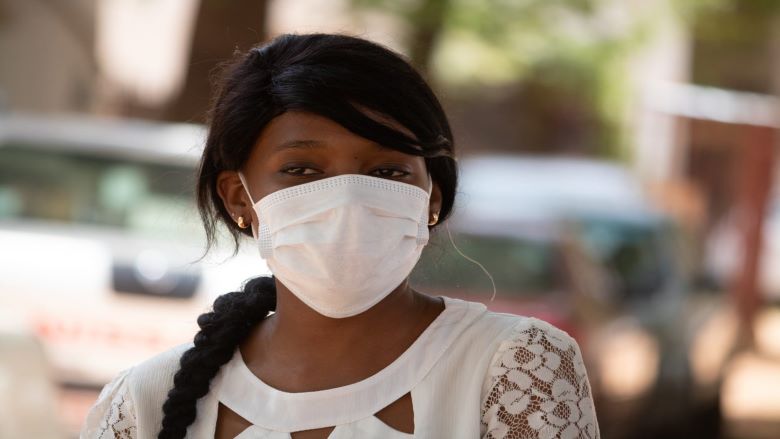 A woman wears a mask to prevent the spread of COVID-19 in Bamako, Mali. Ousmane Traore "Makaveli" / World Bank.
EAST ASIA & PACIFIC
In The Philippines, the World Bank approved $100 million for procurement of personal protective equipment, essential medicines, equipment and test kits. For one of the hardest hit countries in Southeast Asia, the project will also support the Department of Health in preparing guidance on standard design for hospital isolation and treatment centers and fund expansion of the country's laboratory capacity for preparedness against emerging infectious diseases.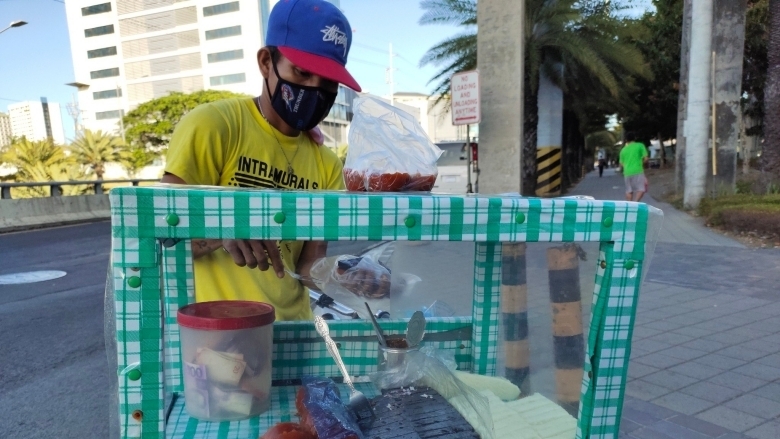 A man selling rice cakes wears a mask to prevent the spread of COVID-19 in Manila, Philippines. © Minette Rimando / International Labor Organization
EUROPE & CENTRAL ASIA
In Georgia, the World Bank pledged $80 million for COVID-19 emergency response measures, including urgently needed diagnostic supplies for national laboratories, personal protective equipment, medical equipment, medications, supplies for intensive care units, and ambulances. The project will also provide income support to poor and vulnerable households by scaling up the Targeted Social Assistance program and providing cash transfers to workers who lost jobs due to the pandemic.
The World Bank has also partnered with the Asian Infrastructure Investment Bank to provide an additional $100 million under a co-finance arrangement. Efforts are also providing government advisory support and engaging with key global suppliers for medical supplies and equipment procurement.
*Total Bank Group financing for Georgia will be nearly $200 million in new financing, in addition to approximately $300 million in the pipeline for 2020-2021 projects that support broader development needs, such as digital connectivity and infrastructure.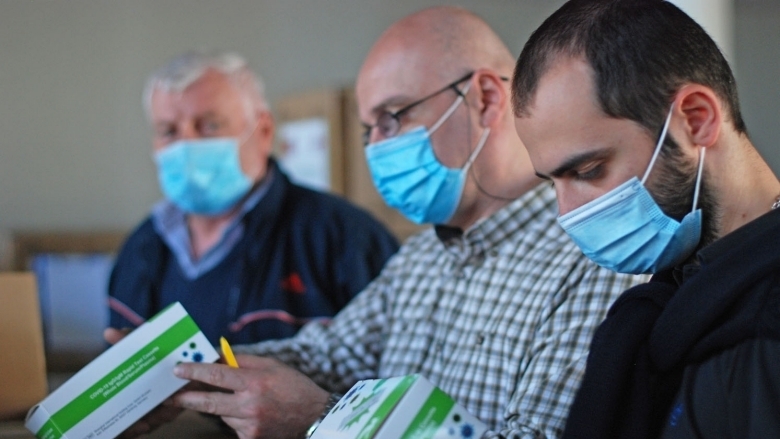 Workers unpack a shipment of COVID-19 medical supplies in Georgia. © Leonid Mujiri, World Bank.
In Ukraine, $135 million in additional financing for the Serving People, Improving Health Project will help to scale-up Ukraine's health sector response to the COVID-19 pandemic. Up to 40 hospital emergency departments and stroke units will be upgraded and thousands of Ukrainian doctors will be trained in the provision of modern medical services. $35 million is reserved for COVID-19 emergency response activities including essential equipment, communication of essential public information and reimbursement of financing to Ukrainian providers of health care for COVID-19 patients.
LATIN AMERICA & CARIBBEAN
Ecuador is receiving $20 million to finance medical supplies and strengthen health services to tackle the COVID-19 crisis. This includes procuring personal protective equipment and increasing the number of intensive care units. The project will also finance the national strategy for behavior change communications to mitigate virus transmission.
The operation is part of a more comprehensive program to minimize the effects of the pandemic, led by the Ministry of Public Health, the Ministry of Economy and Finance, and jointly supported with technical assistance from the Pan American Health Organization (PAHO) and World Health Organization (WHO).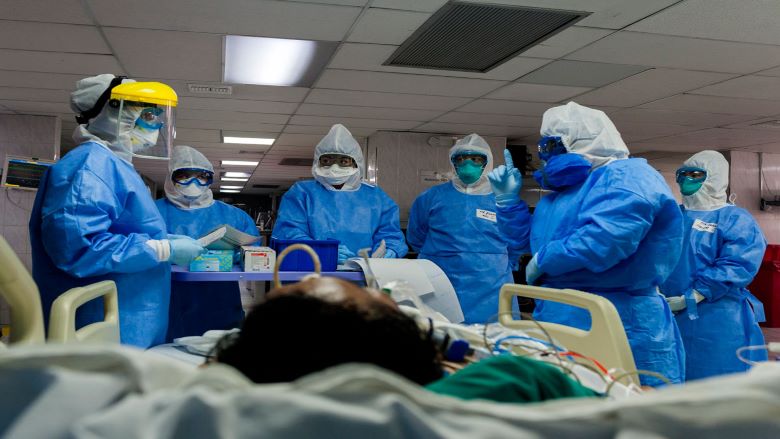 Medical staff treat a COVID-19 patient at Eugenio Espejo Hospital in Quito, Ecuador. ©Paul Salazar / World Bank
MIDDLE EAST & NORTH AFRICA
In Egypt, the World Bank's emergency response includes $50 million to procure medical equipment, develop a national campaign on COVID-19 prevention to protect vulnerable groups, and ensure continuity of routine medical services during social distancing and lockdown measures. The project will help strengthen contact tracing and health worker training and support redeployment of workers to hotspots. It is supported by an additional $7.9 million from the Contingency Emergency Response Component under the Transforming Egypt's Healthcare System Project to funds emergency response related to COVID-19, including patient screening.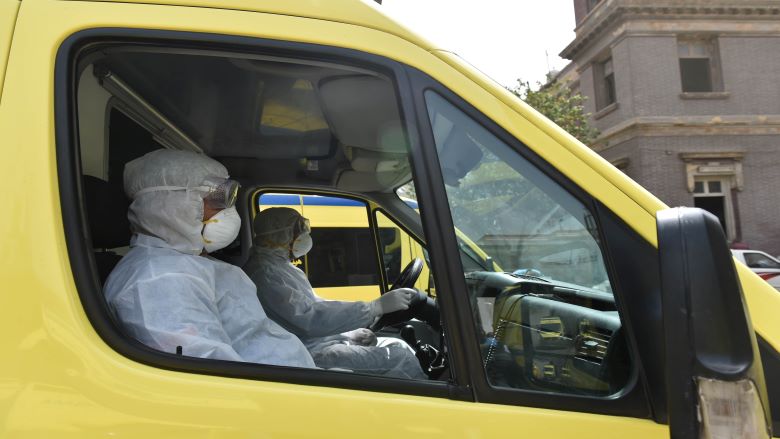 Cairo Ambulance Authority, Egypt. ©Mohamed Abdo / Al Ahram
The Djibouti COVID-19 package is $5 million will support detection, prevention and control measures and strengthen essential health care service delivery by establishing quarantine sites and treatment centers to manage COVID-19 cases. The project includes building laboratory capacity and training health personnel. It also supports behavior change communications, including social distancing, handwashing, and community engagement through community institutions and women's organizations in the most vulnerable areas.
The project is complemented by an additional $8 million from the Contingency Emergency Response Component of the Bank's Towards Zero Stunting Project to provide medical supplies and equipment and help rehabilitate quarantine and isolation facilities.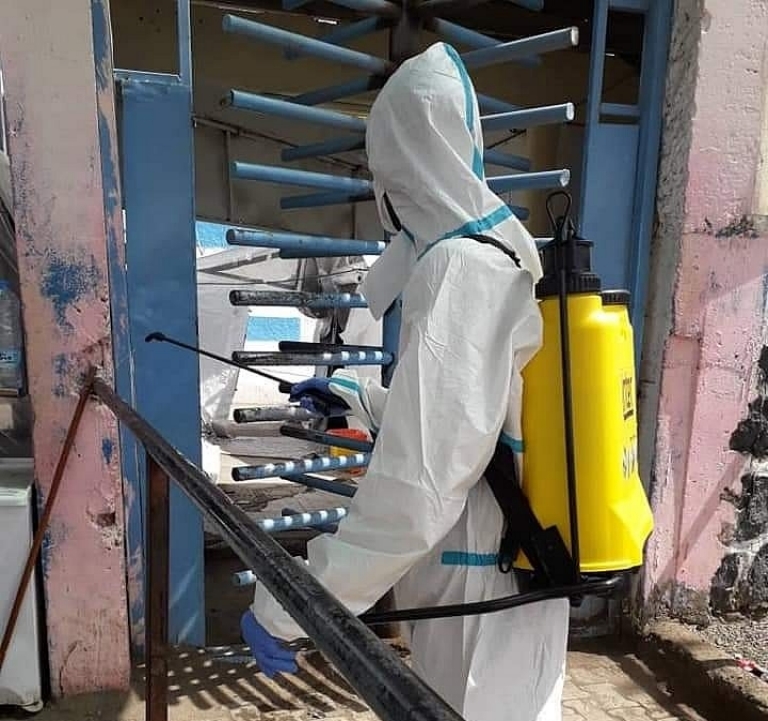 Health worker performing cleaning duties in Djibouti. © Red Eyes Production / World Bank
In Jordan, the World Bank's $20 million project will help the country prevent and contain the spread of COVID-19, including through enhanced testing, contact tracing, risk assessment and clinical care management. It will help the Ministry of Health implement its National Preparedness and Response Plan over the next two years and will complement support provided by development, humanitarian and private sector partners. The plan, prepared with the WHO, will be updated periodically to identify financial requirements for various outbreak scenarios.
SOUTH ASIA REGION
Pakistan is receiving $200 million in support for COVID-19 preparedness. The emergency response focuses on urgently needed medical equipment and supplies, social protection measures such as cash transfers for the poorest households, and food rations for those hardest hit by the economic fallout, including women, informal workers, and those with limited mobility. The project also supports remote learning to ensure education continuity as well as a comprehensive communications campaign. The funding includes $100 million from IDA and $100 million from the World Bank's Fast Track COVID-19 Facility.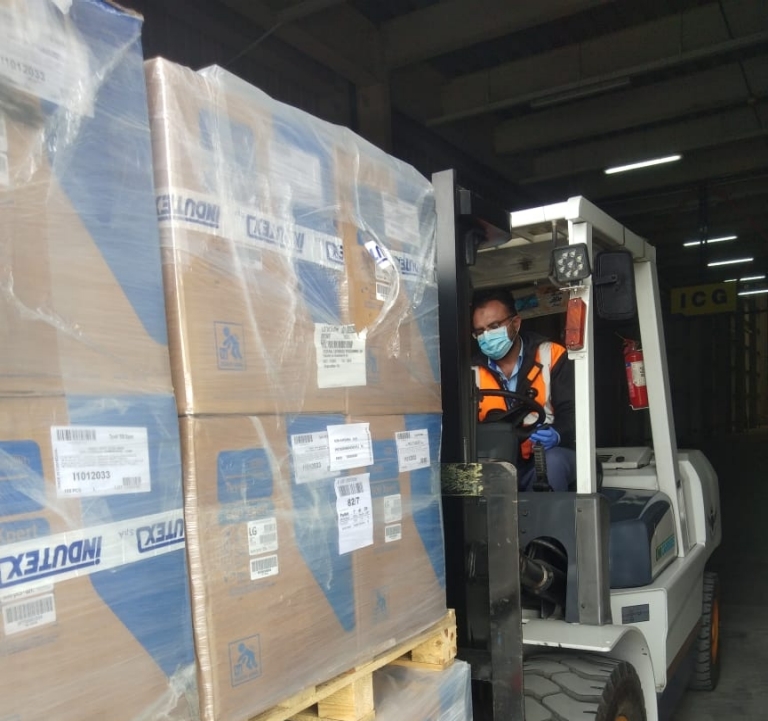 A supply of personal protective equipment in transit in Pakistan. © World Bank
In India, the Bank is providing $1 billion in emergency financing (including $350 million from the Fast-Track COVID-19 Facility) to strengthen diagnostic capacity; procure testing kits, ventilators, medicines and personal protective equipment; set up new isolation wards; expand intensive care units; and support research on COVID-19 by Indian institutions. This is the largest ever health sector support from the Bank to India and will cover all states and territories. It includes behavior change campaigns on hygiene practices, wearing of masks, and social distancing, as well as mental health services for vulnerable communities. It will scale up efforts to limit disease transmission, both human-to-human and between humans and animals. The country is receiving additional funds to accelerate India's COVID-19 Social Protection Response Program.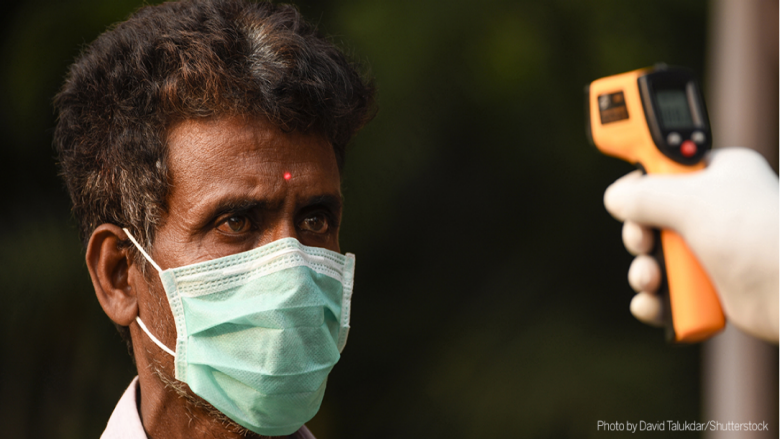 A man's temperature is taken during the COVID-19 outbreak in India. © David Talukdar / Shutterstock.
Click to view: Feature Story l Press Release l Project List l Overview Page l HNP and Pandemics l The Global Financing Facility (GFF) and COVID-19 l Statement