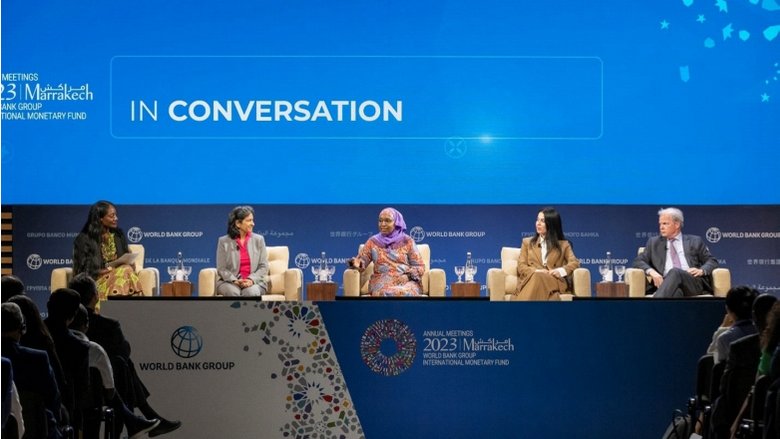 With chronic instability, war, continued climate disasters and a fledgling pandemic recovery, the World Bank Group committed at the 2023 Annual Meetings in Marrakech, Morocco to evolve and rise to the challenges with a new mission: eradicate poverty on a livable planet.
During his plenary speech before World Bank governors the president outlined the new mission including a central emphasis on women, youth and jobs. He described plans for the institution to increase its financial capacity and refocus on confronting challenges "not just as a funding mechanism but as a knowledge mechanism."
"We are becoming faster and more efficient; we have new ways to respond to crises, we are focusing our knowledge bank on scale, and driving thought leadership," Banga said while describing his vision of bringing knowledge to the forefront of the institution's country-driven model.
The heightened focus on jobs, women and youth was amplified by World Bank Group governors in the Annual Meetings Development Committee paper, and carried through several high-profile events at Annual Meetings, showcasing the depth and breadth of the Bank's knowledge and thought leadership in human development.
"Members recognized the transformative impact of the empowerment of women and girls, agreeing that the next phase of Evolution place a greater emphasis on the Bank's role in driving progress on gender equality and human development," governors said in the paper.
More Jobs through Investing in Human Capital