Technology and data are integral to global daily life, including in the health sector. As health systems face increasing demands to deliver new, more, better, and seamless services affordable to all people, data and technology are essential. Digital technology can strengthen health systems, improve health financing and public health, and increase reach for underserved populations. With the potential and perils of innovations like artificial intelligence, the future of health and health care is expected to be technology-embedded and data-linked.
But despite technological progress and data availability, health policy decisions in many countries are often not based on reliable data. It is estimated that some countries use less than 5% of health data to improve health. Within challenging fiscal environments, people-centered and evidence-based digital investments can help governments save up to 15 percent of health costs.
The "Digital-in-Health: Unlocking the Value for Everyone" report presents a new way of thinking about digital health investments expanding the focus from digitization of health data to integrating digital and health as one: Digital-in-health.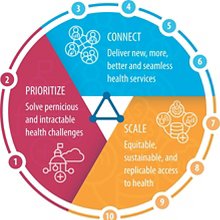 To embrace a digital-in-health approach, 3 areas are essential for governments as they invest in digital and data: prioritize, connect, and scale:
PRIORITIZE digital health interventions to solve health challenges
People- and problem-centered choices: Choose digital technology that responds to people's health needs and is evidence-based
Reaching the underserved: Choose digital health solutions that improve access and availability of health care services to vulnerable and marginalized groups
CONNECT to deliver new, more, better and seamless health services that a changing world requires
Leadership and partnership: Drive digital health action within and across sectors through strong country leadership
Data governance: Increate data use and reuse to realize greater value while reinforcing ethical standards and regulatory systems for equitable and trustworthy digital solutions
Digital infrastructure and health information gaps: Connect facilities, services, information, and people, and fill health information gaps by connecting siloed information systems
Global and regional collaboration: Global and regional solidarity to support countries as they lead digital health investments in their countries
SCALE to ensure equitable access to health care for everyone and leave no one behind
Digital skills and literacy: Help patients and providers understand, trust, and confidently use new technology and data
Nimble public-private and private-private partnerships: Innovate how the private and public sectors work together in designing, delivering, and funding digital health solutions
Wider digital transformation: Create synergy between the health system's efforts and the wider digital transformation agenda in a country
Financing and implementation: Finance enough at the right time, monitor implementation progress, and track outcomes
The World Bank supports countries in their digital-in-health transformation. This is integral to our work to help strengthen health systems.
In Tajikistan, implementing a new health insurance scheme includes expanding health information systems and electronic payment of health insurance claims.