The eruption – and subsequent tsunamis – of the Hunga-Tonga-Hunga-Ha'apai underwater volcano in Tonga was a 'once in a 1000-year event' that caused damages and losses of an estimated US$182 million or 36.4% of Tonga's GDP. The impact of this catastrophic event has been far-reaching; affecting at least 85% of Tongans. However, the disaster also highlights how Tonga's early planning and prioritization of resilient investments has saved lives, protected properties and will enhance recovery efforts.
Following a request from the Government of Tonga, the World Bank was able to quickly disburse US$8 million in emergency funding that will help with the restoration of critical infrastructure. Yet, as donors, families and the public help respond to ongoing recovery efforts, this event highlights the importance of disaster risk mitigation, preparedness and continued ex-ante investments in long-term resilience. For school infrastructure in the Pacific, there is still much work still to be done.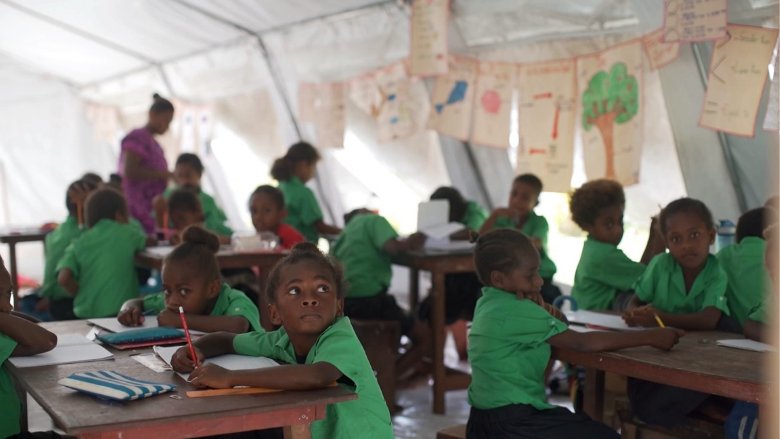 Too many learning days lost
Each year, thousands of children in the Pacific miss out on school when their classrooms are either damaged or destroyed by natural hazards. School children attending school in makeshift tents is an all too familiar sight in the aftermath of disasters across the Pacific region.
School buildings and other education infrastructure are disproportionately impacted by natural hazards in the Pacific when compared with other types of infrastructure. For example, when Tropical Cyclone Gita hit Tonga in 2018, 72% of schools were damaged, compared with 35% of houses. With 109 schools either damaged or completely destroyed, the education of approximately 23,000 students was severely impacted.
Recent modelling estimates that natural disasters cost the Tongan education sector on average US$7.38 million per year, the equivalent of 1.5% of Tonga's GDP. These heavy costs divert the Pacific Safer Schools Program is working in partnership with the ministries of Education in Tonga, Samoa, and Vanuatu to improve the safety and resilience of schools.Pacific Safer Schools Program is working in partnership with the ministries of Education in Tonga, Samoa, and Vanuatu to improve the safety and resilience of schools. In each country, the program has partnered with the construction industry and with NGOs such as the Red Cross, to better understand the drivers of risk to schools, to integrate risk reduction into existing and planned education infrastructure, and to transform school infrastructure planning, construction, and maintenance practices.
The question over which schools get priority
Key elements of school infrastructure risk include a school's location, the quality of building design, materials, and construction workmanship, as well as how regularly and well buildings are maintained. These factors all contribute to the vulnerability of a building and how likely it is to withstand the forces of natural disasters.
In 2021, assessments of over 6,000 school buildings across Samoa, Tonga, and Vanuatu found that between 50 to 90% of buildings may not withstand a strong cyclone or earthquake. Common issues identified include poorly maintained, corroded, and insufficient roof strapping, inadequate steel reinforcement and the use of unwashed beach sand in construction. In addition, methods for storing information on buildings and assets, as well as the irregularity of infrastructure assessments have hindered efforts to prioritise maintenance, retrofitting and new construction.
The Pacific Safer Schools Program is helping overcome some of these challenges. Through user-friendly, risk informed asset registers, the program is supporting governments to prioritize resilient school infrastructure investments to make the most of the limited resources available, particularly given school infrastructure makes up a significant proportion of government-funded infrastructure.
Tonga's Prime Minister – and current Minister for Education and Training – says the support for prioritization makes a significant difference.
"Through this prioritisation, we can then invest the resources available or what we believe will have the most impact on the education system in Tonga to ensure it's more resilient," said Tonga's Prime Minister, the Hon. Hu'akavameiliku Siaosi Sovaleni.