ABUJA, Nigeria, July 15, 2021—"Where do I go from here?" This is the question constantly on the mind of Grace Sename Peter, a young lady of Beninese and Nigerian descent. The youngest of five children, she has always had a deep love for science and research. This propelled her to the African Center of Excellence for Genomics of Infectious Diseases in Nigeria, where she pursued an Master of Science (MSc) in Molecular Biology and Genomics.
Grace's studies focused on antibiotic-resistant bacteriaorganisms, and specifically, using molecular techniques to identify mutations in the Plasmodium falciparum parasite, known more commonly as malaria. This focus, she says, was borne out of the fact that Africa has fewer preventive measures when it comes to diseases and infections.
The teaching and facilities at the Center of Excellence exceeded Grace's expectations, opening her mind to the different ways that her scientific and research skills could be used for the benefit of Nigeria and Africa. She is passionate about using local solutions and resources to address regional issues. "We can't always wait for the Westernized countries to come in and solve our problems for us. We are not deficient when it comes to manpower or intelligence. Why not utilize what we have to solve our own problems?"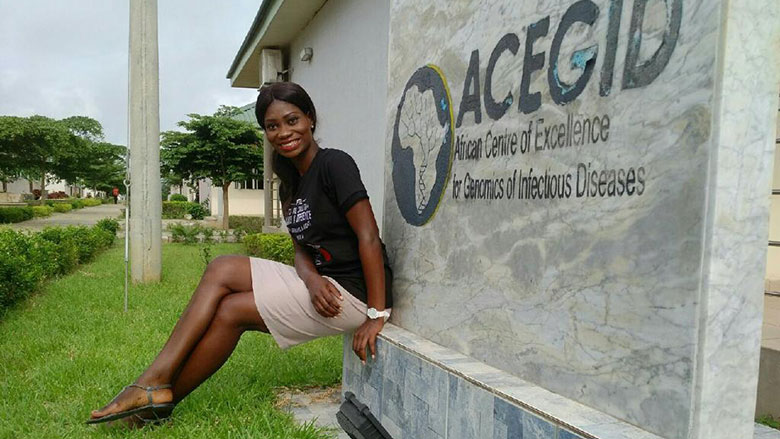 Outside the Center of Excellence. Photo: Grace Sename Peter
Understanding the value of research
Grace is now studying for a PhD in Environmental Microbiology with a focus on antibiotics in the environment. She is planning to use her knowledge of biochemistry to develop a technique to eliminate antibiotics in wastewater collected from hospitals. Treatment plants for wastewater in Nigeria are few in number and expensive to maintain, which has long-term consequences for society. "All the wastewater collected from farms, or run-off from hospitals and pharmaceutical companies just gets released into the environment and goes into the groundwater and surface water. People end up consuming this, predisposing them to infections they are probably not able to treat in the long-term, due to exposure to antibiotics."