Waste generation rates are rising around the world. In 2016, cities generated 2 billion metric tons of solid waste, amounting to a footprint of 0.74 kilograms per person per day. With rapid population growth and urbanization, annual waste generation is expected to increase by 70 percent from 2016 levels to 3.4 billion metric tons in 2050. The urban poor, who are often underserved or have little influence on waste being disposed formally or informally near their homes, are especially impacted.
Managing waste properly is essential for building sustainable and livable cities, but it remains a challenge for many developing countries, including Ethiopia. Effective waste management is expensive, often comprising 20 to 50 percent of municipal budgets. Operating this essential municipal service requires integrated systems that are efficient, sustainable, and socially supported.
In Ethiopia, the country's recent strong economic growth has been accompanied by rapid urbanization. This has put pressure on cities' infrastructure and municipal services, including municipal solid waste management. In Addis Ababa, Ethiopia's capital and largest city (by population), waste generation is rising at a rate of 5 percent each year. Inadequate solid waste management increasingly threatens the health and livelihoods of the city's inhabitants and the environment.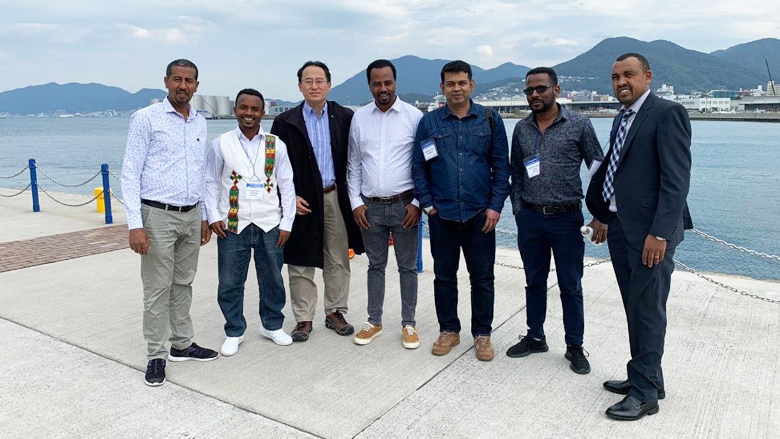 Ethiopian representatives visited Japan to learn about the solutions and expertise developed in the city of Kitakyushu as a part of a Solid Waste Mangement Technical Deep Dive in November 2019 (Photo: Wolrd Bank Group )
Operational support addresses system gaps and recommends solutions for improved delivery
The World Bank's Tokyo Development Learning Center (TDLC) began supporting the Integrated Strategic Development of Addis Ababa ASA (Advisory Service and Analytics) project in 2019. Representatives from Ethiopia attended a Technical Deep Dive (TDLC's knowledge acceleration program) on solid waste management in November 2019, and TDLC was then asked by Ethiopia to provide operational support. TDLC's operational support includes gap assessments, trainings for city officials, and recommendations on solutions and priority actions — all with the aim of improving solid waste management systems and capacities.
As part of the operational support, and building on ongoing advisory services and analytics, the TDLC team produced a solid waste management gap assessment report for Addis Ababa. This included data analysis and needs assessment, and proposed suggestions for how to improve delivery, prioritizing the strengthening of the city's short- and mid-term solid waste management capacities. TDLC also advised on how to operationalize Japanese Quality Infrastructure Investment (QII) principles, applicable to urban infrastructure and service delivery, for this project.
In December 2020, the World Bank and TDLC organized a virtual training on solid waste management for more than 30 participants from six Ethiopian cities: Adama, Addis Ababa, Bahir Dar, Harar, Hawassa, and Semira-Logiya. The program helped participants identify gaps in their solid waste management cycle, including data gaps. It also served as a platform for participants to engage in peer-to-peer knowledge exchange, learn from experts and practitioners, and interact with representatives from their national administration in order to reach a better understanding of cost-effective and feasible solutions.
One of the solutions discussed by TDLC's waste management expert was the Fukuoka Method, a semi-aerobic landfill technology developed in Japan. Case studies showed how the method has been applied successfully in cities in Japanese and also in other parts of the world, including African countries, such as Ethiopia, Rwanda, and Kenya. While this method has only been implemented in select landfills in Ethiopia, it could potentially be scaled up in other Ethiopian cities.