International shipping: a key enabler for trade and development, and a major source of emissions
Global maritime transport plays a crucial role in both facilitating trade and fostering economic development at an international scale. However, the sector also contributes to global climate change and local air pollution, producing around three percent of global greenhouse gas (GHG) emissions and emitting an estimated 15 percent of some of the world's major air pollutants annually.
Over recent years, shipping has come under increased pressure to address these negative environmental impacts. In 2018, the International Maritime Organization (IMO), a specialized agency of the United Nations which regulates shipping internationally, adopted an Initial GHG Strategy, sending a strong signal to the industry. The initial strategy mandates that shipping's GHG emissions are to be reduced to at least 50% below 2008 levels by 2050, and to be fully phased out as quickly as possible within this century. This represents a major challenge for a sector that is almost entirely dependent on fossil fuels, in particular on heavy fuel oil, a highly viscous residual fuel that resembles "tar" and contains large amounts of carbon and sulfur.
A new series of reports by the World Bank with valuable expert support from University Maritime Advisory Services (UMAS) highlights, however, that decarbonizing maritime transport offers a unique business and development opportunity for countries, including developing and emerging economies. For developing countries with large renewable energy resources, this could mean tapping into an estimated $1+ trillion future fuel market, while modernizing their own domestic energy and industrial infrastructure.
The prospects of zero-carbon bunker fuels for decarbonizing shipping
Those fuels are expected to enter the global fleet and rapidly scale up from 2030 onwards to achieve the IMO's 2050 climate target, as estimated by the Getting to Zero Coalition, a maritime alliance supported by the World Bank. However, it remains uncertain which of the emerging new bunker fuels will be the most significant in replacing the current fossil fuels.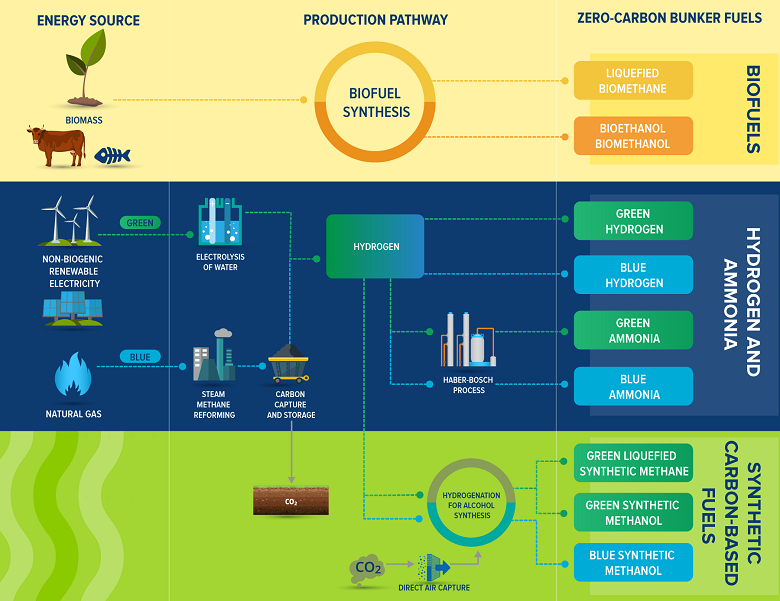 The first report in the series, "Volume 1: The Potential of Zero-Carbon Bunker Fuels in Developing Countries," finds that ammonia and hydrogen, "green fuels" if produced from renewable electricity, are the most promising for shipping at present. These fuels strike the most advantageous balance of favorable features relating to their lifecycle GHG emissions, broader environmental factors, scalability, economics, and technical and safety implications. Furthermore, ammonia and hydrogen offer additional flexibility as they can also be produced from natural gas combined with carbon capture storage (CCS technology)—then often referred to as "blue fuels." These multiple production pathways can help overcome concerns that not enough renewable electricity may be available initially to produce "green" ammonia and "green" hydrogen only. While biofuels and synthetic carbon-based bunker fuels also demonstrate high technical potential for use as zero-carbon bunker fuels, ensuring large-scale supply is likely to be constrained by the limited availability of, and competing demands for, sustainable biomass and lower cost competitiveness, respectively.
The role of LNG in shipping's energy transition
The second report in the series, "Volume 2: The Role of LNG in the Transition Toward Low-and Zero-Carbon Shipping," concludes that despite its inherent air quality benefits relative to oil-derived bunker fuels, LNG is unlikely to play a significant role in decarbonizing maritime transport. Instead, the research finds that LNG is likely to be used in niche applications like on pre-existing routes or in specific vessel types only.
To reach these conclusions, the report looked at the potential of LNG to play either a transitional role, in which existing LNG infrastructure and vessels could continue to be used with compatible zero-carbon bunker fuels after 2030, or a temporary one, in which LNG would be rapidly supplanted by zero-carbon alternative from 2030. Neither option is likely to prove viable. For a transitional role, liquefied biomethane and liquefied synthetic methane are the only zero-carbon bunker fuels that could reuse existing LNG infrastructure, but neither of them is expected to have a significant share of the fuel market in the long term. Moreover, not only are the GHG mitigation benefits uncertain, there are also considerable risks if countries and businesses invest in LNG infrastructure to meet the IMO's climate targets, including unnecessary capital expenditures, stranded assets, and technology lock-in.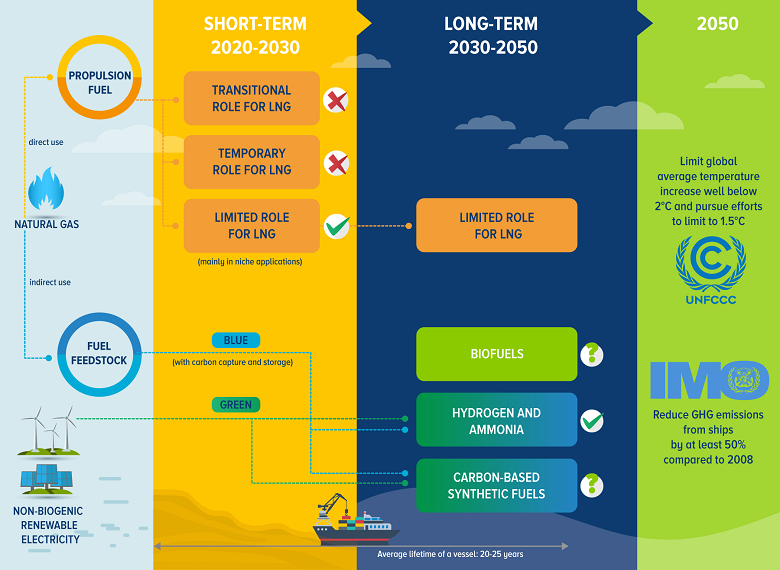 Conversely, rather than being burned as a bunker fuel in a ship's engines, natural gas in its non-liquefied state can be combined with CCS technology as a fuel feedstock to produce "blue" hydrogen or ammonia. In this manner, natural gas could kickstart the production of zero-carbon hydrogen and ammonia in the long term and play a more significant role in the transition towards decarbonization.
Opportunities for developing countries in zero-carbon shipping
Both developed and developing countries have an opportunity to capture this investment potential and break into a market previously dominated by a few countries with large domestic oil reserves.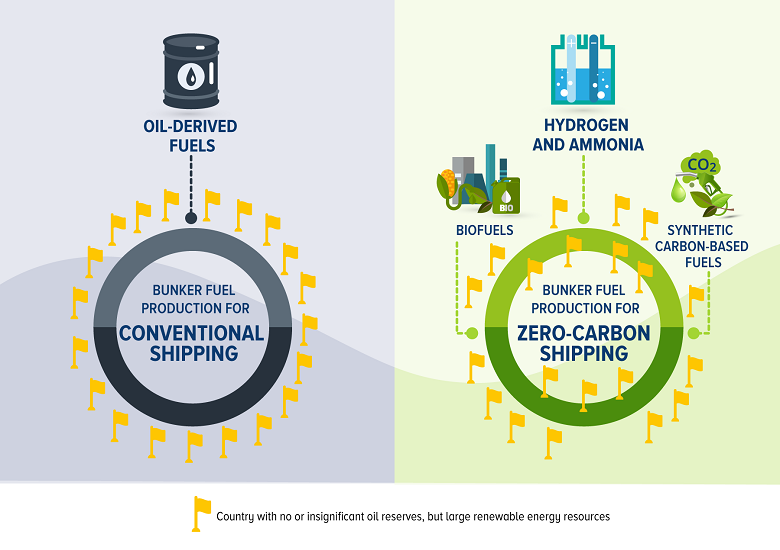 Volume 1 highlights that many countries are well positioned to produce a significant proportion of shipping's ammonia bunker fuel demand by 2050, and conducts illustrative case studies for Brazil, India, Malaysia, and Mauritius. The countries identified in the reports could harness their renewable energy or natural gas supply with CCS potential to not only modernize and decarbonize the shipping industry, but also their broader domestic energy and industrial systems.
Implications and Outlook
The reports also make the case that strategic policy interventions are needed to hasten the sector's energy transition and seize opportunities for wider economic, energy, and industrial development in developing countries. For instance, the introduction of a meaningful carbon price would create a level playing field for the development and utilization of zero-carbon bunker fuels. Revenue generated by such a market-based measure can help support developing countries in their energy transitions and accelerate crucial research, development, and deployment of these fuels. At the same time, business should also focus on "no-regret" options, such as increased energy efficiency and maximum fuel flexibility. Ultimately, constructive collaboration between industry stakeholders and policymakers, both at the IMO and on a national/regional level, can create greater certainty on the availability, pricing, and timing of zero-carbon bunker fuels which can further boost their rapid uptake from 2030.
Both reports were supported by PROBLUE, an umbrella multi-donor trust fund administered by the World Bank, supporting the sustainable and integrated development of marine and coastal resources in healthy oceans.