In late 2019, Bunge, one of the world's largest agricultural producers, took out its first sustainability-linked loan (SLL), following closely behind its competitors, Louis Dreyfus and Wilmar. The interest rate on Bunge's loan is tied to the company reducing its biodiversity impact and associated risks, namely increasing traceability for its main agricultural commodities and adopting sustainable practices across its wider soybean and palm supply chain. Global SLL volumes increased by 168% over 2018-2019. These instruments have the potential to help drive the transition to a nature-smart economy by offering short-term financial incentives for companies to implement their sustainability strategies.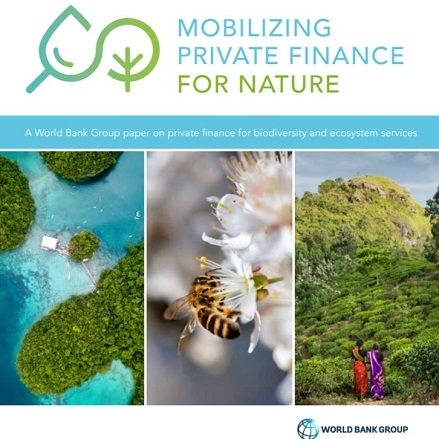 A new World Bank Group (WBG) report '
Mobilizing Private Finance for Nature'
looks at the current state of play for private finance for biodiversity and ecosystem services. The report argues that the financial sector, has a critical role to play in addressing the global biodiversity crisis, and that governments and regulators hold the key to harnessing the power of the financial sector to mobilize private finance at scale to protect nature.The report highlights a set of "Big 5" ideas for actions that can be taken to better integrate biodiversity risk and opportunities into private sector decisions. These range from environment fiscal reform and better data collection, to broad support of the recently-announced Task Force on Nature-related Financial Disclosures (TNFD).