Pauline Munganyinka, a PhD scholar at the African University of Science and Technology (AUST) in Nigeria, and currently in a "sandwich" program (incorporating international and home university based study) with Worcester Polytechnic Institute (WPI) in Massachusetts, plans to shake up the gold mining across the continent by developing an environmentally friendly alternative to the widely used toxic methods of extracting gold. Pauline, who grew up in a rural area of Rwanda and is a young mother with a two-year-old child, is one of the talented PhD scholars from Africa, benefiting from the Partnership for skills in Applied Sciences, Engineering and Technology (PASET)'s scholarship program.
With only 91 researchers per million inhabitants compared to the world average of 1,083 researchers, Sub-Saharan Africa (SSA) remains a land of science in the making. Betting on high quality students, skilled faculty and strong international partnerships, the Regional Scholarship and Innovation Fund (RSIF) implemented under PASET and led by African governments in collaboration with the World Bank, is designed to offer competitive scholarships to some of the brightest young African scholars to undertake applied scientific research in select African universities and in partner institutions abroad focusing on the key sectors driving development on the continent.
Last October, six of the first cohort of 16 scholars from eight countries in SSA, started their sandwich program at WPI, while others are doing it in other international partner universities We interviewed Pauline, her supervisor, and some of her colleagues, during their visit to the World Bank in early March to talk about their experiences and the future of Africa.
PASET team: Can you tell us more about your area of specialization? How do you see your research making a difference and influencing development in Sub-Saharan Africa?
Pauline: Across Africa, artisanal mining is the dominant way for the extraction of minerals. Miners work hard in unhealthy conditions and benefit little because of the lack of modern technology. My study will recommend the most viable method for gold recovery to help countries reduce pollution and wastage during processing, and thus reap optimum benefits from this valuable resource. By adding value to the minerals we have in Africa, my technology will contribute to modernizing the industry which will lead to improvements in livelihoods of the miners, their families and communities and will drive sustainable development in Sub-Saharan Africa.
PASET team: How has the Ph.D. program helped you towards achieving your goals?
Pauline: RSIF has helped me transform my knowledge and dreams into meaningful skills in my field. RSIF gave me the opportunity and support to pursue a Ph.D. in the African University of Science and Technology (AUST) in Abuja, where I started and completed a series of intense and very useful courses. It also gave me the opportunity to come to the US and continue my research at WPI, which is equipped with instruments that are helping me a lot in my work. This will lead me to achieving my ambitious goals.
PASET team: What are your hopes and dreams for Africa in the future? How do you foresee your research post-graduation?
Pauline: I hope one day the numbers of educated women will be proportional to that of the men, and that will positively change Africa. My dream for Africa is to have a peaceful Africa without conflicts between brothers and sisters; Africa with advanced technology where Africans make smart use of their natural resources and transform the lives of people on the continent. As for me, I will teach and inspire African women to like science. I see the world as my oyster, I will not limit myself to update my toolbox, anytime opportunity presents itself.
We also asked Pauline's adviser, Prof. Brajendra Mishra to share his thoughts about the program with us.
PASET team: Are there any unique attributes of the RSIF scholar you have been supervising that you would like to share?
Prof. Mishra: Pauline is working with me as my RSIF scholar. Her academic preparation for research work in the area of mineral processing is superior to many other students I have supervised in my 30 years of advising. She communicates extremely well and her knowledge of mineral processing attests to her brilliance. Pauline and her colleague, Baptiste, also a RSIF scholar (who I advise), have very pleasing personalities and are always willing to take on additional responsibilities with enthusiasm. They work exceedingly well with other staff and students in the department. Pauline and Baptiste bear a sterling moral character and passion befitting a young individual keen to serve society through their profession. Their demeanor is fully professional, and they have a sincere work ethic requiring little supervision.
PASET team: What do you find most exciting about the collaboration with African universities?
Prof. Mishra: This collaboration offers me a unique opportunity to contribute to the educational advancement of the universities in Africa by preparing future scientists and educators who will grow and nurture a new generation of engineers working in the most important areas for development on the continent. Africa is the richest continent in mineral resources. Therefore, using them in a socially and environmentally responsible manner is of utmost importance.
PASET team: How do you think programs like RSIF can help universities to address pressing development challenges in Sub-Saharan Africa? What aspect of the RSIF program do you find most transformative or innovative?
Prof. Mishra: The current technologies that are being used and practiced in Sub-Saharan Africa are artisan-based and often have very negative environmental and health impacts on local communities. African universities can bring state-of-the art knowledge and practices and transform the mining community into a strong industrial base. Widespread use of innovative methods for mineral and metal processing will drive economic growth on the continent and, what is key, will do it in a sustainable manner. This Fund offers much-needed support for the universities to train their future researchers and educators.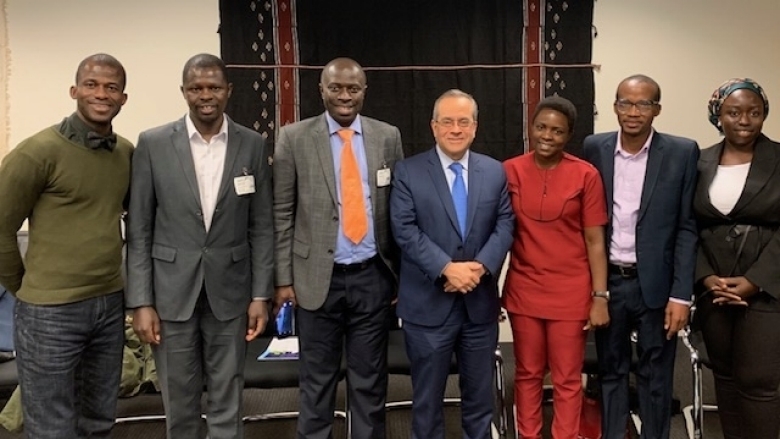 Jaime Saavedra (center) meets the PASEF scholars, including Pauline.
Pauline's ambitious dreams are shared by the other RSIF scholars. Jean Baptiste Habinshuti, from Rwanda, and David Afolayan, from Nigeria, also hope to create a sustainable mining industry in Africa; Emmanuel Effah, from Ghana, and Fatoumata Thiam, from Senegal, would like to contribute in the space of the Internet of Things (IoT), training workers in different industries in IoT and reducing unemployment, and helping youth use IoT to build new innovations, respectively; and Richard Koech, from Kenya, hopes to develop Africa's energy sector, partnering with industries and other organizations to develop low-cost and efficient solar panels accessible to the population. Their fellow scholars at other international partner universities are similarly working on exciting research that will help to address Africa's critical development challenges. Pauline and her colleagues want to have a strong imprint on the future of Africa. And they are just getting started!
For more information, please see:
The Regional Scholarship and Innovation Fund
Last Updated: Mar 26, 2020