March 2-6, 2020
A new format TDD to support ongoing development projects in Kenya
The government of Kenya, in collaboration with the World Bank's Kenya urban team and Tokyo Development Learning Center (TDLC), organized the Kenya Urban Development Workshop March 2–6, 2020 in Nairobi and Naivasha. Kenya is committed to addressing urban development challenges and has been an active participant in TDLC's knowledge acceleration program, Technical Deep Dive (TDD). This workshop, designed at the behest of the government of Kenya to support ongoing World Bank projects, represents a step forward for TDLC — its first country-specific, operationally focused TDD.
The workshop focused on three core topics relating to ongoing development projects: affordable housing, transit-oriented development (TOD), and solid waste management (SWM). Cutting across all topics was an emphasis on quality infrastructure investment (QII) principles and their application, in order to promote economic efficiency, social and environmental inclusion, resilience, and effective infrastructure governance.
In addition to technical sessions, participants visited World Bank-financed sites, including Nairobi Standard Gauge Railway stations, an upgraded Naivasha informal settlement, the Gioto dumpsite, and a sanitation social enterprise in Naivasha; participants also rode in a matatu (the minibuses that are widely used in Kenya as public transportation).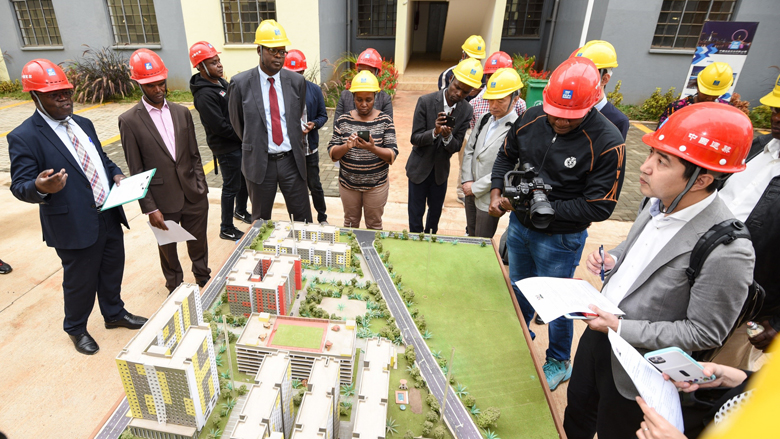 Kenya government officials presenting on the Park Road Project, an affordable housing project in Nairobi, to Japanese QII experts and participants from other Kenyan counties. Photo: World Bank Group
About 60 people participated, including representatives from Kenya's State Department of Urban and Housing Development; directors responsible for departments of planning, housing, transport, urban development, and SWM from eight counties; Kenya Railway representatives; and the private sector. Joining from Japan as speakers and observers were officials from the Ministry of Land, Infrastructure, Transport and Tourism (MLIT), Japan International Cooperation Agency (JICA), and the Institute for Global Environmental Strategies, as well as private sector experts in construction, real estate, renewable energy, and building materials.