MAMBOUE, Burkina Faso, September 16, 2019 — Waimbabie Gnoumou is unlike any other husband; an athletically built 38-year-old farmer and polygamous father of eight, he helps both his wives with household tasks. This concept is unheard of in a region steeped in tradition, where the distribution of household responsibilities among women and men remains very unequal. Just a few years ago such a sight was nonexistent. But today in Mamboué, in the Houndé commune in western Burkina Faso, this small revolution can be described in three words: school for husbands.
Financed by the International Development Association through the Sahel Women's Empowerment and Demographics Project (SWEDD), and implemented with technical support from the United Nations Population Fund (UNFPA), the school or club for husbands, composed of about 15 married men like Waimbadie, meets once a week. In this brick building, they discuss family life, guided by a facilitator.
Women's rights, reproductive health, maternal health, family planning, hygiene--all these topics are addressed and explained with the goal of spurring behavior change among men in the village. The husbands' club allows men to share their experiences, ask questions, and learn from each other so that they are no longer merely spectators, but instead contribute fully to promoting the well-being of mothers and children in a region where there were 747 cases of neonatal death in 2018 and where 95 women died during childbirth.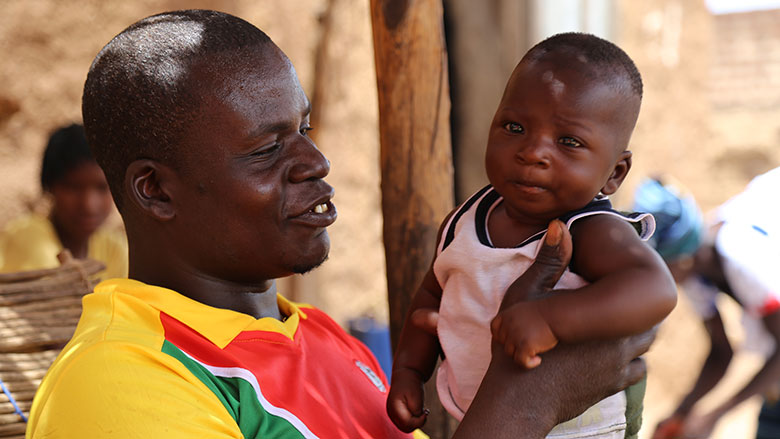 An innovative approach, bringing peace to couples and to the village
"The school for husbands creates an environment in which men can feel confident sharing with and learning from each other," explained Ouanibaouiè Bondé, a female facilitator from the neighboring village of Boni. "Here, they can speak without fear of what people will say about subjects traditionally left to women, such as family planning, prenatal consultations, the need to give birth in a health center, and postnatal consultations. Convincing husbands that they have a role to play in these issues helps promote harmony among couples and families," she added.
Waimbabie Gnoumou believes this approach is bearing fruit. "Before the school for husbands was launched in the village, there was a lot of tension among members of my family. And when I drank too much millet beer, I argued with my wives," he explained, with regret evident in his voice. "But that is now all in the past!"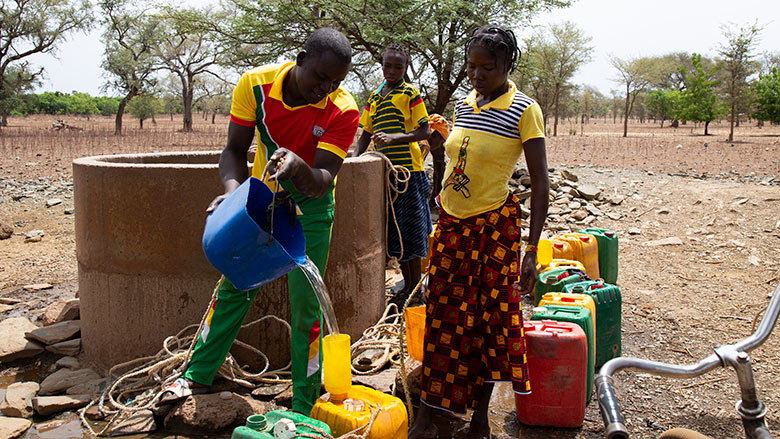 Since he joined the husbands' school, Waimbabie has been fully involved in household chores. Photo: Lionel Yaro, World Bank
Waimbabie Gnoumou is not the only one feeling the impact of the school for husbands. His wife, Martine, noted with delight and pride, "Now, my husband often brings me seasonings from the market for cooking. When I want to do the laundry, his eldest son goes with him to collect water from the creek. When I am pregnant, he goes to the health center with me for the weighings. On the day I gave birth, he was the one who drove me to the hospital and wanted to stay at my side during the birth. I was so happy on that day that I forgot about the pain from the contractions!"
The project is also targeting future husbands to prepare them to assume the responsibilities of married life. "I learned a lot about family life and reproductive health. When I get married, I will have many discussions with my wife about contraceptive methods and family planning," vowed Sienimi Gnoumou, a young, 22-year-old farmer in Mamboué and a member of the future husbands' club.
A long-term investment in human capital
For Dofinta Gnoumou, the Mamboué village chief and frequent arbitrator in marital disputes, "the launch of the school for husbands is a blessing. All the members of the husbands' club have improved their behavior toward their wives and outreach is continuing in places of worship and bars in the village." His wish is that other villages benefit from this initiative.
What the men in the village of Mamboué do not yet realize is that by accompanying their wives to prenatal consultations and helping them with household tasks, they are contributing to boosting the human capital of their families and the community. Studies show? a healthy woman who feels secure and supported by her husband will give birth to healthier children with sound cognitive development that will improve their likelihood of academic success.
Meanwhile, statistics from the Boni Health and Social Promotion Center (CSPS) in the Houndé health district are encouraging. The number of women using new contraceptive methods increased during the first quarter of 2019, and about 10 husbands attended prenatal consultations during the second trimester of the pregnancy, as well as the births.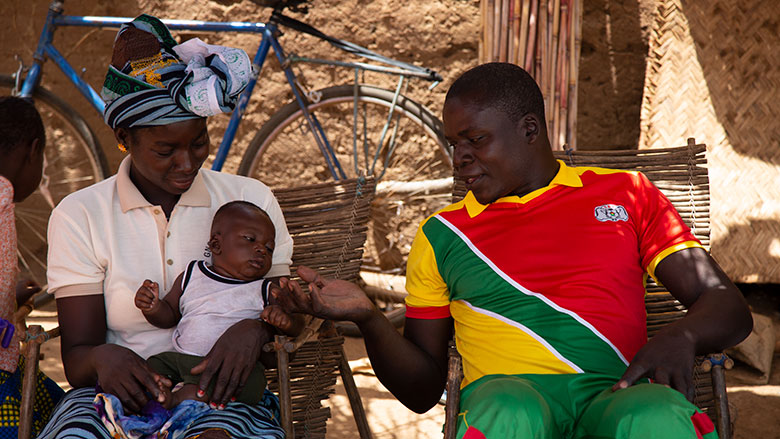 "Thanks to the husbands' school, love has returned to our home," said Waimbabie's wife. Photo: Lionel Yaro, World Bank