Imagine that you are a small-scale rainfed agriculture farmer. You face significant challenges. Water and food demands are growing. Competition for water is escalating. You rely heavily on unpredictable rain to grow food and sustain your livelihood. Weather related disasters --- such as floods, droughts, and heat waves -- are increasing in frequency, intensity, and duration.
Consequently, you, your family, and your entire community suffer from unstable incomes and occasional hunger, in addition to the need to accumulate savings in order to support education and health expenses. Your farms are vulnerable to soil degradation, low yields, and pests and diseases. Overall, risks are prevalent: market volatility, land and water tenure, and climate shocks and stressors. Sometimes, you are left with empty stomachs and empty pockets.
Although smallholder farmers are essential to feeding the world, they will continue to face these compounding challenges unless immediate action is taken worldwide.
Farmer-led irrigation is a revolution already in progress that has the potential to positively change the fate of millions of smallholder farmers. In order to scale-up farmer-led irrigation and fast-track inclusive economic growth, the international community needs to boldly advance sustainable investments.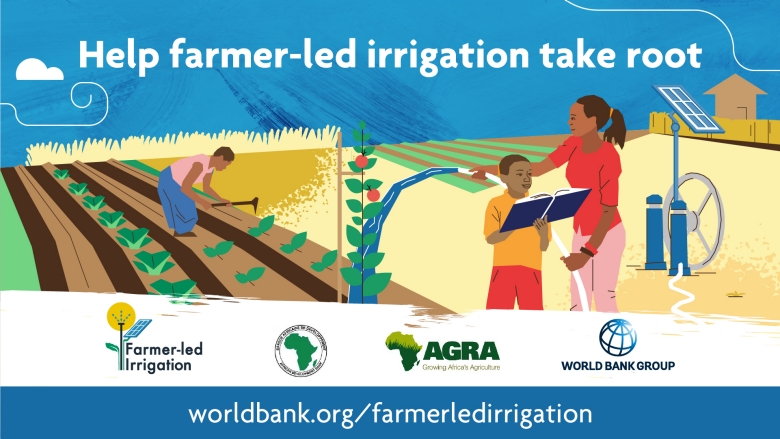 Expanding Farmer-led Irrigation in Support of Global Food Security and Poverty Reduction
Farmer-led irrigation is built on belief that farmers should have agency and autonomy over decision making related to irrigation development and implementation. It is a cost-effective and scalable agricultural water management solution. Scaling up the farmer-led irrigation agenda may yield numerous benefits and help farmers adapt to a resource finite world by:
Increasing agricultural productivity and diversity;
Creating employment opportunities;
Strengthening climate and water resilience;
Boosting inclusive economic growth;
Stabilizing social and political systems;
Improving sustainable groundwater management;
Empowering women, youth, and vulnerable communities.
How Do We Scale Up Farmer-led Irrigation?
From Mozambique, India, and Mali to Ethiopia, Tanzania, and Mexico, it is imperative to help smallholder farmers adopt innovative technologies and access capital in order to catalyze positive change. In particular, scaling-up farmer-led irrigation requires:
Developing innovative financial models and accessible financing – particularly from the private sector -- including for labor, capital, and land;
Leveraging creative and disruptive technology at multiple scales;
Building on farmers' existing knowledge and experience;
Boosting outreach and knowledge sharing to facilitate rapid implementation;
Fostering international partnerships between multiple stakeholders to work collaboratively towards the goal of expanding inclusive finance;
Supporting institutional adaptation and innovation for enabling policy environments;
Lead. Measure. Grow: Farmer-led Irrigation at the African Green Revolution Forum
To this end, the World Bank held a joint side event, in collaboration with AGRA and the African Development Bank, at the Conference Center in Kigali, Rwanda on September 05, 2018. The farmer-led irrigation side event brings together policymakers, researchers, private sector representatives, financial institutions, and farmer organization in order to better understand how investing in farmer-led irrigation can push forward inclusive economic growth, poverty reduction, and food and water security. The event showcased voices from farmer representatives, the private sector, national and regional policymakers, and major international financing institutions – galvanizing a coalition of support to legitimize farmer-led irrigation as a major development agenda, particularly for Africa.
The African Green Revolution Forum, with the tagline "Lead. Measure. Grow: Enabling New Pathways to Turn Smallholders into Future Agribusiness", is widely recognized as the premier platform in Africa for advancing the continent's agricultural transformation agenda. The 2018 forum involves more than 1,500 delegates and high-level dignitaries, including current and former Heads of State and Government; Ministers of Agriculture and Finance; eminent leaders of global and regional development institutions; top industry champions from the national, regional, and global private sector; and lead representatives of farmer organizations and key non-governmental implementing partners.
African Green Revolution Forum 2018: Photos | Videos
The Future is Farmer-led Irrigation
The Farmer-led Irrigation Initiative at the World Bank, with support from the Global Water Security & Sanitation Partnership (GWSP), will continue to delve into the challenges of feeding a growing population, improving nutrition, adapting to the impacts of climate change, and reducing global poverty. It will also look at how to support technological innovations and public and private sector collaboration in order to maximize finance for development.
The time to start the farmer-led irrigation transformation is now – through a blend of leadership, innovation, experience and financial resources. Farmer-led irrigation is manifest in order to achieve the Sustainable Development Goals and the commitment to leave no one behind.
Urgent international commitment to farmer-led irrigation is required to support farmers in the fight against the compounding challenges of our time. Plant the seeds of change and help farmer-led irrigation take root – to move toward a water and food secure world for all.
Join the farmer-led irrigation revolution discussion at @WorldBankWater with #Farmerledirrigation.
Learn more:
An Introduction to Farmer Led Irrigation
Contact: Farmerledirrigation@worldbank.org
Webpage: www.worldbank.org/farmerledirrigation