MAPUTO, May 15, 2017 - Mozambique is richly endowed with natural resources including 40 million hectares of natural forests. Despite their tremendous potential, the country's natural forests are being rapidly depleted at an annual rate of approximately 0.35 percent a year, representing an annual loss of almost 140,000 hectares. The threat that the current rate of deforestation in the country poses to rural livelihoods, wildlife and biodiversity habitats, as well as emissions of greenhouse gases generated by deforestation is significant.
The World Bank is supporting Brazil and Mozambique's south-south cooperation on the matter, particularly in sustainable rural development. To that effect, a new Memorandum of Understanding (MoU) spanning a broad range of issues, from land management and biodiversity to climate change mitigation and adaptation was signed on May 11 in Maputo between Brazil and Mozambique. Some of the specific learning objectives include effective public policy reforms for environment and conservation agriculture; innovative measures to increase land regularization; planting technologies for restored areas; value chain development and the promotion of rural smallholder entrepreneurship; and the potential for public-private partnerships to provide rural credit streams for smallholders and agribusinesses.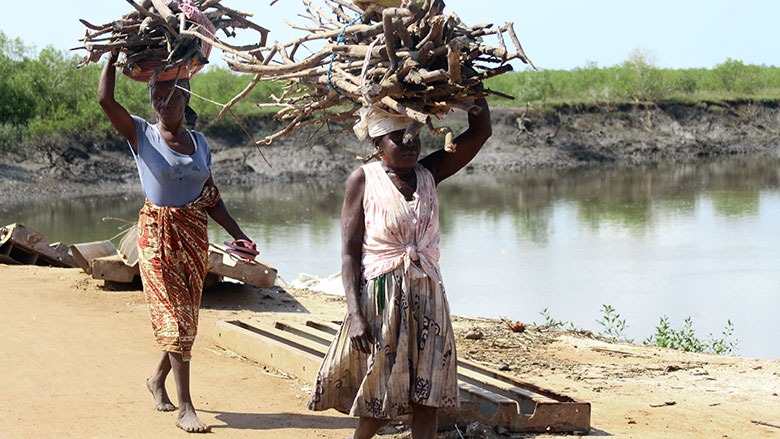 Reduce deforestation, restore wildlife and biodiversity habitats, and improving rural livelihoods are some of the objectives of the MoU. Women carry wood bundles in Zambezia Province. Photo: Andrea Borgarello/World Bank.
"We are pleased with this MoU with Brazil and the World Bank. We look forward to learning from Brazil's commendable efforts to promote sustainable rural development," said Oldemiro Baloi, Mozambique's Minister for Foreign Affairs. "This MoU is also unique in that it is a tripartite agreement between two countries with a long history of collaboration, and a key development partner."
Brazil and Mozambique share many similar challenges and opportunities; they are both internationally recognized for their natural resources, ecological richness and biodiversity hotspots, and both grapple with resource exploitation challenges. With experience in supporting natural resource dependent communities and managing large forest ecosystems, Brazil offers capacity in areas relevant to Mozambique's efforts to enhance the living conditions of its rural population and promote sustainable natural resource management.
Mozambique is now the largest recipient of South-South cooperation from Brazil in Africa. "We are happy to strengthen this relationship through this MoU" says Aloysio N. Ferreira, Minister of Foreign Affairs Brazil (Itamaraty). "We remain available and eager to contribute to Mozambique's efforts towards the promotion of sustainable rural development, and glad to learn about Mozambique's experiences."