As the rain fell gently one end-August afternoon, Philippe Le Houerou crossed no man's Land to enter India through the Wagah Border Post with Pakistan. Newly appointed vice president (VP) for the South Asia Region (SAR), Le Houerou chose the unconventional way to travel between India and Pakistan for his first visit to the region. As he stepped into India, accompanied by outgoing VP Isabel Guerrero, Le Houerou he was greeted by military salutes, welcoming government officials and a gathered clutch of cameramen. Driving away from Wagah, Le Houereu witnessed a rare border sight in one of the least connected regions of the world – a line of trucks waited to cross into Pakistan bearing loads of onions and cotton, part of the very limited border trade between the two neighbors.
"I was surprised to learn that intra-regional trade in South Asia is as low as 5% of total trade and that the costs of trading across borders is one of the highest in the world,"says Le Houérou, who was until recently the World Bank vice president for Europe and Central Asia. "Shared borders could lead to shared prosperity and we at the Bank are ready to help the countries of South Asia enhance their opportunities for greater trade and resource cooperation."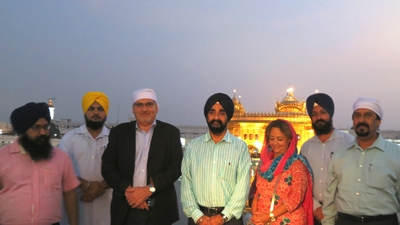 Later that evening Le Houerou visited the magnificent Golden Temple, the holiest shrine for the sikh community. The Golden temple glowed warmly in the falling dusk as the resident priests took Le Houerou for a tour of the gurudwara – as sikh temples are termed – that is visited by close to a hundred thousand faithful each day. Le Houreou was especially fascinated by the complex operation of the community kitchens that feed an average of 80,000 people each day.
The next morning, Le Houérou visited village communities in Amritsar district who are running their own metered water supply schemes under the World Bank-financed Punjab Rural Water Supply and Sanitation Project (Punjab RWSS). Although Punjab is one of India's most prosperous states, the rural areas face the twin challenges of declining water quality and the lack of household access to clean drinking water. The Punjab RWSS project is helping bring clean drinking water to 840 villages, and 18 villages have already begun to get uninterrupted 24-hour supply.
Le Hourerou also travelled to Uttar Pradesh (UP), India's most populous state, and also one of its poorest. The World Bank's new Country Partnership Strategy for India (2013-17) calls for a more intensive engagement with low-income states like UP which continue to face overwhelming development challenges.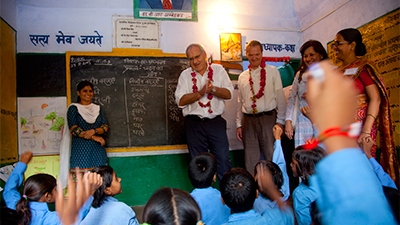 Le Houérou visited a group of pre-school children at an early childhood care center in the district of Agra. He interacted with children and their care-givers to find out more about the nutrition and education interventions being made in an effort to counter the country's high levels of malnutrition that rob succeeding generations of the ability to lead fully productive lives. He then went to a nearby Kasturba Gandhi Ballika Vidyalaya – a residential school for girls from poor households, often the first generation of girls from their families to get an education. The World Bank is supporting the government of India's efforts to get all its children, especially girls and children from vulnerable backgrounds into school. Over 20 million out-of-school children have already been enrolled under the government's flagship Sarva Shiksha Abhiyan (Education for All) program and the focus is now shifting to ensure that children stay in school to receive the benefits of a secondary education.