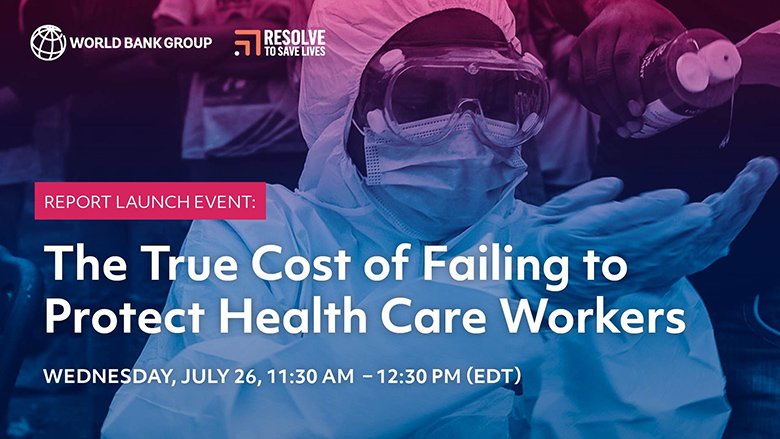 Join us for a virtual panel discussion on a joint report by the World Bank and Resolve to Save Lives. The report, "The Economic Burden of COVID-19 Infections amongst Health Care Workers in the First Year of the Pandemic in Kenya, Colombia, Eswatini, and South Africa," estimates the economic burden of health care worker (HCW) infection and death during COVID-19. It also provides a framework for understanding the true cost, capturing the direct and indirect cost of HCW infections, their contributions to wider community transmissions and the economic toll of disrupted health services.
BACKGROUND
The health workforce is critical to global health security, but around the world, many health care workers (HCWs) lack even basic protections against infectious disease. The consequences are dire: HCWs face disproportionate risk of illness and death, exacerbating both the health and economic impacts of an outbreak, including through increased disease transmission and disruptions to essential health care services.COVID-19 has proven to be no exception. But despite commitments to increase basic health care worker protections, progress has been limited protect those who are most urgently needed during a health emergency.
Protecting health workers benefits the entire society. Governments need to take leadership and responsibility to invest in the protection of health care workers and establish accountability mechanism to ensure measures are being implemented.
Juan Pablo Uribe, MD, is the Global Director for Health Nutrition and Population at the World Bank and Director of the Global Financing Facility for Women Children and Adolescents (GFF). Previously, Mr. Uribe was the CEO of Healthcare Providers for United Healthcare/Banmédica for Chile and Peru and served from 2018 to 2019 as Minister of Health and Social Protection of Colombia.
Tom Frieden | @DrTomFrieden
Dr. Tom Frieden is a physician trained in internal medicine, infectious diseases, public health, and epidemiology. He is former director of the U.S. Centers for Disease Control and Prevention and former commissioner of the New York City Health Department. Dr. Frieden is currently President and CEO of Resolve to Save Lives.
Huihui Wang
Huihui Wang, M.D., Ph.D., is a Senior Economist at the World Bank Group. She has 20 years of experiences working in low, middle- and high-income countries with a focus on supporting governments in health system reforms for achieving Universal Health Coverage and pandemic preparedness. She led the World Bank's lending operations and technical support in health system reforms in East Asia, Europe and Central Asia and Africa regions. Currently working with the global engagement unit, she is leading global initiatives related to transforming and improving service delivery systems, knowledge programs on COVID-19 impact and response, as well as financing for nutrition. She has a multi-disciplinary background: a medical degree from Beijing Medical University, a Master of Art in economics and a Doctor of Philosophy in health services and policy analysis from University of California, Berkeley.
Amanda McClelland
Amanda McClelland is the Senior Vice President of Prevent Epidemics at Resolve to Save Lives, where she leads a team working to accelerate progress to make the world safer from the next epidemic.
Amanda is a notable expert in international public health management, especially in emergency health, epidemic control, mass casualty in low resource settings, disease prevention and response operations. Her achievements include coordinating frontline Ebola response during the 2014 Ebola epidemic, for which she received the 2015 Florence Nightingale Medal for exceptional courage, and publishing a landmark study on the impact of unsafe burial practices, which confirmed the live-saving benefits of a comprehensive approach to Ebola prevention.
Prior to joining Resolve to Save Lives, Amanda served as the Global Emergency Health Advisor for the International Federation of Red Cross Red Crescent (IFRC). Amanda earned her Master of Public Health and Tropical Medicine from James Cook University in Queensland, Australia and her Bachelor of Nursing from Queensland University of Technology.
Nan Chen
Nan Chen is Co-Executive Director of Africa Frontline First. Before assuming his current leadership role with this initiative, he served as Managing Director, Health Systems Strengthening, supporting Last Mile Health's global work to understand what works and why in community health program scale. He also worked to diffuse those lessons via partnerships and advocacy for community health systems in collaboration with peer organizations to support countries strengthen their community health systems. Prior to Last Mile Health, Nan worked with the Millennium Challenge Corporation on private public partnerships, policy analysis, and nutrition/stunting interventions. Additionally, Nan worked with Open Capital Advisors in Kenya advising SME and impact investors on pathways to scale for social enterprises.
Keith Cloete
Dr Keith Cloete was appointed as Head of Health for the Western Cape Government on 1 April 2020. He led the Western Cape COVID-19 pandemic response, including the COVID-19 vaccination programme.
Dr Cloete was appointed as DDG: Chief of Operations for Western Cape Government: Health, effective 1 March 2015. He was the Chief Director for Metro District Health Services since 2007 and prior to that, the Director: HIV/ AIDS/ STI and TB since 2003.
He is a qualified medical doctor and has worked as a medical officer at various health facilities in the Western Cape Government: Health from 1989 to 1996, and as a Chief Medical Officer in the Cape Metro Region from 1996 to 2003.
Nonhle Tracey Ngcongo
Nonhle Ngcongo, Registered Midwife is a self-motivated, goal orientated and driven professional nurse- midwife with four years' experience in the Male sexual health, wound care, IPC and HIV prevention programs.
She has worked for private sector and donor-funded organizations in South Africa. She has great working relations with Department of Health (DOH) districts management personnel and key stakeholders through conducting comprehensive quality assurance at VMMC service delivery points across assigned regions. Promotes and facilitates information sharing of persistent quality barriers and best practices to accelerate learning and program improvement. Regularly analyze quality data with project leads, interpret and summarize trends in common gaps to form corrective actions and recommendations.