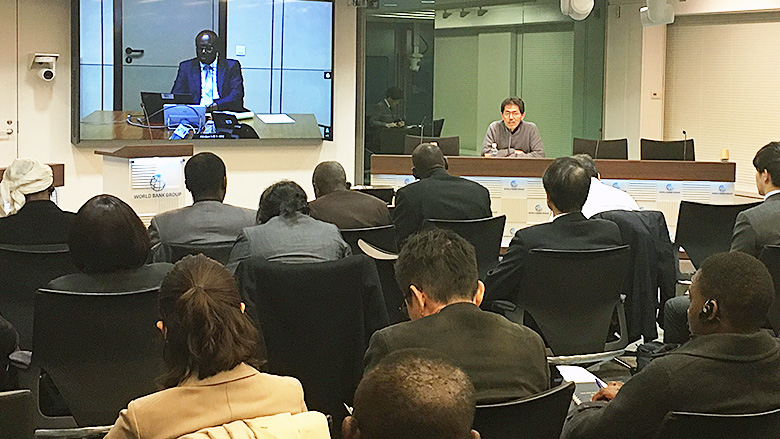 The Tokyo International Conference on African Development (TICAD) was first held in 1993, and until 2013, 5 conferences were held in Tokyo and Yokohama every five years. TICAD VI, co-hosted by the Government of Japan, the World Bank Group, the United Nations, United Nations Development Programme, and the African Union Commission (AUC) was, for the first time, held in Africa last year. In preparation for TICAD VI, the World Bank Tokyo Office conducted eight seminars in the TICAD Seminar Series till July 2016 to discuss challenges and perspectives of TICAD and African countries. Toward TICAD VII in 2019, we will continue organizing the Seminar Series mainly for Japanese private sector looking into business opportunities in Africa.
The tenth seminar focused on agribusiness sector in West Africa, featuring El Hadj Adama Toure, World Bank's Lead Agricultural Economist, Agriculture Global Practice, based in Abidjan, Cote d'Ivoire. Joining via videoconference from Abidjan, he introduced the current status of agribusiness and value chain in West Africa and World Bank Group's programs. Professor Takeshi Sakurai, Graduate School of Agriculture and Life Sciences, University of Tokyo, shared his comments on the challenges and perspectives of agribusiness sector in West Africa.
Following this seminar, the first session of "Africa Japan CEO videoconference series" by the World Bank Group's International Finance Corporation (IFC) focusing on the opportunities in agribusiness sector in West Africa was held on April 13, 2017, featuring West African and Japanese private sector representatives introducing each other's activities and future business perspectives via videoconference.
Program
Opening remarks
Yasusuke Tsukagoshi, Special Representative, Japan, World Bank Group
Presentation
El Hadj Adama Toure, Lead Agricultural Economist, Agriculture Global Practice, World Bank Abidjan Office
(via videoconference)
Presentation Material: Betting on Africa's Agribusiness (PDF)
Comment
Takeshi Sakurai, Professor, Graduate School of Agriculture and Life Sciences, University of Tokyo

Related