Date: Friday, March 18, 2016
Time: 2:00 – 5:00 pm
Venue: Rose & Tulip Room (8F), Sheraton Seoul D Cube City Hotel, 662 Gyeongin-ro, Guro-gu, Seoul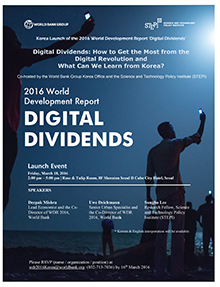 The World Bank Group Korea Office and the Science and Technology Policy Institute (STEPI) jointly organize the event, Korea Launch of the 2016 World Development Report (WDR): Digital Dividends, which will take place on March 18th 2016, at the Rose and Tulip Room (8F), Sheraton Seoul D Cube City Hotel in Sindorim, Seoul.
The conference will highlight how digital technologies have brought greater prosperity to society and what are challenges to be addressed. In addition, it will introduce Korea's experience of utilizing digital technologies to deliver greater developmental benefits.
World Development Report (WDR) is a World Bank annual flagship report. This year the WDR report explores how digital technologies boosted growth, expanded opportunities and improved services, but benefits from technologies have been shared disproportionally in society. The conference will therefore discuss ways to ensure fair accessibility to digital technologies which can reduce current digital divide.
Korea is a global leader in promoting inclusive digital growth, driving productivity and creating jobs through digital economy. An in-depth discussion about Korea's experience in the latter session of the conference will provide an opportunity to discuss about lessons for other countries who want realize greater development through technologies.