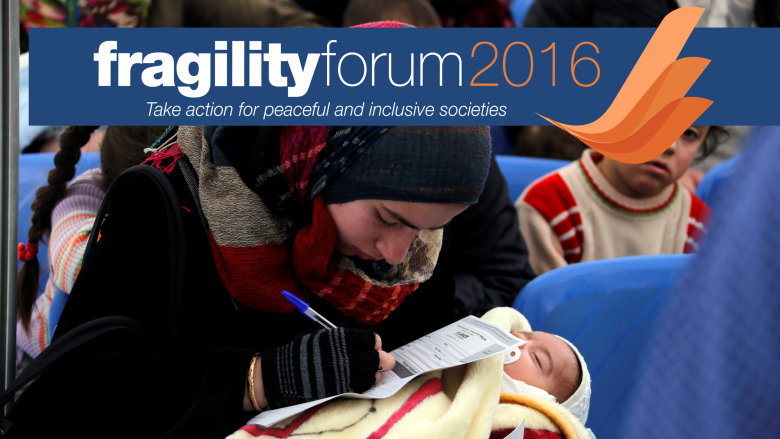 Welcome to the Fragility Forum 2016. This year, over 100 partners and 600 participants will gather over three days to focus on one of the toughest challenges of our time – to push forward the sustainable development agenda in a world affected by fragility, conflict and violence.
As hosts, we are greatly encouraged by the strong commitment of the broad spectrum of partners involved in organizing the event – governments, aid agencies, civil society, private sector, and research institutions among others – for this is a challenge that no single organization can solve on its own.
At the World Bank Group, addressing this challenge is essential to achieving our twin goals, to end extreme poverty by 2030 and promote shared prosperity in a sustainable manner. In October last year, we projected that the percentage of people living in extreme poverty has fallen below 10 percent of the global population. But as the rest of the world makes progress, the world's poor will increasingly be concentrated in fragile and conflict-affected countries, estimated to reach almost half of the global total by 2030. It's clear where we need to accelerate our efforts with a great sense of urgency.
Convened under the theme Take Action for Peaceful and Inclusive Societies, this year's Forum comes at a time when the world appears particularly volatile, from the conflict in Syria and the tragic refugee crisis to extremist activities that threaten to undermine development progress. Citizen security is a growing concern in middle-income countries, closely linked to rising inequality. We see the complexities of conflict and violence, widespread and not contained within established borders, affecting countries at all stages of development.
Against this backdrop, this year's program includes over 70 sessions which build on the momentum of the Global Goals, and takes a hard look at how to implement this ambitious agenda in fragile environments. It also highlights emerging challenges including forced displacement and violent extremism, where development actors have an important role to play, working in close collaboration with humanitarian, security, and diplomatic partners.
What is unique about this Forum is the partnerships – the way in which diverse communities from development to peacebuilding worldwide are able to come together, not just for the event itself but in preparation over the past few months, engaged in serious discussions across institutions to learn from each other's experience. Over the years working in international development, I too have found this to be the best way to gain knowledge and draw inspiration. I hope the Forum will provide a space to help us listen and learn, share experiences and find better ways to take collective action. We look forward to a robust discussion and identifying important new steps in reducing the underlying causes of fragility, conflict and violence.
Saroj Kumar Jha, Senior Director
Fragility, Conflict and Violence Group
The World Bank Group
Last Updated: Feb 29, 2016