The World Bank has set the ambitious, but achievable goals to end extreme poverty globally by 2030 and to promote "shared prosperity", a sustainable increase in the well-being of the poorer segments of society. At this seminar, Ana Revanga, Senior Director for Poverty and Equity Global Practice, discussed the extent of the challenge, arguing that "business as usual" will not ensure success. Achieving the poverty eradication goal will require transformational policies that raise and sustain growth at high levels, while also improving the responsiveness of poverty reduction to growth through greater inclusion of the poor into the growth process. To do so, creating more and better jobs for the poor, while enabling them to strengthen the human capital base necessary to access those jobs, will be key. But ensuring that progress in reducing poverty and promoting equitable growth is sustainable will also require addressing households' vulnerability to shocks and improving their preparedness to face heightened risks including those associated with greater climactic variability. Governments will have an important role to play - not only by protecting the poor through transfers, but also by promoting fiscal policies and social spending with a greater impact on poverty and inequality.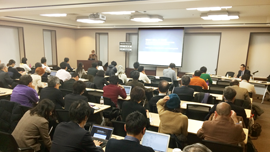 | | |
| --- | --- |
| | |
Speaker
Ana Revenga

Senior Director, Poverty and Equity Global Practice, The World Bank        
Ana Revenga is the Senior Director of the Poverty Global Practice at the World Bank Group.
In her 24-year career at the World Bank, she has worked in both technical and management positions in the East Asia and the Pacific, Europe and Central Asia, Latin America, and Middle East and North Africa regions, as well as in OECD countries.

Until July 1, 2014, she was Director of Human Development in the Europe and Central Asia Region and Acting Vice President for the Poverty Reduction and Economic Management Network at the World Bank.

Ms. Revenga was co-Director of the 2012 World Development Report on Gender Equality and Development, and between 2008 and 2011, she was Director of the Poverty Reduction and Equity Group at the World Bank, serving as the principal spokeperson for the Bank on these issues.

She was one of the authors of the 1995 World Development Report (Workers in an Integrating World) and contributed to the 2006 World Development Report (Equity and Development).Prior to joining the World Bank, she worked in the Central Bank of Spain and taught labor and international economics at the Centro de Estudios Monetarios and Financieros. She has published extensively on education and employment, equity, food security, social protection, poverty, and trade issues, and has worked across a broad spectrum of low, middle and high income countries in Asia, Europe, Latin America, and North America.

She has a PhD in Economics from Harvard University and a degree in Human Rights from the Law Faculty at the University of Geneva.
Presentation
Commentator
Tatsufumi Yamagata

Director-General, International Exchange and Training Department      
Secretary General, IDEAS, at Institute of Developing Economies,
Japan External Trade Organization
Dr. Yamagata joined the Institute of Developing Economies in 1988. His research fields include development economics, Bangladeshi economy, economics on infectious diseases and pharmaceuticals, textile industry, and disability and development. Currently he is Vice President of Japan Society for International Development, and was part of several Committees on Japan's ODA policies. He holds BA and MA in Economics from Keio University and PhD in Economics from University of Rochester.
Presentation