Key findings:
Public expenditure in Afghanistan is at high and unsustainable levels. Grants finance more than 75 percent of total expenditures. Total expenditures are equal to around $11 billion, while government own-revenues are around $2.5 billion.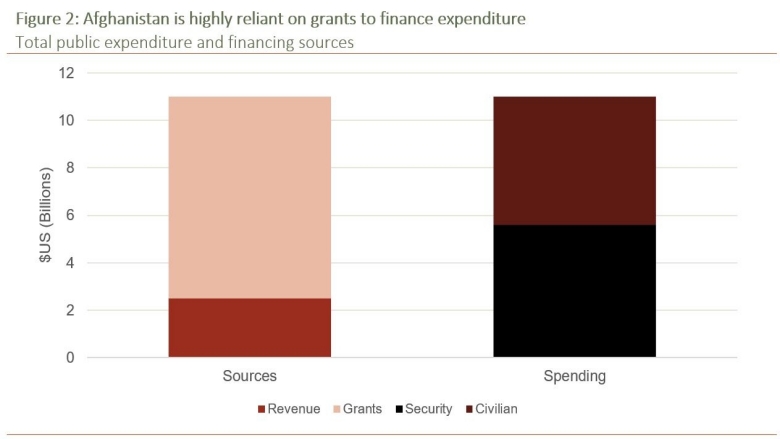 Substantial resources continue to be delivered off-budget. Around $5.7 billion of public expenditure is delivered through 'off budget' programs (directly managed by international partners without going through government systems). With current limited data regarding the allocation of off-budget funds, it is difficult to compile a single comprehensive picture of public spending.
Total on-budget expenditure has grown rapidly in nominal terms (by around 30 percent) over the past five years. But once the impacts of inflation and population growth are considered, growth has been negligible (real per capita expenditure has increased by around four percent over the past five years).
The security sector dominates public expenditure. Total on-budget expenditure is equal to around $135 for every Afghan. Of this amount, around $50 is absorbed by the security sector.
There has been a reorientation of on-budget public expenditure towards development spending over recent years, with development spending increasing from one-quarter to one-third of total spending over the past five years. This has allowed significant increases in infrastructure spending.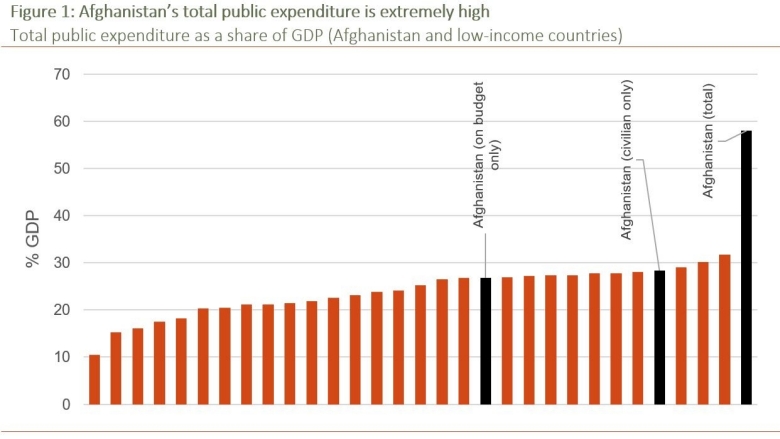 Health spending remains very low, at around $8 per Afghan. Allocations to health have increased over recent years, however, driven by significant increases in health expenditure through the growing development budget.
Education spending has declined over recent years, especially on basic education. Education's share of the budget has declined from 17 percent in 1390 to just 12 percent in 1397. Real per capita spending on education has decreased by around 13 percent over the past five years.