On November 6 and 7, 2019, the Sanctions Board Secretariat organized two sessions as part of the World Bank Group's Law, Justice, and Development Week, both focusing on the intersection of disruptive technology and corruption. The "Law, Justice, and Development Week" is an annual event hosted by the Legal Vice Presidency, which brings together diverse stakeholders to examine emerging issues in international development that relate to law and justice. The organizing theme for 2019 was rights, technology and development. The two sessions conducted by the Secretariat were (i) a panel on open source investigations of corrupt conduct and (ii) a mini-debate on whether disruptive technology increases vulnerabilities for corruption in development projects.
Nowhere to Hide: Exposing Corruption Through Open Source Investigations
Mr. J.R. Mailey, Director of Investigations at The Sentry, delivered a presentation that walked the audience through an actual investigation conducted by the organization. He explained how open sources – including Facebook, TrueCaller, and Google Maps – have aided his team in exposing individuals who have profited from armed conflict.
Mr. James Barker, Senior Director of Business Intelligence and Investigations at Kroll, first narrated how his team was able to trace certain transactions charged against an offshore company to the son of a corrupt public official through the use of open source social media data. He then conducted a live demonstration of a mock investigation using open source information.
After the presentations, Mr. Ronald Machen, Co-Chair of WilmerHale's White Collar Defense and Investigations Practice, facilitated a discussion on the challenges of using open source technology, the steps to take to ensure the reliability of the information gathered, the mistakes that the speakers have encountered in their investigations, and the speakers' insights as to the future of open source investigations.
Disruptive Tech in Development: Tool for Integrity or Instrument of Corruption?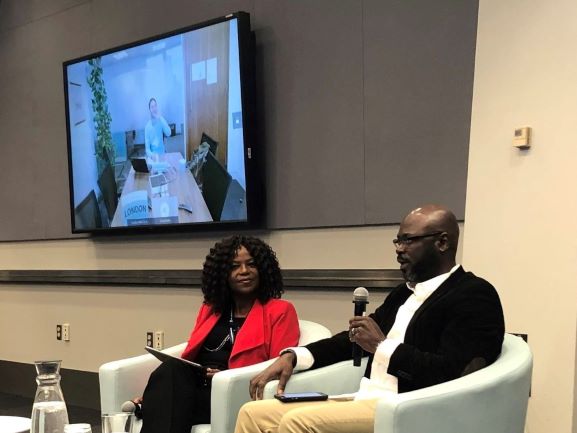 This mini-debate was moderated by the Honorable Nicole Lamb-Hale, Managing Director of the Business Intelligence and Investigations practice at Kroll. Ms. Lamb-Hale's areas of focus include global investigative due diligence, regulatory compliance consulting, and market entry support.
Dr. Mihály Fazekas, Director & Founder of the Government Transparency Institute argued that technological solutions that aim to improve corporate integrity compliance or reduce risks of misconduct have grown in sophistication and complexity. Dr. Fazekas noted that disruptive technologies that are difficult to understand, even if they have potential to be effective, erode public trust and are vulnerable to misuse. (For more information, please see Dr. Fazekas's recent publication).
Mr. Raúl Alfaro-Pelico, a climate resilience specialist at the World Bank who currently advises Bank-led resilient infrastructure interventions in the Caribbean, argued in favor of adopting disruptive technologies to aid development. He agreed that the vulnerabilities noted by Dr. Fazekas do exist, but proposed that they can be overcome with meaningful stakeholder consultations before, during, and after a new technology is introduced.
Ms. Lamb-Hale noted that disruptive technological solutions, to succeed and mitigate risks of corruption, were sensitive to the needs and culture of the beneficiary communities. In conclusion, the participants agreed that the complexity of disruptive technologies requires sensitive implementation, if the development community wishes to mitigate risks of misuse and misconduct.