FEATURE STORY
Public Works Project Addresses Urgent Needs and Empowers Local Communities in Yemen
August 11, 2014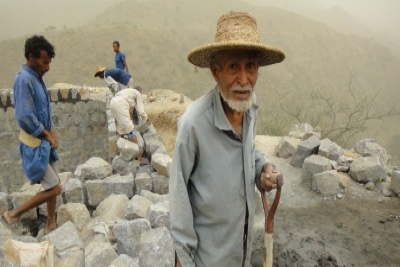 STORY HIGHLIGHTS
Following the revolution, Yemen faced the dual challenge of managing a political transition while addressing urgent humanitarian needs.
The Government of National Reconciliation, supported by the World Bank, launched a Public Works Project to generate employment and build critical infrastructure.
The project has expanded access to basic services and empowered local communities by putting them in charge of identifying needed infrastructure.
Following the signing in late 2011 of the Gulf Cooperation Council Sponsored peace agreement, after nearly a year of conflict, Yemen faced the dual task of launching a delicate political transition while rebuilding the economy. This challenge was made even harder by the urgent humanitarian needs of the population. Yemen faced poverty rates above 30% before the revolution but these had since climbed to above 40%. As a longtime development partner, the World Bank was fully committed to supporting the efforts of the Government of National Reconciliation to rebuild and create the kind of stable environment needed for the political transition. One of the top priorities was addressing the country's urgent humanitarian needs.
Around 70% of Yemen's population of 22.5 million lives in rural areas. Poverty is concentrated in this rural population, with rates far higher than the national average. The mountainous terrain and the isolation of small settlements, combined with the lack of decent roads, have left many disconnected from centers of economic activity and out of reach of basic services. The frustration with social and economic exclusion that played a major role in the revolution is starkly apparent among these communities. It is estimated that 90% of the rural population lives below the poverty line. The year of instability made their situation even more precarious and required immediate action.
A Labor Intensive Public Works project was launched in early 2012, funded by a US$65 million grant from the International Development Association, the Bank's fund for the poorest countries. The goal of the project was to create short term employment opportunities in Yemen's poorest communities. The work generated would be for the construction of vital basic infrastructure. While individuals would benefit from jobs, communities would end up with improved access to health and education services, mains sewage and water, and paved roads.

Success will also come from elevating local communities to full partners in development, which will ultimately strengthen the social contract between the Yemeni state and its citizen.

Ali Khamis
World Bank Task Team Leader for the project
A key feature of the project was that it put communities in charge of determining which infrastructure projects they needed. This not only empowered local communities and guaranteed their ownership of the project, but also meant a high level of engagement with the central government. Along with addressing urgent needs, the project would contribute to national goal of building a new relationship between the government and its citizens.
"The project will be a success if the process of identifying and preparing projects empowers communities living in sparsely populated, rural areas and the urban poor, by giving them a greater role in decisions about their future," observed Ali Khamis, World Bank Task Team Leader for the project, speaking in early 2012. "Success will also come from elevating local communities to full partners in development, which will ultimately strengthen the social contract between the Yemeni state and its citizen."
Communities from across the country submitted proposals for sub-projects. An independent Program Management Unit was created to manage the overall project and review submissions - in a transparent process that ensured equitable distribution of funds to the most vulnerable communities. Local contractors were hired and, in cases such as sanitation, water supply, and water harvesting schemes, local communities took charge of maintenance and operation. To date, about 716 sub-projects have provided temporary employment for a total of about 2.16 million people living in 20 districts across Yemen's 21 governorates. The project has also:
Provided over 800,000 people better access to primary health services
Helped more than 250,000 students enroll in school
Given over 245,000 people more access to water
Provided over 325,000 people access to water harvesting
Given more than 1 million people access to paved roads and streets
Helped nearly 5,000 beneficiaries, mostly women, receive vocational training
The project's demand-driven approach, its focus on poverty and job creation, community ownership and participation—all contributed to its success. The World Bank's Board of Directors approved an additional US$50 million grant in July of this year to expand the public works program. With this, the Yemeni government plans to reach another 1.3 million people, by funding at least 300 new sub-projects. It plans to continue to use local contractors and employ people from local communities, to deliver labor-intensive, small-scale, demand-driven projects to sparsely populated rural settlements, as well as to poor communities in urban areas.