FEATURE STORY
Telling the Human Story of Climate Change
April 10, 2014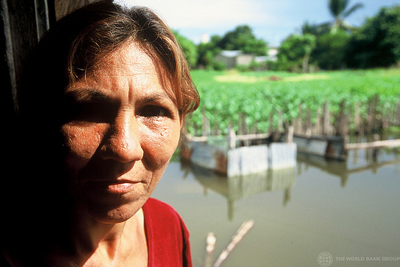 Climate change is a human story. It is fundamentally about people.
That's how movie producer James Cameron opened the Years of Living Dangerously premiere in a video message at World Bank headquarters on April 10. It is also at the heart of why the World Bank Group and other international development organizations dedicated to ending poverty also encourage and support low-carbon development: Climate change unabated will increasingly put everyone at risk, but it will be the poor and most vulnerable, those with the fewest resources to adapt, who will suffer the most.
Cameron's new television series tracks the effects of climate change through the voices of those living through the dangers of more extreme and unpredictable weather and the impact on their work and lives. Research, including reports by the Intergovernmental Panel on Climate Change and the Turn Down the Heat series commissioned by the World Bank, has been warning of the impact that even a world 2 degrees Celsius warmer will have on food security, water resources, and the risk of urban flooding. The series takes viewers to see the early stages of those risks as they impact human lives from the shores of Kirbati to the farm fields of Kansas.
Thomas Friedman, the New York Times columnist who appears in the series, joined Conservation International Executive Vice President and Senior Scientist M. Sanjayan, and World Bank Vice President and Special Envoy for Climate Change Rachel Kyte for a panel discussion before the premiere, arranged by Connect4Climate. Friedman contrasted the series with Al Gore's 2006 documentary, An Inconvenient Truth: "That was one man giving a lecture to billions. Very importantly, this is billions giving a lecture to the world."
In showing the human impact, the producers also show the human side of the scientists who have been raising the alarm about climate change and taking criticism for speaking out, Sanjayan said. He stressed that people need to see that scientists are working men and women who are their neighbors and peers.

We are accountable, and we need to take action.

James Cameron
Executive Producer, Years of Living Dangerously
The Added Benefits of Climate Action
Friedman took on the critics during the discussion, asking: What disaster do the critics think they're preventing by opposing a shift to a low-carbon growth trajectory?
If we actually took climate change seriously, Friedman said, the impact would have positive effects well beyond climate. "In America, we would get rid of both income taxes and corporate taxes and replace them with a carbon tax. In other words, we would get people to actually use their finances to stop something we don't want and to incentivize something we do want, which is investment and employment," he said. We would invest in infrastructure to improve ports, airports, roads, and harbors and in the process make the country more resilient, more productive, and create jobs. We would direct more money to research, innovation, and clean tech, he said.
One thing is indisputable, Friedman said: "The next great global industry is going to be clean power, clean water, clean tech. The only question is, are we going to participate in it or not." If the critics are right and the some 97 percent of climate scientists who say climate change is very likely due to human activities are wrong, we'll "be like someone who prepared for the Olympic triathalon and didn't make the Olympics but ended up healthier and more fit and more ready to thrive in today's world."
New research is beginning to quantify the wider benefits of climate action, such as in lives saved from reducing diesel emissions that contribute both to climate change and to health-harming air pollution. An international commission led by former Mexico President Felipe Calderón, which met this week at the World Bank, is working on another economics of climate report expected to be released around the UN Climate Summit in September to encourage action as we head toward an international climate agreement in 2015. Nearby, UNEP also held a meeting of an inquiry into how to make financial systems more supportive of sustainable development and the transition to a green economy.
On April 11, the discussion of the increasing economic risks posed by climate change and the economic benefits of action shifts to a gathering of government finance ministers, who have the influence to shift economies from high-polluting to livable and low-carbon. They will be meeting with the heads of the World Bank Group, the International Monetary Fund, and the United Nations, who have been calling on governments worldwide to dramatically increase global aspirations for what can be accomplished.
"As the series title suggests, these are the years of living dangerously," Cameron said in his message at the premiere. "We are accountable, and we need to take action."