W ramach projektu wykonanego na zlecenie Komisji Europejskiej Bank Światowy opracował i przeprowadził pilotaż metodologii pomiaru i poprawy innowacji oraz instrumentów wsparcia dla sektora małych i średnich przedsiębiorstw. We współpracy z Ministerstwem Przedsiębiorczości i Technologii oraz krajowymi i regionalnymi władzami pozyskano dane pomocne decydentom w ukierunkowaniu wsparcia publicznego, tak aby osiągnąć zamierzone cele rozwojowe.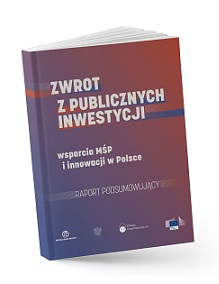 Zwrot z publicznych inwestycji wsparcia MŚP i innowacji w Polsce
Raport podsumowujący DO POBRANIA
Jakie czynnik zwiększają skuteczność publicznych instrumentów wsparcia dla firm? Streszczenie raportu Banku Światowego dostarcza informacji o tym w jaki sposób inwestować publiczne środki, aby uzyskać najwyższy zwrot z inwestycji.
Innowacje, transformacja ekonomiczna i bardziej konkurencyjne małe i średnie przedsiębiorstwa (SMEs) są głównymi priorytetami strategii "Inteligentniejszej Europy". Mimo że powyższe cele stanowią w dużej części element przeszłego, obecnego, jak i najprawdopodobniej przyszłego budżetu UE, to wpływ programów wsparcia publicznego na gospodarkę wydaje się skromny lub nie do końca zrozumiany.
Projekt pomógł w opracowaniu nowych danych dotyczących efektywności interwencji oraz dostarczył zestaw rekomendacji dla projektowania i wdrażania interwencji w krajach członkowskich w nadchodzącym okresie programowania UE 2021-2027.
Polskę wybrano jako kraj do pilotażu polegającego na zaprojektowaniu i przetestowaniu metodologii ze względu na fakt, że jest największym odbiorcą funduszy unijnych, w tym środków na wsparcie innowacji i przedsiębiorczości oraz posiada zaawansowane i skuteczne podejście do projektowania i wdrażania instrumentów, które może stanowić wzór do naśladowania dla innych krajów.
Wdrożone ramy analityczne obejmują: (i) ocenę potrzeb i mapowanie portfela instrumentów, (ii) analizę funkcjonalną oraz (iii) analizę efektywności/zwrotu z inwestycji. Całościowy obraz tych różnych elementów składowych systemu daje władzom publicznym kompleksowy ogląd na to, gdzie i jak można ulepszyć mechanizmy wspierania innowacji oraz małych i średnich przedsiębiorstw.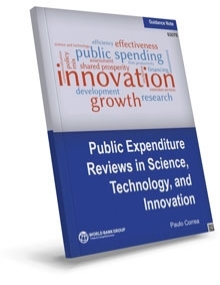 Public Expenditure Reviews in Science, Technology, and Innovation
Raport Banku Światowego pozwala zrozumieć różne czynniki wpływające na wpływ osiągany przez interwencje publiczne. Połączone wnioski z trzech filarów metodologii prezentują decydentom kompleksowy obraz tego, gdzie i jak można ulepszyć mechanizmy wsparcia konkurencyjności oraz innowacyjności firm.