The Equal Aqua (EA) is a collaborative platform that aims to deepen the dialogue on gender diversity and inclusion in water sector jobs by connecting utilities, associations, representatives from the private sector, academia and local and international organizations and benchmarking gender inclusion in water organizations.

Objectives of this platform include:
Provide to participating utilities/water organizations the framework, diagnostic tools and knowledge on step-by-step processes, Human Resource policies, and promising approaches to boost female recruitment, retention, and promotion in water sector jobs.
Ignite interest in gender diversity and inclusion among utility managers/water managing bodies and provide a learning space by sharing good practices and approaches tried by water and sanitation providers and water managing bodies across the world. Expand knowledge on gender diversity and inclusion in water and opportunities for peer-to-peer learning.
Expand the global database on gender diversity in water institutions, providing the first industry-wide comparative benchmarking and individual institutional scorecards on gender diversity to gauge progress.
Support women working in the water sector by providing a space where female engineers, managers, and other water workers can find information, training opportunities and tools to help them advance in their careers.
Equal Aqua was established by the World Bank's Water Global Practice, with the support of Global Water Security & Sanitation Partnership (GWSP) and in collaboration with external partners listed below. Women are an untapped pool of talent for the water sector. As documented in the Women in Water Utilities: Breaking Barriers report, only 18 percent of water utility workers are female. Moreover, they face many barriers to starting and advancing their careers in the water sector, including biases in the hiring process, inadequate family-friendly policies and fewer training opportunities. However, evidence shows that there are many solutions that can be implemented by water institutions to address these challenges, improve female representation in the sector and make the workplace more inclusive.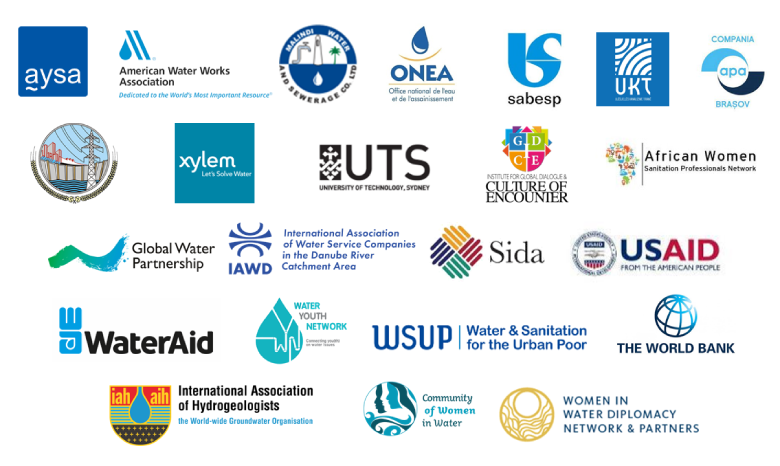 Database | Inclusive Approaches in Water Workplace
WBG: Women in Water Utilities: Breaking Barriers (Report)
WSUP: Barriers for female decision-makers in Kenya's sanitation sector (Research Brief)
UTS: Gender equality and women in water, sanitation and hygiene (WASH) enterprises in Cambodia (Report)
Case studies and country examples:
Colombia | Ideas on how to break gender barriers in Colombia's water sector (Blog post)
Danube Region | Women in Utilities: A Driving Force for Workforce Modernization (Knowledge note)
Kenya | Women in Water Leadership Circle (Case Study)
Malawi | One single amenity can make all the difference to gender diversity in the workplace (Blog post)​
Media:
Video | Getting to Equal in Water
Self-paced e-Course | Water, Women and Jobs: Breaking Barriers to Female Employment in Water
Webinar | Tools for diagnosing gender, diversity and inclusion in water and sanitation utilities| January 19, 2023 (GWOPA, UTS, WB)
Webinar | Practical Actions to Support Women in the WASH Workforce | January 27, 2022 (UNICEF, UTS, WB)
Webinar | Conquering the Unconscious Bias | September 22, 2021 | Event summary
Webinar | Fixing the Leaks: Retaining Female Talent in the Water Sector | February 4, 2021
Webinar | From Trickle to Stream: Approaches to Attract Female Talent to the Water Sector | October 14th, 2020
Webinar | Breaking the Glass Ceiling: Promoting Women's Leadership in Water Institutions | July 7th, 2020
Online Training | Water Institutions during COVID-19: Resilience and Gender Equality | June 3rd, 2020
Webinar | A Modern Utility, a Diverse Workforce: Lessons from Gender Assessments in Three Utilities of the Danube Region | January, 2020
Video series | On-Demand Skills and Practices for Leaders (USAID)