Global value chains (GVCs) break up the production process so different steps can be carried out in different countries. Many smart phones and televisions, for example, are designed in the United States or Japan, incorporate sophisticated inputs - such as semiconductors and processors - produced in the Republic of Korea or Chinese Taipei, and are assembled in China.
These complex global production arrangements have transformed the nature of trade. GVCs provide new opportunities for developing countries to increase their participation in global trade and to diversify their exports. Without them, a developing country would have to be able to produce a complete product in order to expand into a new line of business.
Witnessing the potential benefits of GVCs, stakeholders in developing countries typically want to see their country more involved in value chains and moving to higher value-added activities over time. However, only a few developing economies, most notably China, are deeply involved in GVCs. The Global Value Chain Development Report examines ways developing countries can deepen their involvement in GVCs and move up the value chain.
"This report offers a superb overview... and breaks new ground on the study of the rise of GVCs," comments Pol Antràs, Robert G. Ory Professor of Economics at Harvard University in his foreword.
The key to building more inclusive GVCs, finds the Global Value Chain Development Report, is cutting trade costs. Although they have declined over the past decades, non-tariff trade costs related to infrastructure, transportation, and uncertainty remain a relevant barrier to GVC participation. In some complex value chains, such as motor vehicles, computers or machinery, non-tariff trade costs are more than four times higher than tariffs.
Participating in deep trade and investment agreements can advance this agenda, and such agreements will be most powerful if they involve several neighboring countries. Preferential trade agreements are increasing in number and deepening in content, surging from 50 in 1990 to 279 in 2015, but the future will depend the preservation of an open trading system.
Small firms and the informal sector also need to be included. Poor infrastructure, corruption, and red tape tend to hamstring smaller companies more than larger ones - large firms can often finance their own infrastructure and finds ways to operate in complex environments. Most job creation in the world is in small and medium-size firms and their involvement in GVCs is crucial for maximizing the positive impact from trade.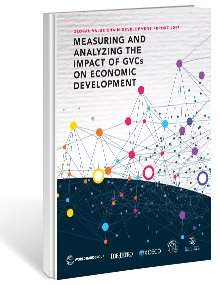 The Global Value Chain Development Report, co-published by The World Bank Group, The World Trade Organization (WTO), the Organisation for Economic Co-operation and Development (OECD), the Institute of Development Economics (IDE-JETRO) and the Research Center of Global Value Chains of the University of International Business and Economics (UIBE), is a comprehensive analysis of the global economy. "How economies are linked, specialize, and grow (or not) is captured in the way global value chains (GVCs) are put together," says Michael Spence, Nobel Laureate in Economics. "This report is a huge contribution to our deepening understanding of what the global economy really means and how it is changing."