The COVID-19 pandemic disrupted education for more than one billion students globally and introduced the new reality of distance education for which millions of teachers are unequipped and unprepared. Even when they have access to the technology, teachers are often not trained on how to use it, much less how to effectively instruct with it.
New reality, new approaches to teacher professional development utilizing low-or high-tech solutions
Many of the new high and low-tech resources (ranging from synchronous activities requiring high-speed connectivity to resources delivered offline via radio, printed material, etc.) can offer teacher professional development solutions that can be applied "at scale" (regional, national, or global) with the potential to benefit and engage a large number of teachers, either remotely, face-to-face, or a combination of both.
Technology for Teaching (T4T) is the World Bank's program to enhance and scale-up TPD opportunities using tech-based solutions. The T4T team is supporting governments' COVID-19 recovery and resilience efforts by:
Utilizing existing research and anecdotes for development of a tool to help policymakers and practitioners assess and compare contextual and technical factors for successful implementation of TPD programs using technology.
Identifying scalable and replicable TPD interventions that utilize low and high-tech solutions to train teachers and pedagogical leaders
Developing global public goods including technical and operational guidance notes with lessons learned on how to design, implement, and evaluate TPD approaches using tech-based solutions
Providing Technical Assistance to country teams involving hands-on support to client countries implementing TPD reforms using tech-based solutions.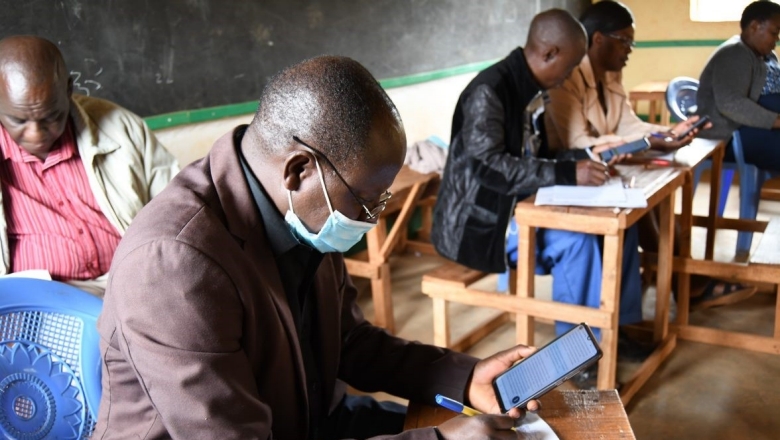 Image courtesy: © Teach2030
As part of the T4T initiative, a global campaign in partnership with HundrED and with funding from the Global Finance for Education, Teachers for a Changing World, was launched to crowdsource scalable on-the-ground solutions to TPD utilizing technology from around the world. After a rigorous review of over 400 applications from 80 countries, the campaign identified the 10 most impactful and scalable TPD programs that effectively utilize low-or high-tech solutions to engage, motivate, and support teachers as the T4T Champions. Watch the video below to see the Champions in action and read along to learn about their programs.