About Coach
Coach is the World Bank's global initiative focused on helping countries improve in-service teacher professional development (TPD) programs and systems to accelerate learning.
Coach encompasses support to countries to improve different forms of TPD, including one-to-one coaching, group training sessions and workshops, and other approaches, either through in-person, remote or hybrid modalities. The program has the goal of helping countries design, implement, and evaluate high-quality TPD programs and systems that align with best practice and evidence.
The Coach Principles
Coach supports countries in shifting from traditional, ineffective in-service TPD systems to ones that use insights from the fields of adult learning and behavioral science. 
The vision of Coach is to help countries align their TPD programs and systems with four evidence-based principles that have shown to lead to improved teaching practices.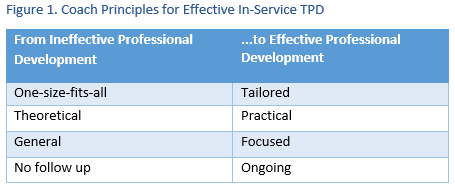 Coach is integrated within the Bank's larger efforts to enhance teacher policies via the Global Platform for Successful Teachers.
In addition, Coach builds on Teach, our open-access classroom observation tool. While Teach is a tool that helps identify teachers' professional development needs, Coach helps countries leverage these insights to tailor the support teachers receive to improve their teaching.
Coach Tools & Resources
The Coach initiative is in the process of developing a set of open-access tools and resources for policymakers, researchers, school and system leaders, coaches and teachers.
The Coach tools and resources have been designed to provide guidance across all stages of the design, implementation, and evaluation of effective TPD programs and systems.
To learn more, visit the Tools & Resources page.
Get in touch!
Want to learn more about Coach? Write to us at coach@worldbank.org to keep up with the latest news.