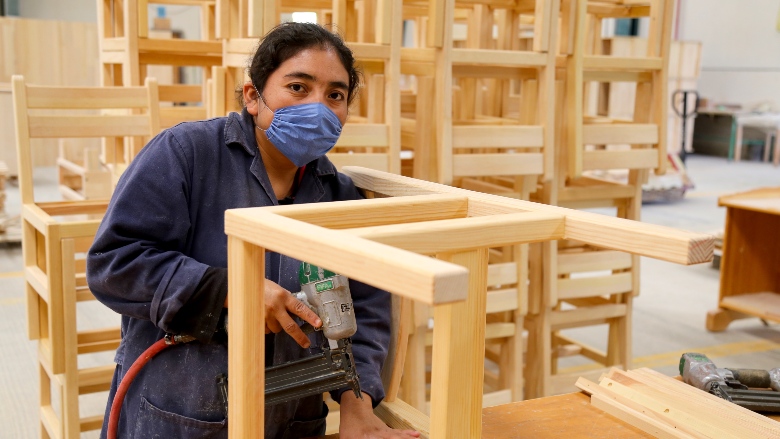 A focus on Economic Empowerment to Build Resilience and Stability
The World Bank Group (WBG) plays a key leadership role in supporting countries to identify and close gaps- especially in economic opportunity - between men and women. Through the WBG's Strategy on Gender Equality, we are helping countries to step up the game and accelerate progress in human capital, more and better jobs, asset ownership and women's voice and agency.
Challenge
No country can achieve its potential or meet the challenges of the 21st century until girls and women have the same rights, opportunities, and voice as boys and men.
A broad range of barriers to economic empowerment between men and women are holding back progress and economic potential in middle income countries (MICs.
Addressing gender gaps, especially in paid employment, financial inclusion and asset ownership, and voice and agency, can enable women and men to fully participate in the economy as workers, employers, suppliers and community partners. Research by the WBG, International Monetary Fund (IMF), Organization for Economic Co-operation and Development (OECD), and the private sector shows that we can add billions to the global economy by creating an enabling environment which fosters increases in women's labor force participation and business ownership, and improvements in the productivity of their work.
Development policies and programs geared towards closing gender economic gaps can help manage growing fragility risks, create an enabling environment for private sector investment, and help MICs address poverty to realize their full development potential.
Approach
Guided by the WBG Gender Strategy, the WBG is supporting countries to remove constraints for more and better jobs for women.
The WBG is investing in skills development and training, which helps build women's human capital, giving women information on lifetime earnings and other nudges to help reduce occupational sex segregation, and developing solutions to make public transportation safer for women and men to travel.
The WBG is helping MICs to face economic and demographic shifts, including by contributing to the evidence base on how the public and private sectors can invest in child and elderly care services. This is a win-win: it helps parents to obtain employment, and businesses who can become employers of choice. Workplaces that meet the needs of female and male workers help employers attract and retain talented employees. For instance, the World Bank's Golden Aging : Prospects for Healthy, Active, and Prosperous Aging in Europe and Central Asia, Live Long and Prosper: Aging in East Asia and Pacific and IFC's Tackling Childcare reports make the business case for employer- supported childcare. Evidence suggests that employers who support childcare enjoy greater retention rates and reduced absenteeism (of both women and men). For example, the Bank of Tokyo-Mitsubishi UFJ, Ltd. saved an estimated $45 million in employee turnover-related costs by offering childcare initiatives.
The IFC report Driving Toward Equality: Women, Ride-Hailing, and the Sharing Economy uses data from Uber and survey results of more than 11,000 drivers and riders in emerging market economies to better understand how the emergence of ride-hailing is affecting women's work and mobility, and how companies can remove barriers to women's mobility and offer new pathways to improving labor force participation.
Studies from Ethiopia and Uganda show women entrepreneurs who work in male-dominated sectors earn significantly more. New research is underway across a broader range of developing country contexts in Africa, East Asia and the Pacific, and Latin America and the Caribbean to better pinpoint policy measures that can lift women entrepreneurs out of the sectoral productivity trap.
The WBG is also exploring policy options and programmatic interventions that encourage girls and women to pursue careers in science, technology, engineering and math (STEM) and cross over into male-dominated fields in a number of middle-income countries in Europe and Central Asia, including Armenia.
For instance, the WBG is supporting impact evaluations on interventions that found providing accurate information and supporting mentoring services can encourage women to cross over to more lucrative work, closing the gender gap in earnings.
The WBG is also committed to providing evidence and data that make the investment case through a focus on measurable results. The WBG is supporting countries in the following ways:
1. Mobilizing Finance
The Women Entrepreneurs Finance Initiative (We-Fi) offers, for the first time, a major global platform to provide complementary public and private solutions to unlock over $1 billion in financing for women entrepreneurs. We-Fi's objective is to break down barriers to financial access, technology, networks and markets, facing women entrepreneurs across the developing world. We-Fi is a collaborative partnership among the 14 donors who have contributed more than $340 million (Australia, Canada, China, Denmark, Germany, Japan, the Netherlands, Norway, Russian Federation, Saudi Arabia, South Korea, the United Arab Emirates, the United Kingdom and the United States), multilateral development banks, and other stakeholders.
3. Sharing Data and Knowledge to bridge the evidence gap
The TCdata360 portal provides open data on trade and competitiveness. It developed a gender data tool to provide staff with an easy-to-access, comprehensive overview of country data on women's participation in economic activity. Gender360 Data contains gender-related information on some 200 countries, combining and visualizing data along some 27 key indicators in a range of categories.
Women, Business and the Law 2018 provides unique data on laws and regulations constraining women's economic advancement. The report tracks progress on closing gaps across seven indicators: accessing institutions, using property, getting a job, providing incentives to work, going to court, building credit, and protecting women from violence. This report is the fifth in the series, which is used both internally and externally as an important diagnostic tool in identifying gender differences in legal treatment.
The 2017 Global Findex database offers a wealth of information on the gaps between men's and women's financial inclusion. It includes updated indicators on access to and use of formal and informal financial services, and adds data on the use of financial technology including mobile phones and the internet, and highlights opportunities to expand financial inclusion through digital technology. The database has been published every three years since 2011.
New gender indicators were added to the 2017 edition of the World Bank Group's Entrepreneurship Database. Out of 143 economies for which data was collected, 44 countries provided sex-disaggregated data. This allows teams to more accurately capture economic activity, such as the percentage of new female business owners.
The BOOST Initiative is a Bank-wide collaborative effort to facilitate access to budget data. Its data can be used to examine trends in allocations of public resources, potential sources of inefficiencies, and delivery of public services that affect gender gaps. For example, data could be used to assess the efficiency of public spending on services critical to closing gender gaps, such as education, health and GBV.
Gender Innovation Labs from Africa, East Asia and Pacific, and South Asia work to ensure conceptual and methodological consistency on interventions to help females access employment, close entrepreneurship and finance gaps, and prevent gender-based violence. By the end of 2017, 100 impact evaluations had been conducted in close to 40 countries.
High Profile Research:
Unrealized Potential: The High Cost of Gender Inequality in Earnings, a study released in May 2018, is the first in a series measuring the global costs of gender gaps. It finds that countries are losing $160 trillion in wealth because of differences in lifetime earnings between women and men. This amounts to an average of $23,620 for each person in 141 countries studied. The report is part of a broader research program supported by the Government of Canada, the Children's Investment Fund Foundation, and the Global Partnership for Education.
Another report, Missed Opportunities: The High Cost of Not Educating Girls, found that while nine in 10 girls globally complete their primary education, only three in four complete their lower secondary education. In low income countries less, the numbers are even lower. Girls who complete secondary school are better equipped to become healthier, more prosperous adults, with smaller families and children who are less at risk of illness and death and more likely to succeed. Further, girls with a secondary education are more likely to participate in the labor force as adults and be decision makers at home and in their communities. The study finds that if every girl worldwide received 12 years of quality education, lifetime earnings for women could increase by $15 trillion to $30 trillion globally.
4. Partnerships:
Partnerships across humanitarian, development, security, peace, and other communities are critical to closing gender gaps, and are being utilized across a range of analytical and operational activities. Examples of innovation in partnership activities include:
Women's Work and Employment Partnership
- Operationalizing new international definitions of work and employment.
- Collaboration between Data2X, the UN's Food and Agriculture Organization, the International Labor Organization and the World Bank.
Forest Carbon Partnership Facility
- FY17 first year with dedicated budget for gender: initial support to Ghana, Mexico, and Nepal.
- Established by WBG to enable access to services and rights for all people through digital identification systems. Facilitating women's access to financial services, social benefits, healthcare and education, etc. ID4D diagnostic exercises have been undertaken for MICs including Botswana, Mexico, Namibia and Peru, providing a holistic approach to each country's identity ecosystem, including institutions, technology, laws, policies, and practices.
- Partnering with Bill and Melinda Gates Foundation, the Omidyar Network and others.
- Now influencing approximately $750 million of WBG lending for ID-related projects that are active or in the pipeline.
Results:
Global:
Various transport projects have focused on developing infrastructure that is sensitive to women's needs. In Mexico, for example, a pilot project aims to weaken the enabling environment of perpetrators of harassment and empower bystanders to intervene using a marketing campaign, a smartphone app, and speakers on buses to facilitate reporting and real-time social sanctions, and bus driver and community training on non-confrontational ways of stopping harassment. And in Manila, for example, the new Bus Rapid Transit (BRT) Line 1 includes drop-down platforms to permit easier boarding for caregivers with infant strollers, and reduces risks to physical security through improved lighting and footpath construction.
Argentina
The $400 million Norte Grande Road Infrastructure Project addressed gender gaps in employment, education and income. The Qom Culture Route is a corridor of seven cultural centers led by artisan Qom women. The project has helped build Qom women's community centers and trained them in entrepreneurial and commercial skills. A study conducted among women participating in the initiative revealed there was a positive impact on income, bank accounts and funds, stronger female ties between women in neighboring communities, and women were encouraged to finish school and attend tertiary education training courses. Inspired by this success, other road sector projects in Argentina are adopting a similar approach.
Bangladesh
In Bangladesh, nearly 65 percent of women do not have a basic bank account, limiting their participation in the formal financial system and holding back the country's economic development. The report Closing the Gender Gap—Opportunities for the Women's Mobile Financial Services Market in Bangladesh shows how the growing digital economy offers women opportunities to improve their access to the financial system and identifies challenges including a lack of good-quality data about women's mobile financial needs and information about barriers women face to use their services. The analysis and research design can be applied in other emerging markets where there are gaps in access to basic financial services.
Brazil
The $250 million Upper Secondary Reform in Brazil Operation aims to reduce existing inequalities in educational outcomes and to build the human capital needed for inclusive growth. This includes supporting the development of strategies to inspire, engage, and empower girls in science, technology, engineering and mathematics subjects
Egypt
In Egypt, IBRD support for women, youth and marginalized groups since 2014 has helped create more than 273,000 jobs and provided $300 million in small and micro loans to more than 150,000 clients, including 64,000 women.
Peru
A pilot study undertaken ahead of the Peru Sierra Irrigation Project explored how to identify and remediate the barriers that stopped women from having full participation in water management. It found that 75 percent of water managers were men, land ownership was almost exclusively in men's names, meetings were held when women were not available, and were conducted in Spanish rather than Quechua, which most women knew. The findings led to the water users' organizations (WUOs) setting specific targets to close gender gaps, and to the National Water Authority requiring women's participation in WUO leadership positions. The pilot improved women's technical skills, their positions in WUOs, and self-esteem. The lessons from this experience were later applied more broadly in water management projects in Peru.
Philippines
The National Community Driven Development Program in the Philippines aims to empower communities in targeted municipalities to achieve improved access to services and to participate in local planning, budgeting and implementation. Still underway, the project has increased the percentage of members from female-headed households that attend regular assemblies, as well as female participation in the program's paid labor activities.
Vietnam
In the $330 million Trung Son Hydropower Project, the Bank sought to dismantle barriers to women's access to resettlement compensation. The project distributed low-cost radios to women and village heads, and broadcast in Hmong about project impacts, health, childcare, water management, entitlements, and compensation. It collaborated with local banks and the Vietnam Women's Union. Women leading a common interest group rose from 4 percent to 22 percent, and female participation in the groups doubled. A revision of the approach to compensation to enable the receipt of money by wives led to a 10 percent increase in joint, husband-and-wife receipt of these funds.
Moving Forward
The WBG is building further momentum on closing gaps between men and women, and supports the creation of enabling environments that foster increases in women's labor force participation, productivity, business ownership, and meaningful participation in key governance bodies. The WBG will continue its pursuit of initiatives that break down barriers to financial access, technology, networks and markets. In addition to financing, the WBG will also continue to create and offer tools that inform policies and programs in MICs, along with knowledge that closes evidence gaps.