What is the Multi-Tier Framework for cooking and why is it important?
As part of ESMAP's global initiative launched in 2015 to collect household-level data on energy access for cooking and electrification, the Multi-Tier Framework (MTF) for cooking was developed and continuously refined through consultation with partners and feedback from field surveys. The MTF collects and analyzes data on multiple dimensions of access such user behavior, cooking conditions, the use of multiple cooking solutions, convenience, and safety aspects. It allows for disaggregate and aggregate analysis to yield detailed information on various parameters and indexes that facilitate comparison over time and across geographic areas. The MTF for cooking includes six attributes: (i) exposure, (ii) efficiency, (iii) convenience, (iv) safety, (v) affordability, and (vi) fuel availability. To measure progress, each attribute has six tiers, ranging from 0 to 5.
This comprehensive framework complements the binary approach currently used to track progress toward SDG target 7.1, which initially measured whether or not households had access to nonsolid fuels, and later evolved to measuring whether or not households had access to clean fuels as their primary source for cooking.
This binary approach enabled tracking progress at a global level, with current estimates revealing that 2.8 billion people lack access to clean cooking solutions worldwide. While the binary approach has been helpful in making clear the enormous scale of the problem, it leaves out a critical segment of people that, while they may have access to clean stoves and fuels, lack access to truly modern cooking practices due to a variety of factors, such as affordability, safety, fuel availability, and convenience. In addition, the binary approach is unable to provide granular information on the extent and depth of the issue of access.
To complement the binary measure, there was a growing consensus among practitioners that the definition and measurement of access should reflect a continuum of improvement. The continuum should not only focus on fuels but also the influence of the cookstove, users' experience and contextual factors.
The MTF for cooking responds to this need for a more comprehensive understanding of the sector and makes it possible to monitor incremental, attribute-specific progress toward achieving the SDG 7.1 target. Its multi-dimensional design allows stakeholders to track cooking-sector progress using a broad set of household-level data. When incorporating a more complete cooking context into the measurement approach, we realize that the challenge is significantly larger than previously thought.

How does the Multi-Tier Framework for cooking assess a household's access to modern energy cooking services?
To measure progress, the MTF design consists of six equal attributes: two technical attributes that have long shaped the definition of "clean" cooking (exposure and efficiency) and four contextual attributes that capture the user's cooking experience (convenience, fuel availability [a proxy for reliability], safety, and affordability).
Each of these six attributes is scored across six tiers (0–5), and the tiers are measured using one or more indicators, each spanning a lower and upper threshold.
"Modern energy cooking services" refers to a household context that has met the standard of Tier 4 or higher across all six measurement attributes of the Multi-Tier Framework (MTF).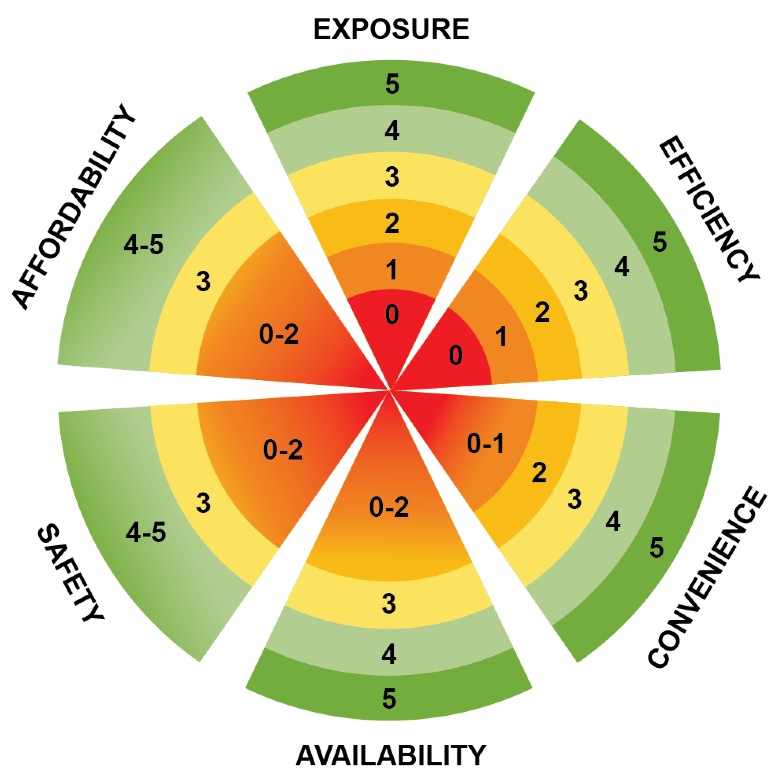 A household can be considered to have gained access to modern energy cooking services if it scores on Tier 4 or above on all six attributes of the Multi-Tier Framework for Cooking.
Efficiency: combination of combustion and heat-transfer efficiency
Exposure: personal exposure to pollutants, which depends on both stove emissions and ventilation (higher tiers indicate lower exposure)
Convenience: time collecting / purchasing fuel and preparing the stove
Availability: readiness of the fuel when needed by user
Safety: severity of injuries caused by the stove over the past year
Affordability: share of household budget spent on fuel (higher tiers indicate lower share of spending)
Note: numbers indicate tiers within each attribute