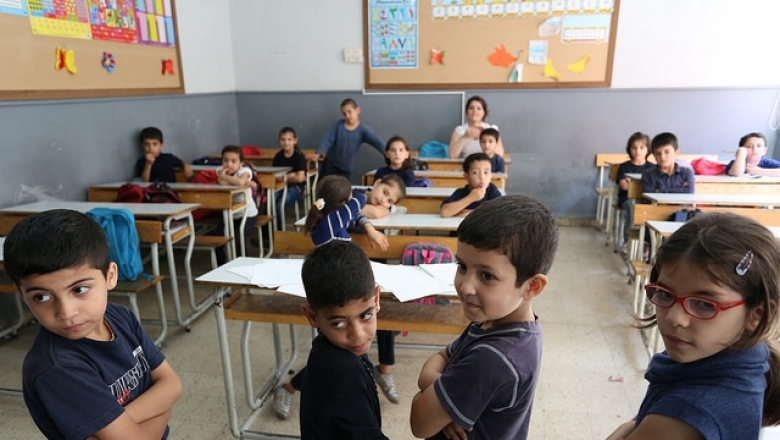 Providing quality education and skills for all in countries affected by fragility, conflict, or violence is an urgent development priority. Wherever they are, children must go to school.
WHY IT MATTERS
Countries need strong, resilient and inclusive education systems that promote learning, life skills, and social cohesion. However, systems struggle to deliver education services in adverse contexts such as armed conflict, natural disasters, political crises, health epidemics, and pervasive violence. In these contexts, exclusion and inequities could aggravate fragility but education also plays a singular role to prevent violence and to also help mitigate the risks associated with such adversities and help children and youth to succeed despite severe challenges. Countries with fragility, conflict, or violence contexts represent the biggest challenges to achieving the United Nations Sustainable Development Goals of ensuring inclusive and equitable quality education and promoting lifelong learning for all.
OUR STRATEGY
The World Bank is committed to assure that education services are provided for all ages through inclusive and equitable systems. In addition, those who suffered from discrimination, exclusion, and violence, including gender-based violence, need additional support and empowerment through coaching, mentoring, and psychosocial training. Our multisectoral approach takes into account the need to strengthen individual resilience amidst fragility, conflict, and violence.
The transition from the humanitarian aid to sustainable development of education services is a joint effort of governments, development partners, communities, non-governmental organizations, and schools. The key areas of focus include building capacities, strengthening services, and building resilience in contexts of fragility.
Our approach to education in fragility, conflict and violence contexts starts with (1) programs that prevent the occurrence of these, (2) continues by remaining engaged in crises through humanitarian support, (3) helps rebuild more resilient systems in post conflict situations and (4) addresses the needs of communities and population groups impacted by the crises through forced displacement or exclusion and inequity.
OUR PRIORITIES
Build inclusive and adaptable education systems in countries at risk of falling into fragility or conflict to prevent such crises. Education has a critical role in building social cohesion, inclusion, and resilience. In societies with the risks that some groups, minorities are excluded from accessing social services and acquiring the skills or exposed to violence in schools or offensive teaching and curriculum, more inclusive pedagogy, prevention of school-based violence and targeted educational support to such minorities can help prevent falling into violence and build resilience of the people amidst crises.
The WB is committed to remain engaged during humanitarian crises in providing basic educational services and even providing additional support through rapid response and rapid adjustment of our operations to effectively address the emergencies. In contexts of fragility, crises or adversity, education services must continue. Crises lead to trauma, extensive learning loss and even other deprivation in terms of children's health, nutrition, and safety, leading to children dropping out of school and generations missing out from schooling and skills development. Once children drop out of school or are denied opportunities for education, it is difficult to bring them back. We work closely with governments and humanitarian agencies to bridge education services in emergencies and to ensure longer-term education service delivery systems in countries with ongoing crises. At times of emergency or in contexts of fragility, our priority is to help countries build an inclusive and adaptable education system—tapping into various service providers and alternative ways to deliver education, developing interventions to stimulate demand for education, and building curriculum and classroom practices that help address psychological trauma of children and prevent conflict and violence in the future.
Strengthen the resilience of education systems during the post conflict and post crises recovery periods for the systems to build the skills and resilience of individuals and communities whose lives and education are affected by adversity. The resilience of education systems requires strong and inclusive institutions, effective public policies, incentives for deprived population groups and schools that serve them and reforming teaching and learning practices to accommodate the diverse needs of deprived communities, girls and women, ethnic, religious or language minorities as well as casts.
Improve education services to address the educational and skill development needs of displaced populations and of host communities. As natural disasters, crises and conflicts increasingly spill over across borders and regions forcing millions of families and children into displacement and disrupting the lives of other populations who live in host communities. The forced displacement crisis has worsened over the last decade and by end of 2019, the number of refugees around the world has reached 26 million, half of whom are under 18, while that of internally displaced people exceeds 45.7 million and asylum seekers number 4.2 million. In addition, millions of young people miss out on education and acquisition of the skills needed in the communities that host those forcibly displaced. Our efforts to make sure these children can learn include scaling up education for refugees in the world's poorest countries and for those hosted by middle-income countries and looking for innovative approaches to provide education to those who have been displaced from their homes.
OUR APPROACH
Programing: Our programing is aligned to ensure maximizing our impact by addressing the educational drivers of fragility, building resilience to be prepared for future crises, designing programs that are cross-cutting (including transportation, health, nutrition programs in the context of education development), providing stronger on-the-ground support for implementation and monitoring and working with local communities. In addition to our regular IDA support, the Bank has also started to provide designated funds to address each of the four stages of the FCV agenda including prevention, engagement during crisis, post-crisis recovery and funding hosting and displaced communities.
Partnerships: The World Bank's development approach to education in emergencies entails close partnerships with governments, humanitarian agencies, and the international development community. As part of global alliances and compacts, such as the Global Refugee Compact, UN Girls Education Initiative or the Safe to Learn Global Initiative provide the best foundations for effective coordination for these partnerships.
People: The Bank is strongly focused on building the skills of its staff and the teams working in FCV settings and is also committed to strengthen the on-the-ground presence of its teams in the countries affected by fragility, conflict and violence. The Bank management is fully committed to support these teams as often they are compelled to take risks and provide extraordinary support to the FCV operations.
Processes: The World Bank is aligning its operational and approval processes to fit-for-purpose in FCV settings. This means agile, innovative approaches and reduction of risk aversion. In addition, some critical drivers of fragility, conflict and violence have been given extra priority, such as addressing gender inequities and GBV and providing gender guidance to task teams, the impact of climate change on educational services as well as the climate impact of education operations. In FCV countries, careful review of the environmental and social impact of operations and design of appropriate mitigation mechanisms are of critical importance.
LATEST RESEARCH
Approximately 100 million people were forcibly displaced by conflicts, natural disasters, and political and economic crises, both within and across borders in 2022 according to UNHCR. Although low- and middle-income countries host 85 percent of the world's refugees and Venezuelans displaced abroad, the education systems in these host countries often struggle to support displaced populations.
The World Bank, UK Government, and UNHCR worked together with AIR and New York University to Build Evidence on Forced Displacement through a systematic review and generated new evidence through country-level case studies in Colombia, Chad, Jordan, Pakistan, and Sudan. These reports present new data across case studies, including the key institutional, political, financial, and sociocultural factors affecting the inclusion of displaced children into national education systems, and share findings on how displaced populations are included in government education systems, the challenges related to financing education programs and their cost-effectiveness, and gaps between policy and practice across case study countries.
Forced Displacement and Education: Building the Evidence for What Works