Bigger and Better Investments for a Resilient Future
Rapid urbanization is transforming the planet and the way we live: 3 million people move into cities every week, and by 2050, urban areas are projected to add an additional 2.5 billion residents. The greater concentration of people and assets can amplify the impact of disasters and a changing climate. Poorer segments of the economy are often particularly vulnerable, inhabiting more hazard-prone areas and lacking essential safety nets to recover from economic or environmental shocks.
Investing in urban resilience is thus key to sustainable development and poverty reduction. However, the lack of financial and technical resources could hold cities back from pursuing a resilient future. The global need for urban infrastructure investment amounts to over $4.5 trillion per year, of which an estimated premium of 9%-27% is required to make this infrastructure low-emissions and climate resilient.
Established in June 2017, the World Bank Group's City Resilience Program (CRP) empowers cities to pursue investments which build greater resilience to climate and disaster risks, and to access the financing necessary to ensure that those investments come to fruition.
The CRP has built a diverse ecosystem of technical support which brings together the broad range of sectoral expertise at the World Bank Group to integrate climate and disaster risk scenarios into cities' upstream planning. The approach used by the CRP represents a fundamental shift in how cities can be supported to tackle their most pressing development challenges; from one focused on sectoral priorities to one focused on integrated and spatially-informed priorities which capture the interplay between the natural and built environments.
Supporting cities to approach their resilience challenges holistically requires complementary support to address the financing challenges that go along with a more ambitious agenda. The CRP aligns its approach with the Maximizing Finance for Development (MFD) campaign to ensure that all financing options are considered, and opportunities which may be attractive to other International Finance Institutions or private sector investment are fully explored. In that sense, the CRP works as the investment banker to cities, helping to boost the bankability of projects and catalyze the flow of financial resources to emerging markets.
To help cities achieve bigger and better investments for a resilient future, the CRP developed two programmatic tracks through which cities can engage: The Resilience Enhancement Track and the Capital Mobilization Track.

Resilience Enhancement Track
The CRP commences its engagements with each city in the Resilience Enhancement Track by producing a City Resilience Scan. The City Resilience Scan contains a series of maps, visualizations and analyses which describe key resilience challenges and enable a starting point for discussing solutions during a one-week Resilience Planning Workshop.
During the workshop, cities benefit from a diverse range of technical expertise to help package, prioritize and design resilience-enhancing investments. After a week of ignite talks and peer working session, each city presents their preliminary investment plan, defines their cumulative investment need, and outlines financing options anchored around a World Bank.
Following the Resilience Planning Workshop, technical support from the CRP to cities continues through the project cycle, embedding a broad set of expertise as cities move from concept, to design, to implementation. The goal is to ensure that any investment program is risk-informed and considers natural hazards and climate change from the design phase.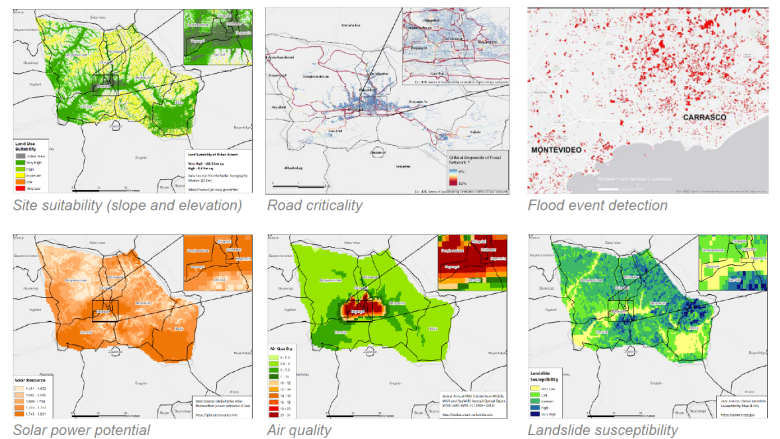 Figure 2 - Snapshot of the City Resilience Scan
Capital Mobilization Track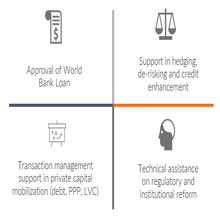 Figure 3 - CRP Capital Mobilization
The CRP commences its engagements with each city in its Capital Mobilization Track by producing a Rapid Capital Assessment (RCA), which outlines the underlying conditions and enabling environment for mobilizing additional sources of financing from commercial sources, Public-Private Partnerships (PPP), or Land-Value Capture (LVC).
As part of the capital mobilization track, cities participate in a one-week Financial Solutions Marketplace where they develop and refine viable transaction options for city resilience with private capital experts and financial advisors.
As a next step, cities with an amenable enabling environment and sufficiently mature investment idea receive dedicated financial advisory services to help with project prioritization, market sounding and pitching, valuation, financial modeling and a review of potential regulatory gridlocks.
Where applicable, CRP is further expanding the application of risk-mitigation tools such as guarantees to provide incentives for private sector participation.
Global Engagement
CRP has engaged with over 90 cities spanning all World Bank regions, where it has influenced 20 ongoing and future projects totaling over $2.2 billion of World Bank lending. This includes 35 new cities that were added in FY 19.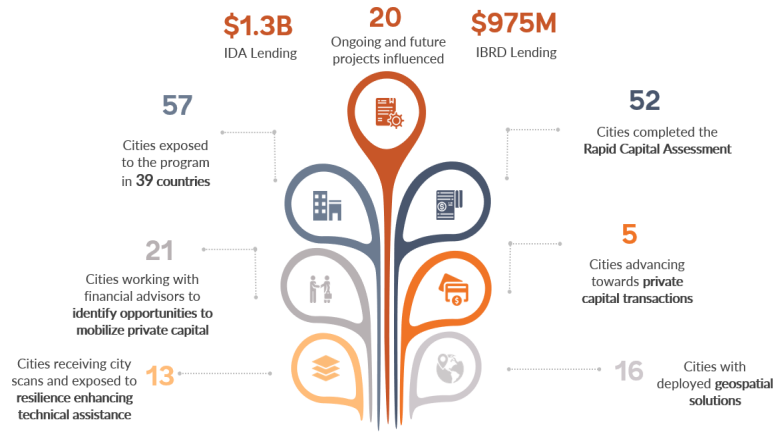 Figure 4 – CRP Achievements
Partnership
The CRP is generously supported by contributions from the Swiss Confederation State Secretariat for Economic Affairs (SECO), the Republic of Austria, and the Global Facility for Disaster Reduction and Recovery (GFDRR).
The CRP is also proud to announce its forthcoming partnership with the Spanish Agency for International Development Cooperation (AECID) in support of the EU's External Investment Plan to source, de-risk and execute transactions in Sub-Saharan Africa and the European neighborhood.
Within the World Bank Group, the CRP works with more than 20 technical teams to support the diverse range of expertise required on its resilience enhancement track. On its capital mobilization track, the CRP works closely with the Infrastructure Finance, PPPs and Guarantees Practice, the International Finance Corporation, and many others.
The CRP also collaborates with other actors within the urban resilience space, including a partnership with the Global Covenant of Mayors, which was announced at the One Planet Summit in Paris on December 12, 2017.