Africa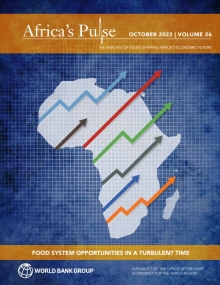 Download Report (October 2022)
Press Release: English | Français | Português
Economic growth in Sub-Saharan Africa (SSA) is set to decelerate from 4.1% in 2021 to 3.3% in 2022, as a result of a slowdown in global growth, rising inflation exacerbated by the war in Ukraine, adverse weather conditions, a tightening in global financial conditions, and the rising risk of debt distress. These trends compromise poverty reduction, already set back by the impact of the COVID-19 pandemic.
East Asia and the Pacific (EAP)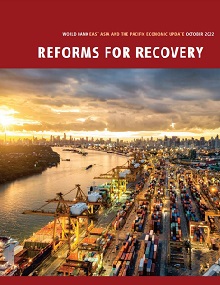 Download Report (October 2022)
Press Release: English | Tiếng Việt | 中文 | Bahasa Indonesia | | Монгол | ខ្មែរ | 日本語
Overview: English
Growth in most countries in the East Asia and the Pacific (EAP) region rebounded in the first half of 2022, but China lost momentum. In much of the region, domestic demand revived after the distress of the COVID-19 Delta wave. In China, the public health measures to contain outbreaks of the highly infectious Omicron variant inhibited consumption. Most of the region is projected to grow faster and have lower inflation in 2022 than other regions. Beyond the end of 2022, three factors could be a drag on growth: global deceleration, rising debt, and policy distortions. Current measures to contain inflation and debt are adding to existing distortions in the markets for food, fuel and finance in ways that could hurt growth. In each case, more efficient measures could address current difficulties without undermining longer-term objectives.
Europe and Central Asia (ECA)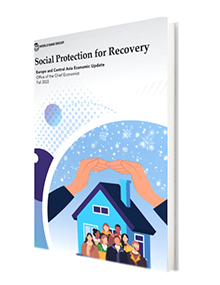 Download Report
(October 2022)
Press Release: English | Русский | Български | Српски | Hrvatski |
The Russian Federation's invasion of Ukraine has triggered a massive human displacement crisis, adding to already historically high global refugee levels. Output in Europe and Central Asia is forecast to contract 0.2 percent in 2022, reflecting negative spillovers from the invasion. Escalating geopolitical tensions have triggered a possible energy crunch in Europe. If the war escalates, regional output could decline even further.
Executive Summaries: English
Latin America and the Caribbean (LAC)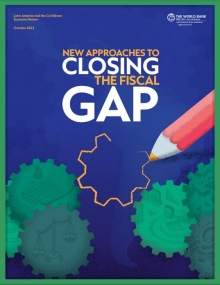 Download Report (October 2022)
Press Release: English | Español | Português
As the COVID‐19 crisis recedes, Latin America and the Caribbean (LAC) is back to work and looking forward. Reported deaths related to the pandemic are low and have plausibly converged to global levels. Yet low vaccination rates in some countries leave them vulnerable to new variants. In most countries, gross domestic product (GDP) and employment have fully recovered their 2019 levels, although forecasted growth rates might be said to be "resiliently mediocre": banking systems appear sound, and rising debt burdens are manageable so far, but growth is not expected to exceed the low levels of the 2010 decade.
South Asia Region (SAR)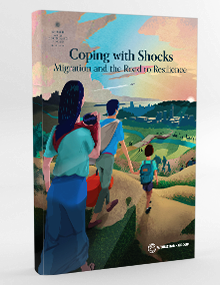 Download Report (October 2022)
Press Release: English |
In short order, a series of once-in-a-lifetime shocks has hit South Asia. Elevated inflation, balance of payments pressures, a slowdown in the global economy, and monetary tightening in other countries present renewed challenges, while the scars from the COVID pandemic continue to weigh down on the economic recovery. The region is facing a sharp inflection point around mid-2022 when growth is expected to slow, though the more services-led economies are expected to perform better. To build resilience, the region can tap into the ongoing structural changes including financial innovations and increased labor market flexibility. Labor migration, a key part of life in South Asia and an important coping mechanism, was adversely impacted during the COVID pandemic. Policies that address existing barriers and reduce the risk of migration can improve the region's resilience. This issue of the South Asia Economic Focus describes recent economic developments, analyzes the economic impact of the internal and external shocks, presents growth forecasts, provides risk scenarios, examines the impact of COVID on migration, and discusses policy recommendations.
The Middle East and North Africa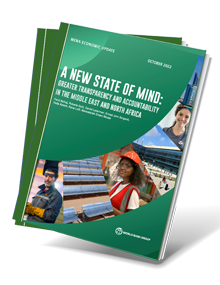 Download Report (October 2022)
Press Release: English | العربية
This edition of the World Bank Middle East and North Africa (MENA) Economic Update estimates that the region's economies will grow by 5.2% in 2022, the fastest rate since 2016. However, uncertainty reigns with the unpredictable course of the war in Ukraine and the trajectory of COVID-19. Growth in the region will be uneven as oil and food importing economies in the region will be hurt on average, in contrast with oil exporting countries. The report also looks at the reliability of economic forecasts in a region where data transparency has long been an issue.