Challenge
The development of a safe and habitable coastal zone is a longstanding priority for Bangladesh. Spanning more than 580 kilometers and housing more than a quarter of the country's population, the area is key to the country's social, economic, and environmental well-being. But it remains extremely vulnerable to climate-related hazards such as cyclones, storm surges, coastal erosion, and sea-level rise. Cyclone Bhola (1970), the deadliest cyclone on record, claimed an estimated 300,000 lives. With the help of donor partners including the World Bank, the government has invested in disaster risk reduction, mitigation, and preparedness systems ranging from embankments and cyclone shelters to community-based early warning systems to nature-based solutions. These initiatives have saved lives, reduced economic losses, and protected crucial development gains.
The number of casualties from cyclones has dropped by a factor of 100 and living conditions for coastal communities have improved significantly. However, continuous improvement of knowledge, planning, infrastructure, and investment are needed to deal with the ever-evolving threat, which has been intensified by climate change.
Approach
The World Bank's Coastal Embankment Improvement Project Phase 1 (CEIP-1) and Multipurpose Disaster Shelter Project (MDSP) are complementary stand-alone projects. They incorporate technical design elements such as climate change scenarios, nature-based solutions, and inclusive disaster protection, as well as a robust program on data and analytics.
The CEIP-1, approved in 2013, was designed to support the rehabilitation and upgrade of protection polders—areas of low-lying land reclaimed from the sea—to mitigate the effects of tidal flooding and frequent storm surges. It was also designed to improve agricultural production by reducing saline water intrusion, thereby supporting better livelihoods for those living in the coastal zone. The rehabilitation of 10 polders in six coastal districts will provide direct protection for more than 724,000 people living inside the polder boundaries, enhance their livelihood through increased agricultural production and strengthen the overall resilience of the coastal areas.
The MDSP, which has been implemented since 2015, is aimed at saving lives by providing shelters for those at risk from cyclones and storms while providing safe schools for children in the communities most vulnerable to natural hazards. The buildings will provide protection for more than 1,236,500 people in vulnerable coastal communities. The shelters will be also used as primary schools, providing over 3,000 new and improved classrooms for over 286,500 children. The MDSP is the single largest program for disaster shelters in Bangladesh, integrating into the design such technological innovations as solar panels and rainwater harvesting devices and reflecting improved sensitivity to gender, age, and disability.
Results
The CEIP-1 and the MDSP bring a combined investment of US$776.7 million to the development of Bangladesh's coastal zone. As part of an integrated and multi-pronged approach to disaster risk management, they provide protection for lives and livelihoods in the coastal region.
Since 2013, the CEIP-1 has helped Bangladesh mitigate the impacts of cyclones and flooding and improve emergency response. The project has created increased protection for more than 402,000 people, half of them women, by creating greater resilience to climate change in selected polders and reducing tidal flooding and storm surges.
As of December 2021, the project has protected over 41,600 hectares and upgraded around 250 km of embankments. An area of 473.8 hectares had been afforested using ecologically appropriate species with 1,184,500 seedlings to protect from tidal and storm surges. A total of 141 Water Management Groups (WMG) and eight Water Management Associations (WMA) have been formed to contribute to the effective operation and maintenance of the water system within the polder schemes.
Under the MDSP, 166 new shelters with 50 km of all-weather access roads have been completed and 370 shelters have been rehabilitated as of December 2021.
The shelters will provide protection for over 589,400 people and 40,600 livestock in vulnerable coastal communities.
They are also providing over 1,600 new and improved classrooms for over 150,000 children in primary school.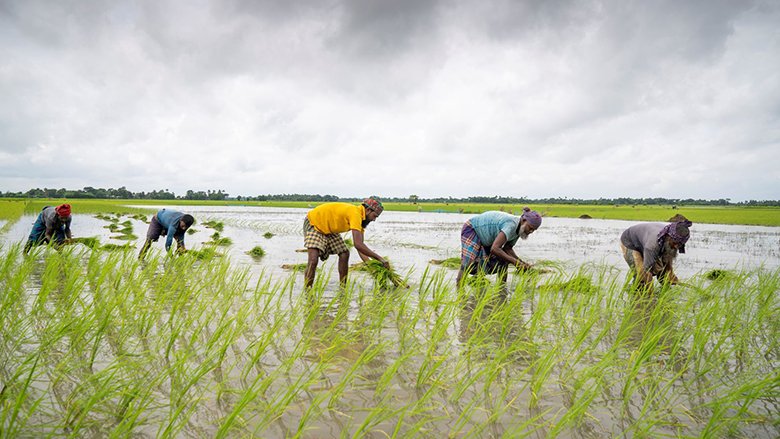 Bank Group Contribution
For the CEIP-I, the International Development Association (IDA) approved US$375 million in funding in June 2013. For the MDSP, IDA approved US$375 million in funding in December 2014.
Partners
CIF's Pilot Program for Climate Resilience provided co-financing of US$25 million for CEIP-1, out of the total financing envelope of US$400. The Bangladesh Water Development Board is the implementing agency for the project.
For MDSP, IDA funding is complemented by US$1.7 million in Government of Bangladesh financing. Implementation is led by Bangladesh's Local Government Engineering Department in coordination with the Ministry of Primary and Mass Education. Community preparedness activities are carried out through the Cyclone Preparedness Program, led by the Ministry of Disaster Management and Relief in partnership with the Bangladesh Red Crescent Society.
Moving Forward
The CEIP and MDSP build on the work of decades of past World Bank projects to protect Bangladesh's coastal zone, and more investments will be needed to create a more comprehensive disaster risk and sustainable development strategy.
The CEIP-1 is the first phase in a long-term program to upgrade the entire embankment system, which consists of 139 polders along 6,000 km of embankments. The effectiveness of shelters and improvements to their design under the MDSP has been tested and proven. They form an integral piece of the disaster risk management approach across the entire delta. Upcoming projects to address the impact of flooding further inland will incorporate these improved shelter designs as well as other lessons learned from this project.
Beneficiaries
"The changing climate is making lives more difficult for vulnerable communities such as mine. We shall need to work harder to adapt. But whenever I hear of a new shelter being built or an existing one being repaired, I know that there is still hope for our villages and for our families." Hasina Begum, Headmistress Primary School in Barguna