Challenge
With China's rapid economic growth and rising living standards, municipal solid waste has become a significant concern for Chinese cities that saw substantial increase in solid waste generation rates. Municipal solid waste was projected to continue to increase rapidly, in parallel with continuous growth and increased consumption.
China passed the Solid Waste Pollution Prevention and Control Law in 2004 and the Circular Economy Promotion Law in 2009. However, Chinese cities face significant challenges to improving waste management performance, because of a lack of comprehensive systems for waste separation, collection, transportation, treatment and recycling, as well as low public awareness and participation.
Ningbo is an important port city on the southeastern coast of China. In 2009, the urban districts of Ningbo (Haishu, Jiangdong, Jiangbei, Beilun, Zhenhai, and Yinzhou including the National Hi-tech Park and Dongqian Lake Recreation Area), with a residential population of 3.1 million, produced 1.19 million tons of total municipal solid waste which was all landfilled or incinerated with very limited informal separation at source. The city was determined to become an advanced and model city for municipal solid waste management and became one of the 46 Chinese cities to pioneer compulsory sorting of residential waste.
Approach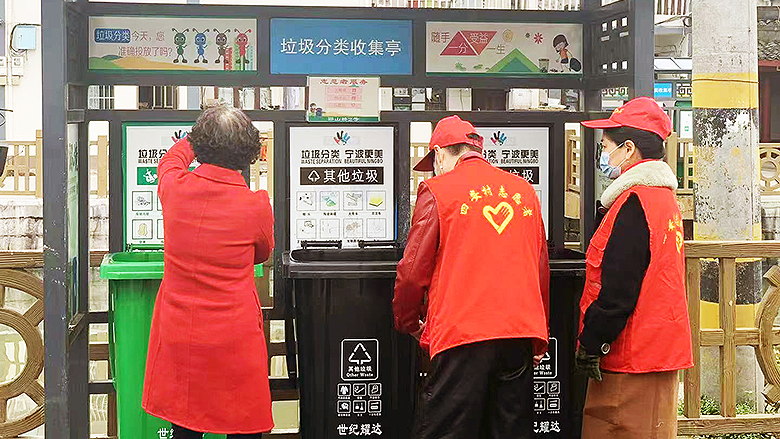 (waste separation bins set up in the community. Photo: Ningno Project Managment Office)
The Ningbo Municipal Solid Waste Minimization and Recycling Project assisted eight urban districts in Ningbo Municipality to increase the volume and proportion of municipal solid waste recycled with processes for separation at source and recycling and investment in its waste management system to transport, transfer and treat the separated materials. To achieve its objective, the project adopted a comprehensive set of actions including:
provision of separation bins and bags at residential communities, waste transfer stations and collection vehicles;

construction of an anaerobic digestion treatment plant to process kitchen waste collected separately from households and markets, based on a public-private investment and operations arrangement;
promotion of solid waste separation through citywide public communication campaign, development of rules and regulations and a municipal waste pricing policy, including a financial incentive scheme for participating communities and households; and
establishment of a solid waste information management system, training for staff at neighborhood, sub-district, district and municipal levels, and external monitoring and evaluation of performance in waste.
The project was one of China's first experiences with citywide waste separation at source systems and demonstrated effective solutions and pave the way for scale up and replication in other Chinese provinces.
Results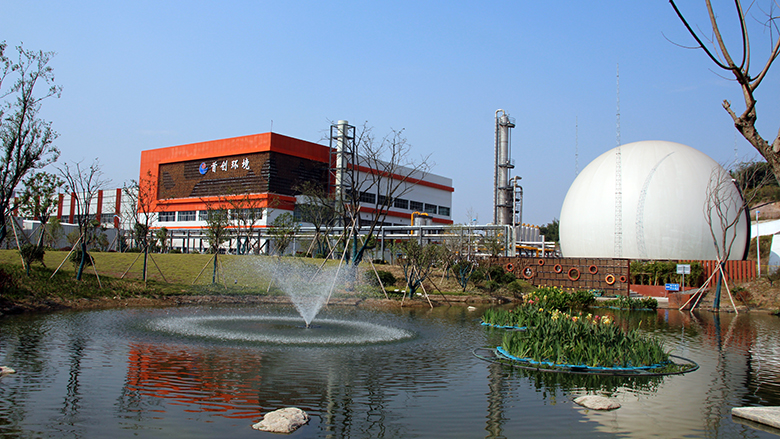 (an anaerobic digestion treatment plant to process kitchen waste collected separately from households and markets. Photo: Ningbo Project Management Office)
Implemented from 2013 to 2020, the project achieved the following outcomes in the eight participating districts of Ningbo:
Total amount of separated kitchen waste collected increased to 193,200 tons a year.
Total amount of separated dry recycling materials (paper, cardboard, plastic, metal, glass, and textile) increased to 71,600 tons a year.
The proportion of residential waste separated reached 17.54 percent. Public awareness on waste separation increased from 35 percent in 2015 to 94 percent in 2019. 905,000 households and all institutional waste generators started participating in waste separation.
The collected kitchen waste and separated recyclables were delivered to the project-financed kitchen waste treatment factory and recycling facilities respectively. Kitchen waste was processed for biogas production. The greenhouse emission reduction resulting from this process was estimated to exceed 50,000 tons a year. The public-private entity that was established under the project for development, investment and operation of the kitchen waste facility, with 60 percent participation of the private investor, became a model in China for public-private cooperation in the solid waste sector.
An internet-based smart sanitation information system was established to monitor the number of household kitchen bags distributed, the quality of kitchen waste separation, and the volumes collected and transported.
Successful innovations rolled out include an incentive program based on a QR code-enabled waste tracking system to reward communities that perform well in waste separation, and 'Give a Hand' recycling system comprising of reverse vending machine units for dry recyclables. When residents deposit their presorted dry waste in the vending machines, they receive set-price payment in exchange.
A tariff study undertaken under the project designed a volume-based charging mechanism. The waste charging policy is expected to be introduced in 2021.