Challenge
Belize is ecologically diverse with substantial natural capital along its coast, represented by the largest coral barrier reef and associated ecosystem in the Americas, as well as significant areas of mangroves, tropical forests, and inland wetlands. More importantly, Belize derives essential benefits from the ecosystem services generated by its coral reefs and mangroves. They help prevent coastal erosion and offer protection from storm surges and hurricanes. Moreover, it was estimated that the value of ecosystem services (fishing, tourism, shoreline protection) generated by the coral reefs and mangroves contributed between 15% and 22% of GDP in Belize (in the range of US$395–559 million per year) in 2007. As is the case in many other countries, Belize's ecosystems and the roles they play are being threatened by environmental and human activities. Overharvesting of marine resources has been a challenge, increasingly exacerbated by the impacts of climate change. Rising sea levels and increasing sea temperatures negatively impact the Barrier Reef system that supports several key economic activities. Likewise, increasing sea temperatures are leading to massive coral bleaching within the Belize reef system, causing significant reduction in the amount of live coral.
Approach
The Marine Conservation and Climate Adaptation Project (MCCAP) aimed to enhance marine conservation and climate adaptation measures to strengthen the climate resilience of the Belize Barrier Reef system . This included improvement of coral reef protection through expanded marine protected areas and coral outplanting. The Project aimed not only to restore and conserve biodiversity but also to support local communities to diversify their livelihoods. This helped to ease pressures on ecosystems and ensure that the environmental protection measures can be implemented by local communities who in turn add to their income streams. This included support to sectors such as hospitality and tourism, vocational education, sustainable agriculture, and raising awareness about the importance of the overall health of the reef ecosystem to climate resilience and community welfare.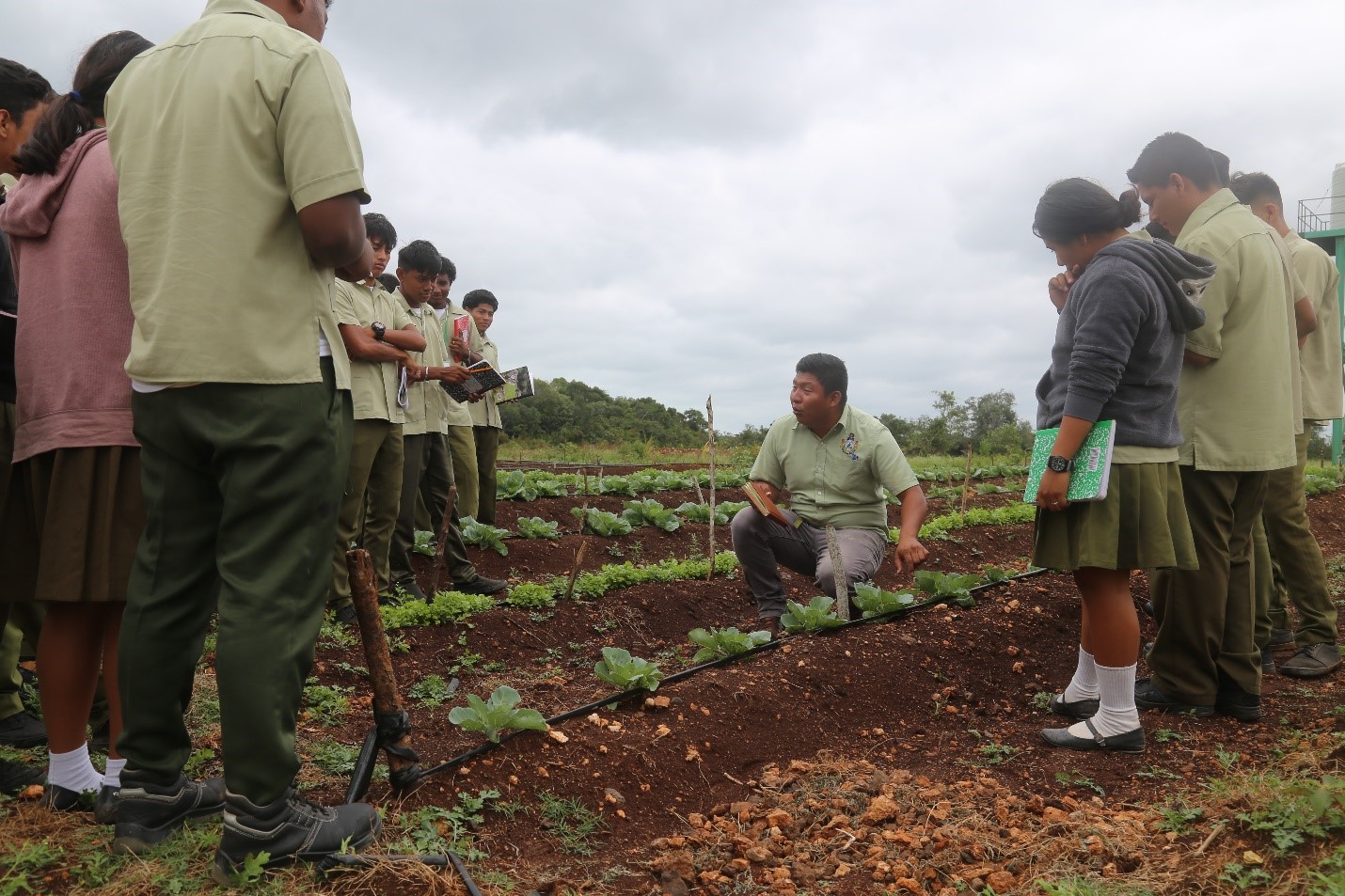 Teacher and Students Discussing Sustainable Agriculture Practices at St. Viator Vocational High School; Photo Credit: Hannah McDonald-Moniz/World Bank
Results
Exceeded initial targets for expanding and securing marine protected areas, with actual territory brought under marine protected area designation totaling 405,512 hectares, or 21.2% of territorial waters.
Increased marine replenishment (no-take) zones from approximately 2% to 3.1%, for a total of 58,699 hectares. The specific marine protected areas that were targeted were South Water Caye Marine Reserve, Turneffe Atoll Marine Reserve, and Corozal Bay Wildlife Sanctuary.
Supported the restoration of coral sites in the South Water Caye Marine Reserve and Turneffe Atoll Marine Reserve , achieving double the original target. From 2017-2020, 12 measured plots were restored with a total area of 1,400 square meters with 28,927 outplanted corals.
Supported the drafting of updated Forest Regulations that came into effect in 2018, focused on the protection of mangroves.
Supported a review and recommendations for the revision of the 1998 Coastal Zone Management Act; the recommendations were endorsed by the Coastal Zone Management Authority and Institute (CZMAI) and await legislative drafting.
Exceeded targets for coastal region brought under improved regulation, by maintaining 98.9% mangrove coverage in the three priority coastal planning regions identified by the CZMAI: Caye Caulker, Central Region, and South Northern Region.
Implemented 10 subprojects through which 759 people were trained and 1,535 beneficiaries adopted alternative livelihoods aimed at strengthening the resilience and adaptive capacity of fishing communities whose livelihoods depend on the marine resources within the marine protected areas as a principal source of income. Examples of skills training included courses on entrepreneurship, food safety, and communications, among others, while livelihoods sub-projects ranged from deep slope fishing and seaweed farming to tourism and agriculture-focused support.
Trained teachers to deliver climate change instruction to students and other teachers, developed and distributed training manuals for teachers, and, working closely with the Ministry of Education, supported the development of a climate change unit introduced into the secondary school curriculum in 2019.
Bank Group Contribution
The MCCAP was funded with a Bank-executed grant in the amount of US$5.53 million from the Adaptation Fund. The Adaptation Fund is an international fund administered by the World Bank that finances projects and programs aimed at helping developing countries to adapt to the harmful effects of climate change.
Partners
The project demonstrated broad engagement from a diverse group of institutions and partners across all project components and related activities. MCCAP served as a catalyst to integrate efforts by the Fisheries Department, Coast Guard, NGOs, marine reserve staff, and the Forest Department to standardize enforcement operations of the targeted marine protected areas, while providing resources and skilled staff to the Fisheries Department and marine protected areas co-managers to ensure effective surveillance, monitoring and enforcement. One good example of NGO engagement and collaboration is the participation of Fragments of Hope, an NGO that has successfully carried out coral restoration in Belize since 2006. Fragments of Hope employs only Belizeans, mainly certified tour guides and fishers, in restoration activities and designs coral reef restoration as an additional income, outside of the main tourism and fishing seasons.
Moving Forward
The Government of Belize remains committed to the sustainability of the project, as evidenced by the adoption of policies and legislation aimed at improving the management of marine and coastal resources. Commitment beyond the period of project implementation is evidenced by the anticipated passage of additional policy and legislative measures, such as Coastal Zone Management Act and Regulations, supported by the project. While the degree of sustainability of individual community alternative livelihood activities may vary, especially in the context of COVID-19, the project's incremental focus on income diversification (rather than entirely redirecting beneficiaries away from fishing), coupled with its explicit decision to target women and youth in livelihoods and behavior change activities, may help to cement development gains and improve longer-term sustainability.
Beneficiaries
"I received tour guide training, and also our children. We also received training for captains, and their wives. We try to involve the entire family. The training also taught us English (...)We learnt how to express ourselves in a better way. And at the same time, we're generating another income apart from fishing. Since we're working sustainably, we have to protect the species and we have to respect the time - we have a schedule and we can only set traps from March to November; before we didn't do this. We have experienced that fish have gone extinct, so if we don't collaborate with this project, eventually we will not have fish to catch. The amount of fish now that we catch is less every year. So, we can do something else than just commercial fishing; an alternative way of livelihood generates income to help our families at the same time of helping the fish not to go extinct and," Abizai K, Fisherman and Tour Guide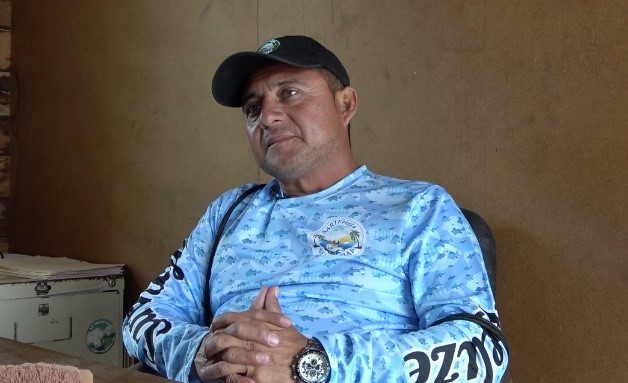 Abizai K, Fisherman and Tour Guide Photo Credit: Hannah McDonald-Moniz/World Bank