Challenge
The role of National Quality Infrastructure (NQI) in improving international trade, quality and reliability of products, and the global image of a country's goods and services, has become increasingly salient in recent years. Yet, many African countries have failed to exploit the tremendous potential that NQI confers in not only raising the quality and safety of products at the national level, but also its ability to enhance commerce with the rest of the world. One particularly attractive candidate for accelerating NQI development was Ethiopia, which by 2017 experienced an extended period of newfound economic growth of about 10 percent per year. Yet, standing in Ethiopia's path to become a lower-middle-income country were constraints highlighted in the government's second Growth and Transformation Plan (GTII 2015-2020), including limited export capabilities, restricted capacity in manufacturing, low productivity, and general lack of competitiveness within the domestic commercial sector. To help the country improve these foundations of economic prosperity, the World Bank provided an International Development Association (IDA)-financed project in 2017 to advance NQI developments in Ethiopia, motivated by analytical underpinnings.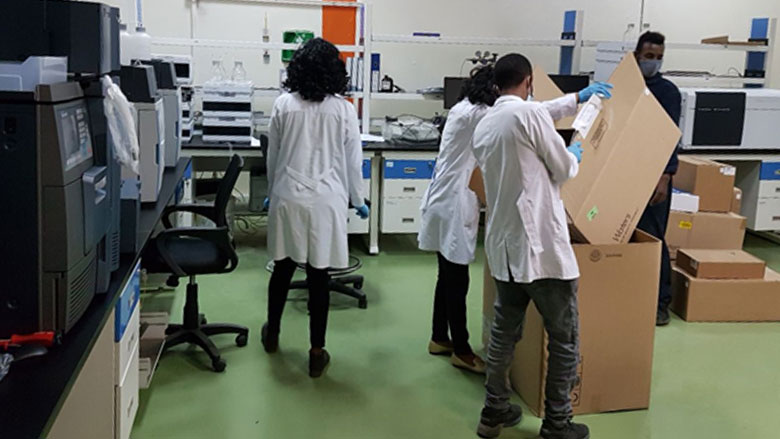 ECAE staff observing and sharing experiences in the modernized testing and calibration laboratory. HPLC with PDA RI ECD Detector identifies, quantifies and purifies the individual components of export food items and is installed by experts from the supplier company. Photo: Ethiopia NQIDP, Project implementation unit, MoTI
Approach
NQI is the "ecosystem of public and private institutions as well as legal and regulatory frameworks and practices that establish and implement standardization, accreditation, metrology, and conformity assessment". The two main NQI pillars are product certification for exports and market surveillance (through inspections and tests). The World Bank's approach for this endeavor consisted of multiple interventions, of which one notable example involved improving the delivery of quality assurance services to private companies in the targeted sectors (leather, textiles and agro-processing). In addition, the World Bank sought to address gaps on both supply and demand sides of NQI. For example, the World Bank focused on improving the quality of products in the honey sector, which is of significant economic importance to Ethiopia. Yet, its plagued with processing, reliability and distribution challenges. The World Bank also provided technical and financial assistance to the key Ethiopia NQI public agencies, including the Ethiopia Conformity Assessment Enterprise (ECAE) and the National Metrology Institute of Ethiopia (NMIE).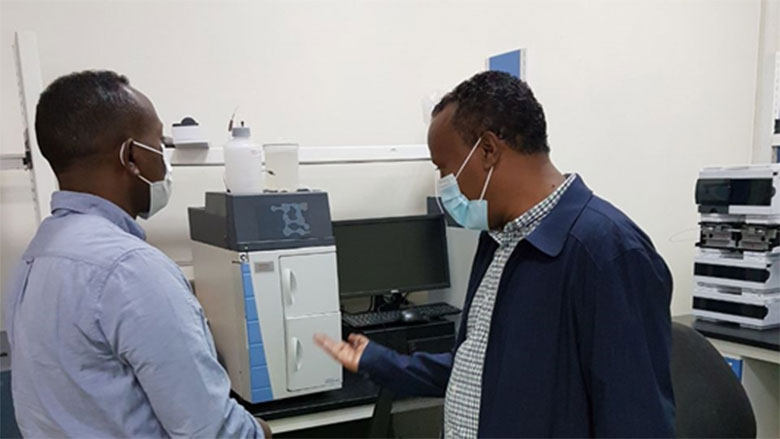 Ato Gashaw, ECAE deputy director, and Dr. Tenagne, supplier representative, are monitoring the operation of the DIONEX INTEGRION HPIC, ION and CATAION Analyzer equipment that measures purity level of drinking water, wastewater, surface and ground water, rainwater, soil extracts and other environmental samples. Photo: Ethiopia NQIDP Project Implementation Unit, MoTI
Results
Although the NQI Development Project (NQIDP) is just past the implementation midpoint, there have been numerous successes since its inception in 2017. NQI agencies' role in bolstering Ethiopia's COVID-19 response has so far been recognized as largely successful. This was made possible by improvements to testing capabilities, driven by the procurement of additional testing equipment, enhanced engagement with the private sector, as well as the implementation of novel product testing and certification standards.
NQI institutions have played an important role in the COVID-19 response. They were integral in developing the standards for, and carrying out, testing for face masks, sanitizers and personal protective equipment.
Improved access to NQI services allowed multiple textile manufacturing companies repurpose their production lines towards fabrication of protective equipment and other critical goods, including face masks and sanitizers.
In early May 2020, one of the major NQI agencies, the Ethiopian Standards Agency, enacted 52 national standards, 31 of which were new, in alignment with the national health policy and strategy of Ethiopia.
Other notable results under the project include:
Over 200 units of lab equipment were procured.
The number of companies using NQI quality assurance services expanded to about 2,000.
At least 12 types of services provided by the Ethiopian National Accreditation Office, the ECAE, and the NMIE received international accreditation/ formal recognition.
Four business associations in the targeted sectors received technical assistance and became more active in facilitating private sector demand for NQI services.
A new public-private partnership agreement between local private and public entities was signed to develop new standards and obtain international accreditation in the honey sub-sector.
World Bank Group Contribution
The National Quality Infrastructure Development Project in Ethiopia is financed through a $50 million IDA credit.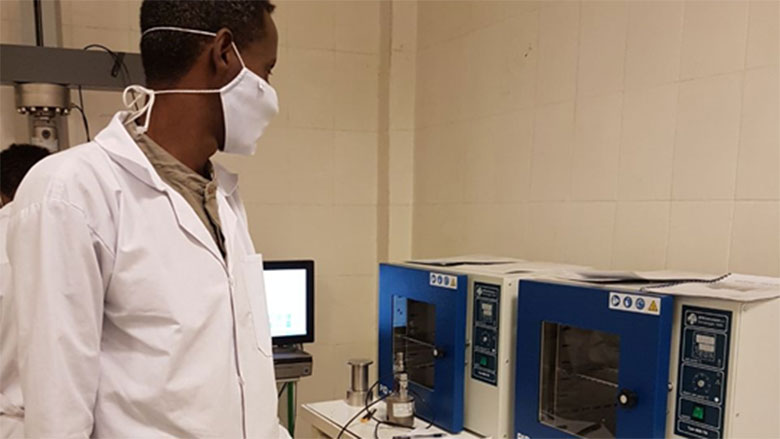 A Presparow Meter kit in operation at ECAE that helps Ethiopian exporters check the color fastness of fabric. Photo Credit: Ethiopia NQIDP Project Implementation Unit, MoT
Partners
There is a strong partnership with the Ministry of Trade and Industry (MoTI) and four existing public sector NQI institutions. In addition, the following private sector associations play an active role in project implementation: Ethiopian Textile & Garment Manufacturers Association; Ethiopian Leather Industry Association; Ethiopian Horticulture Producers and Exporters Association; and Honey and Beeswax Producers and Exporters Association.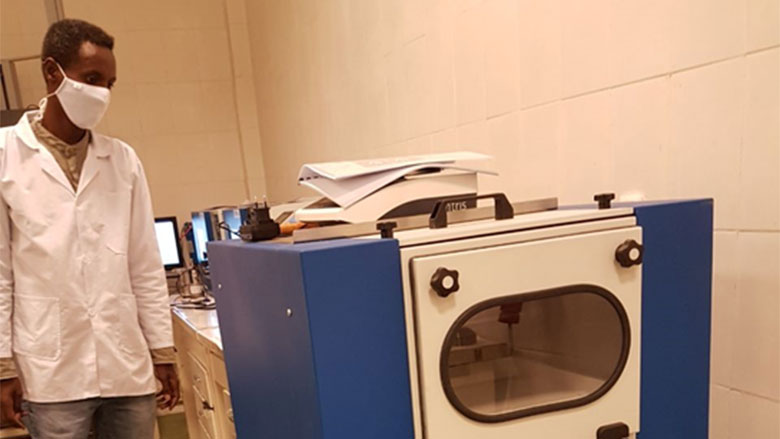 Ashenafi Abebe, textile engineer/analyzer from ECAE, is installing a Trash Analyzer that will be used to analyze lint, trash and dust content within a sample of raw cotton fiber. This helps Ethiopian textile mills to procure quality cotton for further processing and export. Photo Credit: Ethiopia NQIDP Project Implementation Unit, MoTI
Moving Forward
The results of the project thus far reveal that financing NQI upgrades, including the strengthening of the nation's ability to respond to pandemics such as COVID-19, has generated positive effects. The project's impact was further enlarged by a raised profile of improving the quality agenda in Ethiopia, with increased capabilities and outreach of Ethiopia's key NQI institutions and greatly enhanced public-private dialogue aimed at raising quality standards at all stages within the targeted value chains. For example, in the agrobusiness, the project's interventions spanned from cooperatives and processing firms, to collectors and traders, to the farmers harvesting/producing the raw materials.
Beneficiaries
"The Ethiopian Public Health Institute (EPHI) is the Ethiopian institution, which together with the Ministry of Health, leads the country's fight against COVID-19. When COVID-19 came to Ethiopia in March 2020, we were not organized as such. We didn't know where to go for calibrating our machines, maintaining our broken medical equipment, mechanical ventilators, oxygen concentrators, etc. Before we knew about the NMIE, we were not even sure whether calibration services could be provided locally in Ethiopia. As you know, there were so many unknowns regarding the COVID-19 pandemic, and the tools we had for fighting it were limited. Initially, we were conducting mass temperature screening at Bole International Airport, and for that, we needed accurate infrared thermometers. The NMIE gave priority to EPHI's needs and up to now calibrated more than 5,000 thermometers for us, which are very critical tools during the COVID-19 times. They also organized for us workshops, provided tools and engineering support to help us maintain our mechanical ventilators, oxygen concentrators, patient monitors, electrocardiograms, suction machines, etc. NMIE's support during our fight against COVID-19 has been irreplaceable."
Lemlem Digafu, Logistics Coordinator, EPHI, Addis Ababa