Challenge
The Government of Chad recognizes that good policy decisions are fundamental for agricultural growth. Yet, decisions need to be supported by solid evidence. Chad's agricultural sector has a high potential for growth, but this potential is not being realized. Inefficiencies in land markets weigh heavy on productivity and disincentivize investment. The World Bank-supported 2018 Household Living Standards Measurement Study (LSMS) Survey helped assess those inefficiencies and the importance of land rights.
Approach
Informing and improving land and agricultural policies in Chad required a "3D approach," dubbed Describe-Diagnose-Decide.
It described the land tenure regime and land practices. It considered customary land tenure, the Islamic land tenure regime, contemporary access mode to land, pastoral land tenure, and gender issues and conflicts. It described the characteristics of households, land tenure security, investments, and farming behavior drawing from analysis of the 2018 National Household Survey ECOSIT4 (3,165 households, 4,500 plots, 23 provinces).
It conducted a diagnostic identifying the strength of the relation between productivity, farm investments and land tenure using a micro-econometric approach.

A mix of land and agricultural policy solutions was prepared to help the Government of Chad decide on what feasible policy actions would help rural households overcome constraints and take advantage of opportunities for income growth. The feasibility of implementing the proposed interventions was discussed.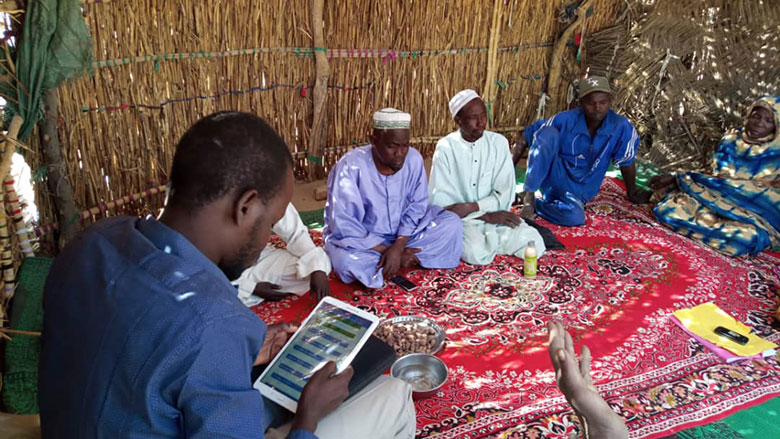 Citizen engagement and freshly collecting data in Chad are so critical for informing and improving the policy process. The issues discussed: demography, education, employment, food consumption, food security, housing, assets, shocks and livelihood strategies, crops, and livestock. Photo: Aly Sanoh, World Bank
Results
Some critical findings of the 2018 LSMS Survey include:
Land titling is a 30-step registration process. It would take more than five years and cost several hundred thousand West African CFA francs (XOF) (about US$170) to complete. Farmers perceive land as communal commons) and put their trust in customary management through chiefs and traditional authorities.
There is coexistence of many sources of law imbricating and overlapping land tenure. The formalized land tenure has less than 7,000 land titles issued. Customary tenure is most prevalent throughout the rural parts of the country, but in the Center and in the North, mixed land rights or land agreements with Islamic tenure are prevalent.
Insecure tenure and overlapping and interlaced land management systems insufficiently harmonized often lead to inefficiencies and conflicts. About 80 percent of pending cases in court relate to land disputes, and 22 types of conflict have been identified, including occupation of arable land for the settlement of refugees/returnees, access to pastoral resources between farmers and transhumant pastoralists or nomads, crop damage by livestock, and farm plot boundaries.
The impact of various land acquisitions and tenure regimes on the propensity of farming households to invest in land, as well as to improve farm productivity was assessed. Households with secure land rights tend to be on average 24 percent more productive than the households with insecure tenure rights. But there are other important and significant factors that affect farm productivity and investments. Use of fertilizer and modern seeds increase farm performance by 60 percent, and 15 percent respectively. Larger plots were found to be 40 percent less productive than smaller plots. Additionally, there are significant gender differences in agricultural productivity patterns with women-headed households having a 25 percent lower productivity than that of the male counterparts.
World Bank Group Contribution
The research benefited from resources provided through the $12 million IDA-funded Chad Statistical Development Project approved in April 2017. Additionally, regional consultations to improve participation of key local and regional stakeholders in the study were supported through the Chad Climate Resilient and Agriculture Productivity Enhancement Project approved in April 2018.
Partners
There was a strong dialogue and collaboration between the World Bank team and focal points from the Ministry of Economy, the Ministry of Agriculture, the Ministry of Territorial Development, the Ministry of Livestock, the Higher Council for Local Governments and Traditional Chiefs, the University of N'Djamena, civil society organizations, producer organizations, traditional leaders, and the National Statistics Office. Collaboration between the World Bank, the Food and Agriculture Organization (FAO), the Dutch Cooperation Agency and OXFAM is contributing to the alignment and harmonization efforts on the agriculture and land agenda.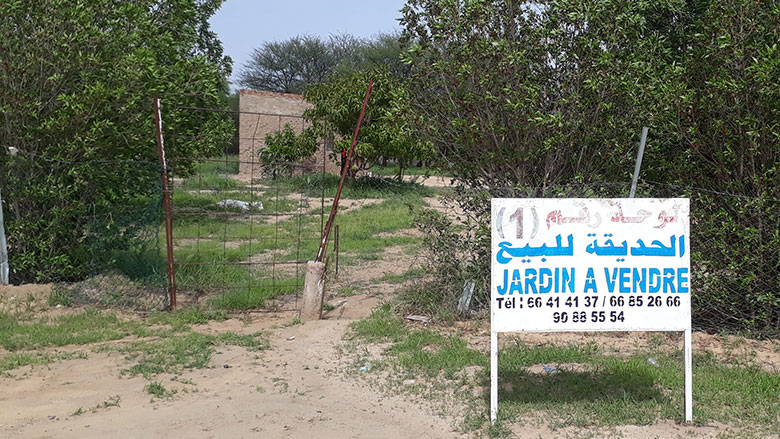 In Chad, there is an uncontrolled development of the rural land markets. Does the owner of this plot have a title? Does it really matter? Photo: Vincent Basserie, Independent Consultant and Land Expert.
Moving Forward
The research is the basis for the December 2019 Chad Poverty Assessment, the November 2019 Chad: The Economic Benefits of a Gender Inclusive Society, and the April 2020 Chad Risk and Resilience Assessment.
Beneficiaries
The national government: The national government will benefit as the research has brought international and regional property rights practices to the attention of policy makers and promoted lessons from Chadian practices in terms of access to land and tenure insecurity. Given the existence of overlapping land tenure systems, and difficulties in securing land tenure rights, a unified text could contribute to guaranteeing an internal coherence and make the Land Law more accessible for smallholders.
Private sector stakeholders: The clarification of land rights and the relation between tenure insecurity and farming practices present a pathway for sustainable investments and crop production for thousands of subsistence-oriented households.