Challenge
The initiatives of local governments have played a very important role in China's development success in recent decades. Local governments also provided massive public infrastructure to support rapid economic growth. However, as economic growth has slowed and the average returns to public infrastructure investment have declined in China, continued high levels of local government investment led to a rapid increase in debt, a misallocation of capital, and rising macroeconomic risks. Local governments accumulated debt primarily in corporate entities called "local government financing vehicles (LGFVs)." As a result of this buildup in debt, more and more local governments have been experiencing financial difficulties. China's Government launched a major fiscal reform in 2014 to bring subnational debt under control and reorient subnational officials and budgetary institutions toward fiscal / debt sustainability.
Approach
As the World Bank had been partnering with China for some time in the area of budget reform, and has considerable experience in sub-national fiscal reforms, the Government requested that the World Bank conduct two development policy operations at the subnational level to implement reforms to make local finance more sustainable and efficient. Under the programs of these operations, Hunan Province and Chongqing's Dadukou District improved fiscal sustainability through building new institutions for financial and budgetary management, including debt sustainability analysis (DSA), a medium-term fiscal framework, an integrated capital financing plan, a strong interagency committee for project review, a debt management framework, and higher standards of transparency on fiscal policy. In doing so, they have reduced the risks of financial distress, while focusing public money on projects of the highest priority and return. Hunan also strengthened the provincial government's ability to monitor debt and encourage prudent financial behavior at the sub-provincial level.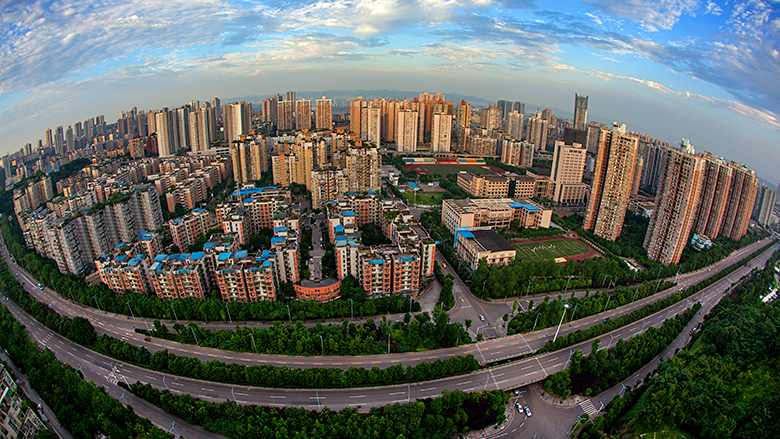 (A bird's eye view of Dadukou District of Chongqing Municipality)
Subnational public investment programs in China are commonly executed in a rather fragmented manner, including numerous planning and implementing bodies, and multiple financing sources. An innovative feature of these two DPF operations was a multi-year capital budgeting framework that captures expected public investment from all sources of finance, both on and off budget. A single integrated plan set a ceiling on annual public investment outlays consistent with debt sustainability for the medium-term fiscal framework. An interagency committee was assigned a gatekeeping function of assessing public investment projects and plans from the points of view of fiscal risk and costs/benefits. In this manner, Hunan Province and Dadukou district pioneered a new integrated approach to public investment planning and execution.
The two operations also helped to strengthen public sector transparency and accountability. Effective templates were created for the timely public disclosure of financial reports and local government debt positions. Both Hunan and Dadukou adopted disclosure standards that went well beyond prevailing national requirements. Dadukou district also pioneered an approach to separating the assets and liabilities of government and LGFVs in a manner that has helped inspire a national initiative in this area.
Results
These operations helped the two governments achieve fiscal sustainability and better prioritize public investments. The institutional progress under the operations gave Hunan and Dadukou the capacity to monitor and manage comprehensive debt and associated financing gaps. The comprehensive debt position of Hunan stabilized at 14 percent of GDP in 2016 and is expected to decline from 2019. Dadukou's financing gap was reduced from 8 percent of GDP in 2015 to 3.4 percent in 2016 and turned to a surplus of 4.3 percent in 2017. The budget reform agenda in China and Chongqing Municipality have since moved in some of the directions pioneered by Hunan and Dadukou.
Hunan Province has sustained and scaled up the reforms, including an expanded debt management framework for sub-provincial governments that includes the monitoring of hidden debt. Hunan Province has advanced its position in an independent third-party measure of transparency from 27th to 2nd in the country.
Dadukou District has also sustained and scaled up its reforms, and has sustained public investment spending at sustainable levels, while also greatly decreasing the former high variance between the public investment plan and actual outcomes. All projects executed by the district's LGFVs are now commissioned with explicit contracts