Challenge
Landlocked and mountainous, with a population of 6.2 million and GNI per capita of $1,130 (2017), the Kyrgyz Republic is among the poorest countries in the Europe and Central Asia region. Yet, it has rich natural endowments, including arable land (7 percent), pastures (48 percent), forests, and minerals, and the potential to significantly expand its agriculture sector, hydroelectricity production, and tourism.
Its natural resources, however, are underexploited, and resource management is weak. The economy is vulnerable to exogenous shocks owing to its reliance on one gold mine—Kumtor, accounting for 10 percent of GDP in 2017—and on workers' remittances, equivalent to about 27 percent of GDP.
Poverty dropped from 52 to 21 percent of the population between 2005 and 2009, but poverty reduction stalled thereafter due to partially reversed income gains among urban households. Between 2010 and 2016, poverty rose to 23 percent, as declines in rural poverty were offset by a nearly 5 percent increase in urban poverty. The decrease in poverty has not been accompanied by true prosperity, however, as most of the population remains clustered around the poverty line with limited resilience to environmental and social vulnerabilities.
The Human Capital Index value for the Kyrgyz Republic was 0.58 in 2017, lower than the regional average. Health outcomes, particularly in maternal and child health, lag behind other countries in the region due to the poor quality of basic services and inadequate investments in water and sanitation. The country also needs to build stronger foundational education skills, enhance teacher quality, and strengthen education sector governance.
Approach
To address these challenges, the World Bank's 2014–17 Country Partnership Strategy (CPS) focused on three areas: (i) public administration and public service delivery; (ii) the business and investment climate; and (iii) natural resources and physical infrastructure. The approved IDA lending ($328.5 million) under the CPS included a balance of development policy operations (DPOs), investment lending, and Advisory Services and Analytics (ASA).
Strategically integrated trust funds reached areas of intervention and policy research not funded by IDA, including governance and public sector management, early education, health, water resource management, agricultural productivity, and disaster risk management. Energy-related trust funds supported capacity development and reform policies, especially on setting tariffs.
The International Finance Corporation (IFC) has helped promote much needed private sector development and competitiveness, through investment and advisory services that encourage the needed diversification., improved occupational skills, and better labor force productivity.
Results
Streamlined, risk-based business inspections resulted in $5.3 million in business savings in 2018. New crisis management centers in Bishkek and Osh reduced rural emergency response times from three hours in 2013 to one hour in 2017.
564 Community Seed Funds established and given high-quality seeds, fertilizers, and training during 2008–17.
486 Water User Associations established; 110 received support to improve irrigation and drainage services on 217,963 hectares during 2001–16.
The national full-year preschool program launched in 2015 and now covers 70 percent of six-year-olds.
Second Sector-Wide Approach Project helped lower cardiovascular disease mortality rate (40–59 years per 100,000) from 310 in 2011 to 247 in 2017.
Health Results-Based Financing helped increase the share of deliveries according to clinical protocols from 5.7 percent for normal deliveries and 2.5 percent for complicated deliveries in July 2014 to 73.8 percent and 61.1 percent, respectively, in May 2018.
Bank-supported credit bureau reform improved credit access and the country's Doing Business rank to 77th out of 190 countries.
IDA results
Social and economic infrastructure improved in 1,698 villages in 2017 compared to 1,000 in 2007.
IDA launched the Ala-Too Bulagy National Rural Water and Sanitation Program in 2016, with increased government (16 percent) and MFI rural investment and also household contributions. The improved service, introducing metered, locally provided, 24-hour household connections will increase the number receiving running water from 2000 people in one village in 2018 to 208,000 people in 91 villages by 2025.
38,000 smart electricity meters installed in 2016–18 to improve electricity bill and collection accuracy and reduce network losses.
Electricity Supply Accountability and Reliability Improvement Project (2016-18), with three distribution substations and computerized outage management system, improved electricity supply for 217,000 customers in Bishkek.
454 Pasture Users Unions helped reform pasture management. Community investment in bridges, tracks, and watering points increased access to 430,000 hectares in 2008–14.
2018 Central Asia Road Links Project improved road sections in Batken Oblast, benefiting at least 680,000 people with improved connectivity, cross-border trade with Tajikistan, and new job opportunities.
IDA-supported axle load control strategies and digital road solutions introduced in 2018. Two weigh-in-motion system (WIMS) pilots introduced along major international corridors to address vehicle overloading, prevent road damage, and improve traffic safety. IDA will help improve up to five WIMSs.
IDA Sector support for education provided: new curriculum for secondary education; curriculum training for 11,789 primary school teachers and deputy directors; 33 new textbooks for grades five and six; and over 3.3. million textbooks, teacher guides, and student workbooks printed in four languages: Kyrgyz, Russian, Uzbek and Tajik.
World Bank Group Contribution
Since the Kyrgyz Republic joined the World Bank in 1992, the Bank's financial assistance has amounted to over $1.5 billion. Currently, 50 percent of IDA assistance is provided in the form of grants and 50 percent in highly concessional credits.
As of September 2018, 18 projects were ongoing, including 14 IDA projects and four large stand-alone trust funds (involving the Global Agriculture and Food Security Program [GAFSP], the Global Partnership for Education, the Multi-Donor Health Results Innovation Trust Fund, and the Government of Switzerland) for a total of $368 million.
IDA lending during the Country Partnership Framework for FY14–17 included: (a) four DPOs totaling $98 million to support governance reforms in public administration, public service delivery, anti-corruption and transparency, and the energy sector; and (b) eight investment projects totaling $140.5 million in energy, pasture and livestock management, rural infrastructure, and forest management.
The Kyrgyz Republic also benefited from three IDA-funded Central Asia regional projects: the Central Asia Road Links Project ($45 million), the Central Asia Hydromet Project ($6 million), and Central Asia-South Asia-1000 ($45 million). Programmatic poverty analysis and public expenditure reviews, along with advisory products on energy tariff regulations and public service standards underpinned this lending program and informed key policy reforms.
IFC supported microfinance institution (MFI) loans to micro, small and medium enterprises (MSMEs) increased from $150 million in 2011 to $249 million in 2016. IFC, also established hemodialysis services in three cities through public partnerships with the German company Fresenius Medical Care and created a market for risk capital in 2018 that invested in the first SME Private Equity Fund.
Partners
Donor coordination has been a landmark of the World Bank Group's (WBG) ongoing operations in the Kyrgyz Republic. To enhance the impact of the sizable external assistance and avoid duplication of donor efforts, the WBG, through its convening role, worked closely with the Kyrgyz Government to improve broader donor coordination in the country and link it more directly to identified national priorities.
The WBG has established partnerships with the Asian Development Bank (ADB), Euro Asian Development Bank (EADB), European Bank for Reconstruction and Development (EBRD), Islamic Development Bank (IsDB), European Union (EU), German Society for International Cooperation (GIZ), Department for International Development (DfID), Japan International Cooperation Agency (JICA), Government of Switzerland, U.S. Agency for International Development (USAID), and other development partners through co-financing and parallel financing of investment operations in the energy, transport, health, social protection, and water supply and sanitation sectors, as well as water resource management.
The WBG closely coordinated its program with the International Monetary Fund, EU, and ADB, working in a coalition to support reforms. Cooperation between the WBG and development partner agencies helped provide critically needed technical assistance and analytical inputs to government agencies that may not otherwise have been possible due to the Kyrgyz authorities' reluctance to borrow IDA funds for these activities.
Moving Forward
The Kyrgyz Republic's Sustainable Development Strategy-2040 and the accompanying medium-term development plan for 2018–2022, "Unity, Trust, Creation," set clear directions for development efforts and a shift toward private sector–led growth. The WBG's 2018 Systematic Country Diagnostic (SCD) for the Kyrgyz Republic finds that sustainably addressing poverty and promoting shared prosperity will require a new economic growth model that includes strengthened institutions and governance, further investments in human capital, and improved strategic infrastructure to unlock exports and growth through private investment.
Given the strong correlation between the Government's priorities and the SCD findings, the proposed CPF FY19–22 strategy will concentrate on the common areas in the two approaches, while recognizing the WBG's comparative advantage. The CPF objective is organized into three focus areas: (i) strengthening foundations for inclusive, private sector–led growth; (ii) catalyzing productivity and connectivity; and (iii) enhancing equitable economic opportunities and resilience. In turn, each focus area contains three measurable objectives to be achieved through targeted investment and development policy lending, IFC investments, and ASA support. The total country-specific IDA18 lending allocation is $280 million for FY19–21, with allocations for FY22 to be determined under IDA19. Additional funds could be secured from the IDA regional window.
Beneficiaries
Equipping youth with the right skills, competencies, and behaviors for life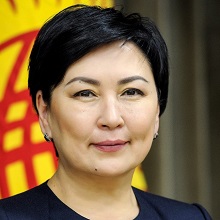 "We need to listen to the recommendations of this report, which says that teacher qualifications should be improved regularly and purposefully," said Gulmira Kudaiberdieva, Minister of Education and Science, at the launch of the World Development Report 2018: Learning to Realize Education's Promise. "Looking at the global picture, we have ample material to think about the necessary steps that our country—where a third of the population are children and adolescents—should undertake."

Improving Rural Water Supply and Sanitation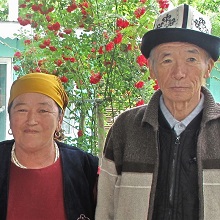 The Mamashovs are among the 2,000 residents of the mountainous Togotoi village who are enjoying a new water supply system. This village is the first beneficiary of the $60 million IDA-funded Sustainable Rural Water Supply and Sanitation Development Project. The family made its own investments to bring water into the house. Mrs. Mamashov is happy with her washing machine, a big time-saver in her daily chores. They also installed a boiler that provides hot water in the bathroom and kitchen. "My friends and neighbors started putting pressure on their husbands to do the same in their homes," says Mrs. Mamashov.