June 23, 2022: Trade linkages between South Asia and Southeast Asia have grown ninefold over the past two decades – from US$ 38 billion in 2000 to US$ 349 billion in 2018. But despite the progress, there remains a significant untapped potential of economic integration between these two regions.
The World Bank's latest report, Deepening Linkages between South Asia and Southeast Asia, explores new approaches to revitalize trade and economic links between the two regions, focusing on areas like digital, environmental goods, and services. In addition to trade in goods, the analysis uses new data sets on investments, services, and migration to present three scenarios:
i) Interregional integration: South Asia–Southeast Asia regional integration that combines liberalization of tariffs, non- tariff and foreign direct investment (FDI) barriers, along with trade facilitation can boost gross domestic product (GDP) by 0.4% to 10.6 % for South Asia and by 0.1% to 0.4 % for Southeast Asia.
ii) Multilateral integration: If interregional trade and investment reforms are extended in multilateral integration track to third countries and intraregionally within South Asia and Southeast Asia, the GDP gains would be significant to around 17.6 % for South Asia and 15.7 % for Southeast Asia.
iii) No integration: The costs of no integration between the two regions are significant, cutting the GDP gains by half for South Asia and by a third for Southeast Asia.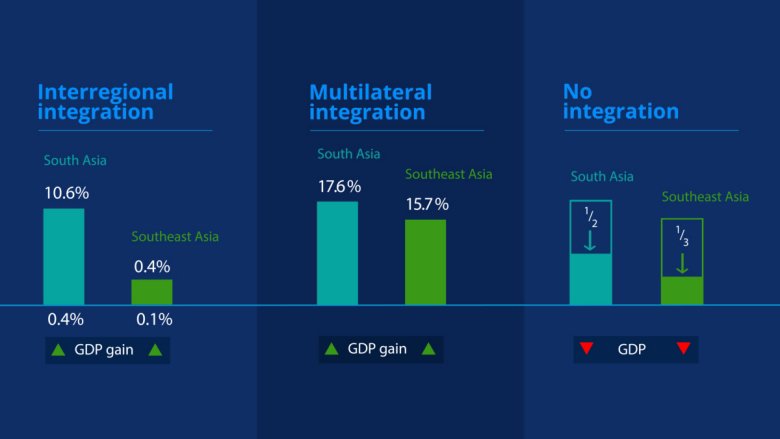 BARRIERS TO INTERREGIONAL TRADE
The report lists key barriers to trade and investment linkages between South Asia and Southeast Asia including:
a) High tariffs on imports of goods. South Asian tariffs on imports from Southeast Asia are nearly three times higher (6.9 %) as compared to Southeast Asian tariffs on imports from South Asia (2.8%).
b) Restrictive non-tariff barriers (NTBs). These NTBs include sanitary and phytosanitary (SPS) requirements, technical barriers to trade, pre-shipment inspection, nonautomatic licensing requirements, and price controls that significantly deter trade and impede competitiveness for firms.
c) Restrictive trade and customs processes. Inefficient customs procedures, burdensome documentary requirements, time delays and high costs of trading processes further restrict economic linkages. On an average, documentary and border compliance is estimated to add up to 96 hours and US$ 384 in Southeast Asia, compared with 127 hours and US$ 468 in South Asia.
d) Barriers to trade in services. Significant barriers hamper trade in services, with ad valorem equivalents relative to tariff rates for goods at more than 10 % in all cases, and as high as 70 % in some sectors.


POLICY RECOMMENDATIONS
Pursue regional integration through free trade agreements (FTAs). South Asia policy makers can join existing regional groupings like ASEAN or Regional Comprehensive Economic Partnerships or sign bilateral FTAs with individual Southeast Asian countries.


Address non-tariff measures like SPS-related procedural roadblocks by implementing trade facilitation measures like single electronic window systems, digitization of trade documents and faster clearance of cargo and goods, and improving regional cooperation on developing SPS capacity, mutual recognition and harmonization of SPS processes.


Reform and open up services sectors by developing supporting regulatory policies and encouraging harmonization or mutual recognition of standards, qualifications and regulations in digital services and beyond.


Leverage untapped potential of FDI and complementarity with labor migration. This can be done by improving information access for investors and migrants and streamlining FDI approval processes.


Make regional trade sustainable by reducing tariffs on environmental goods that will boost domestic uptake of clean technologies and spur green growth and upgrading existing trade agreements to include environmentally friendly provisions.