Food Prices for Nutrition: Cost and Affordability of a Healthy Diet and other Indicators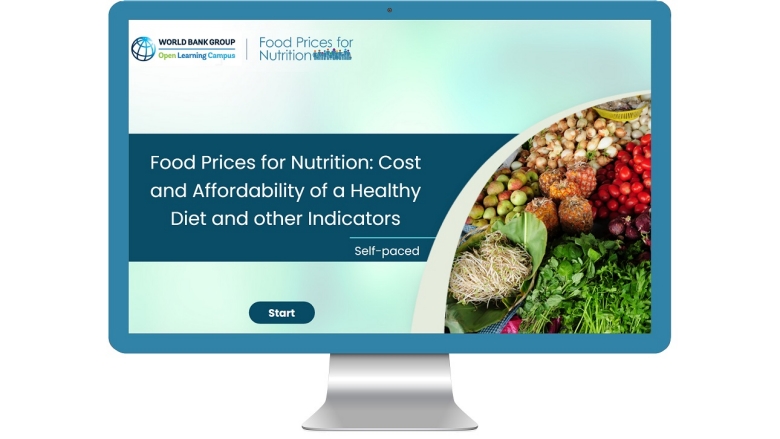 This Food Prices for Nutrition self-paced eLearning course trains users on the construction of diet cost and affordability indicators which focus on access to a healthy diet and other dietary standards.

The course covers how these indicators are constructed at the global level using the methodology produced by Food Prices for Nutrition and the nutritional concepts underlying this approach, including the use of a global standard reference of a Healthy Diet Basket as well as national food-based dietary guidelines. It also covers the data inputs and sources used in the construction of the indicators, and their interpretation and application. In doing so, the course equips users with the knowledge and tools to construct similar indicators at the national or regional level, taking account of each population's local food availability and eating habits, and to apply these indicators in national policy making.

The course also introduces the Food Prices for Nutrition partnership and its objective to provide globally-comparable metrics to monitor people's access to healthy diets and inform relevant policy interventions focused on achieving food and nutrition security.
Target audience
The target audience includes those interested in the applications of diet cost and affordability indicators in policy interventions related to improvements in food security, nutrition and health, poverty reduction, and other development outcomes at the international, national, and subnational levels. This includes policy makers, data collectors, diet cost index compilers, and food security analysts in national statistical agencies and other government institutions such as agriculture, health, and social protection ministries. The target audience also extends to international and regional organizations, governments, and NGOs that wish to apply diet cost and affordability metrics to relevant policies, programs, and decision making, as well as researchers in universities and research institutions for related academic purposes, and other users with an interest in constructing diet cost and affordability indicators.
Course access
This course is self-paced and free to access here through the World Bank Group's Open Learning Campus (OLC). Users without an OLC account will be invited to register before commencing the course.