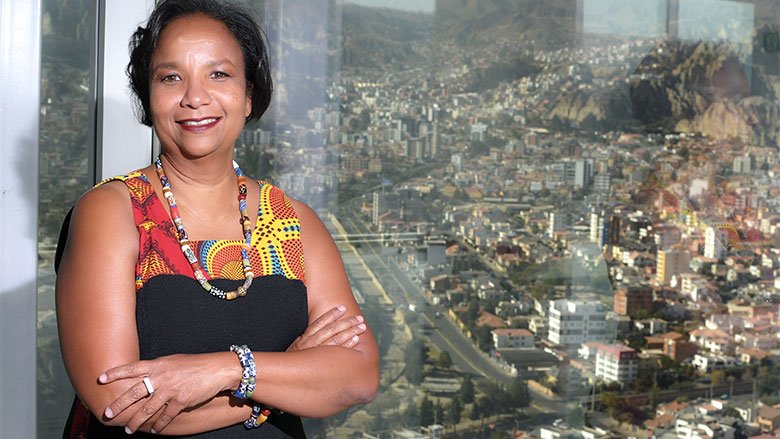 PRESS RELEASE NO:
12.07.2023
La Paz, July 12, 2023. As of July 7, Camille Nuamah is the new World Bank Country Manager for Bolivia, superseding Indu John-Abraham, who occupied the same position the last five years.
With more than 28 years of experience in the development practice, Camille is the sixth woman in assuming the head of the World Bank in Bolivia since 1964, when the Institution started its work in the country.
"I thank the Bolivian government for the support provided to Indu John-Abraham in leading the World Bank program in the country. Today, I am pleased to welcome Camille Nuamah, the new Country Manager, who will continue the dialogue with the Government and other development actors in the country", said Isaam Abousleiman, director of the World Bank for Bolivia, Chile, Ecuador and Peru.
Camille Nuamah joined the Bank in 1997 and has held various positions in the organization, amongst them, Advisor for the Regions of Latin America and the Caribbean, Europe, and Central Asia; Country Manager for Albania, Nicaragua, and Zimbabwe; and Operations Advisor for the Africa Region. Most recently, she was Operations Manager for Kenya, Rwanda, Somalia, and Uganda, overseeing all aspects of the four countries work program, including lending; analytics; portfolio quality assurance and implementation; and formulation of country strategic products.
"I come to Bolivia with the purpose of contributing to the development of the country and the well-being of its population, also with the desire to learn from Bolivians and learn about their visions. The beginning of my mission coincides with a time of institutional evolution and new leadership at the World Bank", said Camille Nuamah, Resident Representative of the World Bank in Bolivia.
In addition to leading the dialogue with the Government, Ms. Nuamah will manage the portfolio in the country, which comprises seven investment projects totaling U$1400 million and the implementation of the new Country Partnership Framework (CPF) for the 2023-2026 period under which various new projects are under preparation in sectors such as energy, transport, hydric resources, urban development, technical and technological education, among others.
Camile Nuamah, a Jamaican national, trained as an industrial organization economist at Columbia University, University of Cambridge, and New York University.
---
For more Information about the work of the World Bank in Latin America and the Caribbean: https://www.worldbank.org/en/region/lac
Visit us on Facebook: http://www.facebook.com/bancomundial
Stay informed via Twitter: http://www.twitter.com/BancoMundialLAC
Our YouTube Channel: https://www.youtube.com/BancoMundialenAmericaLatina