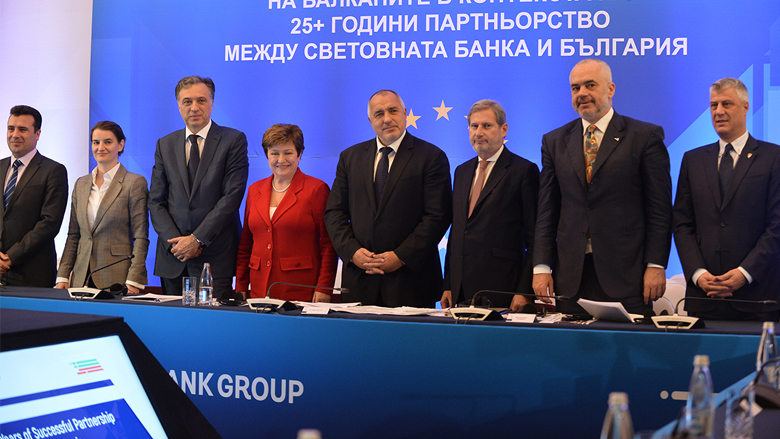 Sofia, December 7, 2017 - Western Balkans countries will improve the performance of their major transport corridors and expand trade with support from a planned World Bank project announced today. The Trade and Transport Facilitation Project is designed to streamline border crossings, improve the efficiency of logistics services and deploy modern 'intelligent' technologies to improve freight and passenger transport and get goods to customers faster.
"Citizens of the Western Balkans countries will see transportation costs reduced and trade expanded under the $150 million Trade and Transport Facilitation Project," said Kristalina Georgieva, World Bank Chief Executive Officer. "We estimate the benefits to be in the order of $1 billion per year – an important contribution to regional efforts to boost growth and create jobs and opportunities for more people."
Georgieva spoke at a Conference on Stronger Regional Integration in the Balkans, hosted by Bulgarian Prime Minister, Boyko Borissov. The conference was designed to develop tangible ways to drive forward growth and development in the Western Balkans countries and accelerate their EU Accession aspirations.
The high-level conference was attended by Mr. Edi Rama, Prime Minister of the Republic of Albania, Mr. Mirko Sarovic, Minister of Foreign Trade and Economic Relations of Bosnia and Herzegovina, Mr. Hashim Thaci, President of the Republic of Kosovo, Mr. Zoran Zaev, Prime Minister of FYR Macedonia, Mr. Filip Vujanovic, the President of Montenegro, and Ms. Ana Brnabic, Prime Minister of the Republic of Serbia.
Western Balkans countries have already achieved strong growth and poverty reduction. Since the global financial crisis of 2008, countries in the region have taken action to reform their economies and it's paying off with growth averaging 2.4% through 2015. This year the World Bank is projecting regional growth of 2.6% and 3.6% by 2019. In addition, 230 thousand jobs were created across the region between June of last year and June of this year.
While Western Balkans leaders are making strong progress, World Bank research shows at current growth rates it will take another six decades for income levels in the Western Balkans to catch up with the European Union. However, with the right reforms and macroeconomic stability, average annual growth rates could hit 5 percent and parity with EU income levels could be achieved in just two decades.
To achieve higher economic growth will take stronger economic integration within the region and further business climate improvements to boost private sector investment and create private sector jobs.
"It is important for Western Balkans leaders to come together to advance economic cooperation across borders, in transport, trade, and connectivity, which will promote business growth," said Georgieva. "We are committed to supporting each country to achieve its objectives – while also connecting the region to the wider EU and global markets."
Georgieva says Western Balkans leaders can also tap Bulgaria's experience to generate additional resources to invest in transport connectivity. Bulgaria is working with the World Bank to see how best to leverage the revenues generated from its e-tolling initiative – which is expected to generate up to Euro 9 billion over the next decade. New financing raised through this effort could allow Bulgaria to accelerate completion of its transportation infrastructure and become more competitive.
The World Bank is already investing to improve transportation connections across the Balkans. It is working to close some of the gaps along Corridors 8 in Macedonia and 10 in Serbia. It is expected that improvements to Corridor 8 will cut travel time for trucks from Sofia to Skopje from 6 hours to three and a half hours.